China's Belt and Road Initiative Enters Its Second Decade: Which Leaders Went to Beijing to Celebrate with Xi Jinping?
High-level attendance at this year's Belt and Road forum is down, but BRI still has support in the Global South and will be used by Beijing to strengthen the Global South as a counterweight to the U.S.-led international order.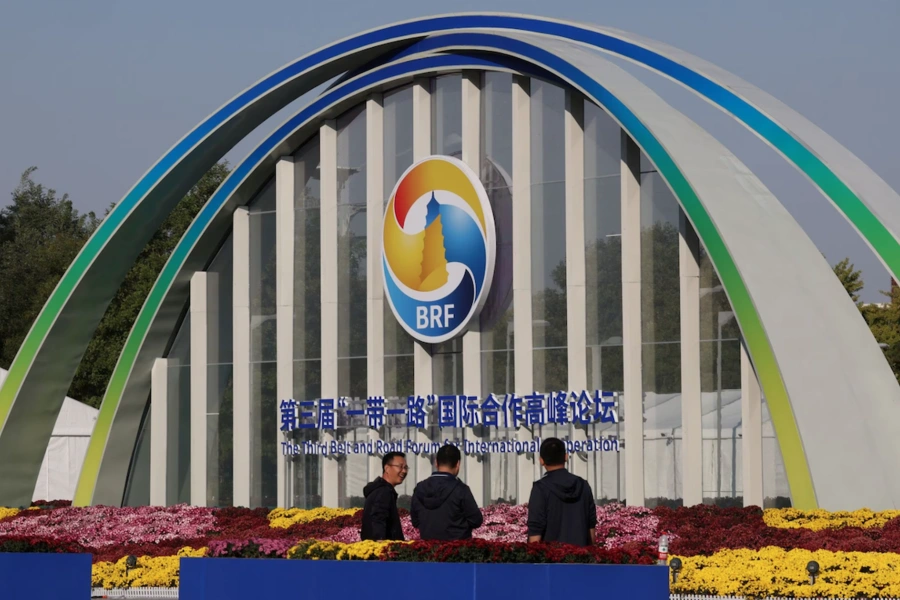 Chinese leader Xi Jinping is convening the third Belt and Road Forum for International Cooperation in Beijing, showcasing his signature foreign policy undertaking as it enters its second decade. While Chinese lending for infrastructure under the banner of the Belt and Road Initiative (BRI) has fallen substantially in recent years and many BRI projects have run into serious issues, predictions of BRI's demise are wrong. Instead, BRI will persist for at least as long as Xi, described this week in state-run media as the initiative's "chief architect," is in power. This gathering in Beijing provides useful clues for how BRI will evolve in the coming years. 
The Belt and Road Initiative – Who Is In? 
According to China's first-ever white paper on BRI, released just prior to this week's Belt and Road forum, Beijing has "signed more than 200 BRI cooperation agreements with more than 150 countries and 30 international organizations across five continents." Importantly, though, not every country that has signed a BRI memorandum of understanding hosts BRI projects. In addition, joining BRI does not guarantee that a country will receive preferential treatment from Chinese banks when compared with their non-BRI neighbors, as the experience of Italy proves. At the same time, these arrangements are important because they lend credibility to BRI and are touted by Beijing as a seal of approval. 
Similarly, high-level attendance at the Belt and Road Forum sends an important signal of support that China leverages to continue to push BRI. In 2017, the leaders of 29 countries traveled to Beijing to attend the first Belt and Road Forum, a number that climbed to 37 for the second Belt and Road Forum in 2019. This week, though, only 23 heads of state and government are attending the third Belt and Road Forum. This is a good indicator that enthusiasm for BRI has waned, as major projects have run into trouble, countries have less capacity to take on additional debt, and China's desire to lend has decreased. 

In parsing the list of attendees, there are a few things worth highlighting. First, Russian President Vladimir Putin has attended all three Belt and Road forums, this time traveling to Beijing for his first international trip outside the former Soviet Union since the International Criminal Court issued a warrant for his arrest, a testament to the growing alignment between Beijing and Moscow. Indeed, in the photo of all the leaders who are attending this year's Belt and Road forum, Putin is standing next to Xi in the front row. 
Second, as a result of Putin's attendance and China's continued support for Russia, Western European countries nearly unanimously chose to sit this one out. Whereas the leaders of the Czech Republic, Greece, and Italy attended the first two Belt and Road forums, they did not travel to Beijing for this iteration. In the case of Italy, the only G7 country to join BRI, its absence likely confirms that it will formally withdraw from the initiative in the coming months. The only leader of a European Union (EU) member state who is attending the third Belt and Road Forum is Viktor Orban, who has attended every Belt and Road forum. According to China's readout, in his meeting with Xi, Orban stated that Hungary "will continue to be China's trusted friend and partner in the European Union" and "opposes any decoupling and breakage of supply and industrial chains or the so-called 'de-risking' practices," marking a break with the European Commission's economic security strategy. Overall, however, China has largely failed to make inroads with BRI in Western Europe, and the absence of European leaders from this year's forum highlights growing European skepticism of Beijing. 
Third, the strong attendance from the Global South reveals where BRI has (unsurprisingly) found the most purchase and where Beijing is likely to increasingly focus in the coming years. Notably, the leaders of Pakistan, Indonesia, and Sri Lanka—the latter two after skipping the previous forum in 2019—attended the festivities in Beijing. This comes under two months after Xi attended a BRICS Summit in South Africa, successfully lobbying the grouping to admit an additional six members (Argentina, Egypt, Ethiopia, Iran, Saudi Arabia, and the United Arab Emirates).  
What Does the Next Decade Hold for BRI? 
Contrary to skeptics who believed Beijing had moved on from BRI, China will continue to pursue it. As its white paper states, "China will continue to promote the BRI as its overarching plan and its top-level design for opening up and win-win international cooperation." Indeed, in that paper Beijing calls BRI a "key pillar" of Xi's foreign policy vision, a "global community of shared future." 
While BRI is not going away, its second decade will not look the same as its first ten years. Chinese banks have learned the hard way that investing in infrastructure, especially in the developing world, is difficult. Indeed, according to one analysis, over one-third of BRI projects have encountered major problems. In many instances, the risk assessments and debt sustainability analysis conducted by Chinese financiers were either non-existent or wildly off. These banks are not in the business of giving aid or charity, and as they have run into difficulties they have become more selective in what they fund. As a result, the days of BRI megaprojects are largely over. 
As we outlined in our Independent Task Force report on BRI, the initiative is likely to become more slimmed-down, targeted, and cost-effective, composed of less risky projects. This years' forum, which is holding three high-level meetings on connectivity, green development, and the digital economy, gives a sense of where Beijing is looking to take BRI. There will likely be fewer railroads, ports, and airports, and more emphasis on digital connectivity, standards-setting, training courses, and people-to-people ties. But just because BRI is pivoting does not mean it will be less consequential; indeed, "soft connectivity" can just as easily provide Chinese entities with significant advantages over their competition while also promoting Chinese global governance norms. 
China's appetite for funding megaprojects may have decreased, but it also likely views BRI as an increasingly important tool that it can leverage amidst intensifying U.S.-China competition. In particular, China will likely turn to BRI to continue to build its support in the Global South, in the hopes of forming a counterweight to the U.S.-led international order. Much of China's recent white paper can be seen as speaking to the Global South, for instance when it states, "the economic globalization dominated by a few countries has not contributed to the common development that delivers benefits to all…Many developing countries have benefited little from economic globalization and even lost their capacity for independent development, making it hard for them to access the track of modernization. Certain countries have practiced unilateralism, protectionism and hegemonism, hampering economic globalization and threatening a global economic recession." Xi reiterated the importance of "promoting South-South solidarity" in his meeting with Ethiopian Prime Minister Abiy Ahmed Ali on the margins of the Belt and Road forum and stated that the two countries should "firmly support each other on issues involving each other's core interests and major concerns."  
BRI may have encountered difficulties in its first decade and is retrenching as a result, but Xi still views it as an important tool for advancing Chinese power and influence amidst intensifying competition with the United States. With U.S.-China competition likely to increase in the coming years, so too will BRI's value for Xi.