China's Green Investments Won't Undo Its Environmental Damage to Latin America
While solar panels, electric buses, and wind turbines emerge, fossil fuel usage and demand for commodities continue to degrade Latin America's environment.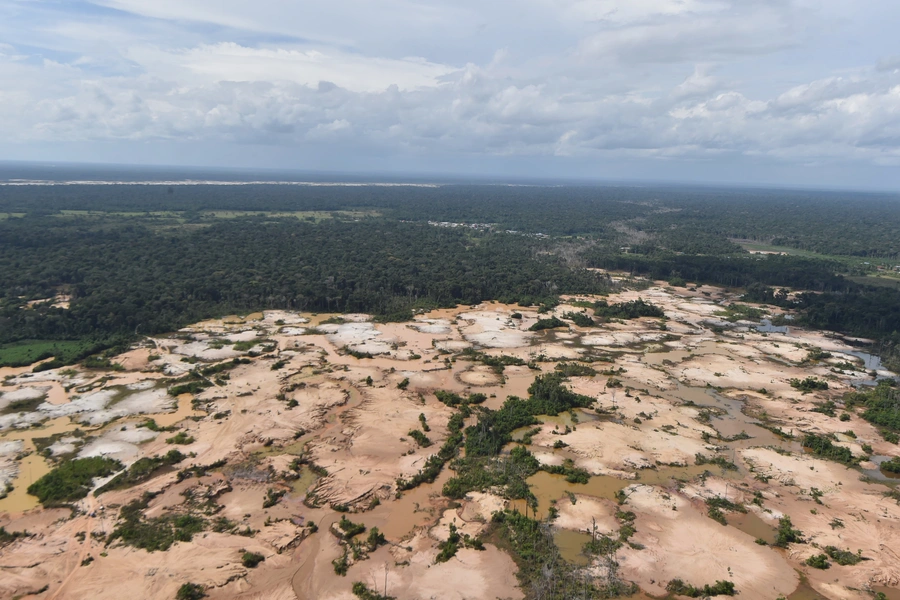 Natalia Cote-Muñoz is a research associate for Latin America Studies at the Council on Foreign Relations. She was selected as one of four Latin Americans in the inaugural class of China and Latin America Young Scholars for the Inter-American Dialogue. You can follow her on Twitter @ncotemunoz.
Chinese environmentally friendly investments in Latin America are in vogue. Electric vehicles and app-enabled shared bikes flood the streets of Mexico City, Medellin, and Santiago while solar panels and wind turbines pop up in the region's more remote areas--mostly by the hand of Chinese companies. Without a doubt, Chinese green investments are a positive sign and much needed in the region. Yet they don't make up for the vast majority of China's money that goes into traditional fuels and causes lasting environmental damage. Solar and wind energy only make up less than 7 percent of China's energy financing.
China is the largest clean energy investor, spending a record of $111 billion on clean energy infrastructure worldwide in 2015 alone--as much as the United States and the European Union combined. A small part of this investment goes to green energy in Latin America. This helps Latin America diversify its relationship with China away from dependency on the trade of commodities, which are prone to price volatility and lead to deindustrialization. Additionally, initiatives for Latin American policymakers and engineers to learn from Chinese green technologies are growing and creating value.
Chinese financing buys solar panels and wind turbines--necessary infrastructure to quench Latin America's increasing thirst for power--bound to triple by 2050--become greener, or remain green, through alternative energy infrastructure. China financed and built Argentina's Cauchari solar panel--the largest in Latin America, and one of the largest in the world. Chile is getting its own sets of Chinese wind turbines. The move to wind and solar power is necessary to the region's environmental sustainability. Currently, climate change-influenced increasing bouts of El Niño challenge the hydropower Latin American countries mainly depend on.
China's green transportation reduces greenhouse gas emissions in Latin America's growing urban centers, and Latin America's vast transportation networks are not environmentally friendly. Chile, Colombia, and Ecuador have already embraced Chinese electric transportation to address these issues. Bike-share startups such as Mobike have also given Latin American city-dwellers sustainable means of transportation, even if theft and regulation of the use of public space are problems.
Yet these green investments face technical and logistical limits. China's electric buses are still expensive and out of reach for most of the region, and financing is scarce. Necessary infrastructure to support electric buses, such as charging stations, is still lacking, and the lithium necessary for their batteries is also costly. Further, alongside Chile's one hundred new electric buses, they incorporated nearly five hundred diesel-powered shuttles. Solar panels, wind turbines, and electric buses are useful in creating sustainable energy sources, but matter little unless they are accompanied by a significant decrease in fossil fuel usage.
And they are a small percentage of the more traditional and environmentally damaging fossil fuel and commodity extraction investments China has in the region. While China is increasing its solar development, the vast majority of its investment portfolio remains focused on importing oil mainly from Venezuela, Brazil, and Ecuador.
Chinese mining and infrastructure projects also created lasting environmental damage. China's banks support projects rejected by multilateral institutions due to their environmental and social risks, such as the Coca-Codo Sinclair dam in Ecuador, or in countries with lending problems such as Venezuela.
China claims its lack of standards are part of its noninterference strategy. But this passive approach becomes dangerous when companies have no incentive to follow local environmental laws. For instance, several Chinese mines operated in Peru illegally and with botched environmental impact assessments, significantly damaging the environment and disproportionately affecting indigenous communities.
And the scale of Chinese demand causes environmental damage. Booming commodity trade with China has been a mixed blessing. As the U.S.-China trade war stilted Chinese consumption of U.S. soy, the bean increasingly comes from South American countries. In turn, increased soy farming is creeping into the Amazon and leading to massive deforestation and toxification of local populations from pesticides. Similarly, increased demand--in large part from China--for avocados led to drought and deforestation in Chile, Mexico, and Peru.
Chinese growing wealth and search for luxury items has indirectly damaged Latin American ecosystems. China's demand for Mexico's vaquita porpoise swim bladders--a high-end delicacy, sold at $400 a pop--is driving the species' near extinction. Bolivian jaguars are endangered due to increased Chinese demand for their fangs. While wealthy Chinese people's interest in decorating their aquariums with Colombia's dragonfish can help conserve the species, Southeast Asia's experience shows that this type of biotrade can severely deteriorate natural environments and lead to overfishing. Most worrying is the increased number of people going to Antarctica, which became the seventh most popular tourist destination for the wealthiest Chinese. Over the course of the past year, the number of tourists to Antarctica grew 17 percent, creating large conservation challenges.
China has attempted to address these issues, but more needs to be done. Its Ministry of Commerce issued environmental guidelines, requiring Chinese firms to conduct deep environmental impact assessments, develop mitigation measures, and work with local communities to identify harmful externalities. But they remain vague, and implementation is unlikely unless Chinese companies closely cooperate with local governments, whose laws are often weak and are prone to corruption.
Environmental damage in one country necessarily affects its neighbors. Latin American governments should coordinate to find regional policy options. Harmonizing and strengthening deforestation laws across regions would force Chinese and other infrastructure investors--locals included--to respect the environment.
Yet if anything, the region is moving away from greater oversight. Jair Bolsonaro struck down accountability mechanisms for damage to the Amazon, and neighboring countries need to push back. Noted environmentalist Berta Cáceres was murdered due to her opposition to a dam by Chinese contractor Sinohydro and the International Finance Corporation. The region should work on protecting its environmental defenders, who are more likely to be killed than are those anywhere else in the world.
As China is increasing its environmentally friendly investments, Latin American countries need to step up their environmental protections if they don't want to lose benefits. To truly protect the region's environment, countries need to cooperate regionally on fossil fuel usage reduction, law enforcement, and protection of environmental activists, not choose between them. Much of the solution lies in Latin American hands.