Cyril Ramaphosa: the Man of the Hour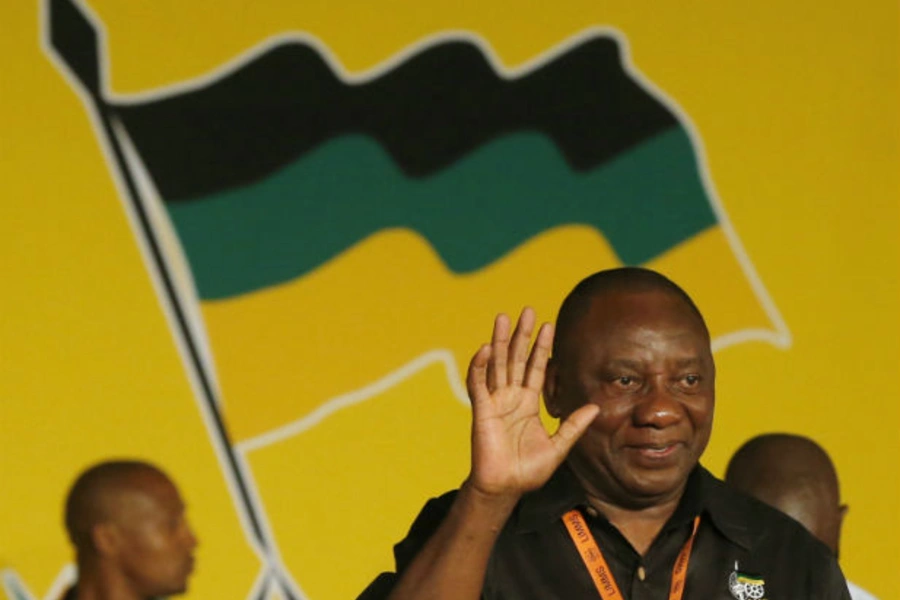 At the African National Congress party convention in South Africa on December 18, Cyril Ramaphosa became deputy party leader with 3,018 votes. Jacob Zuma, the party leader (and current president of South Africa) was re-elected with 2,983 votes. The vote totals indicate that Ramaphosa, for the moment, is the most popular political figure in the ruling ANC. Nelson Mandela, ninety-four, a potent symbol of non-racial democracy, remains in the hospital. It is an open secret that when he left the South African presidency after one term, he favored Ramaphosa as his successor. The party, however, chose Thabo Mbeki, and Mandela, always a strong party man, acceded to that choice. So, Ramaphosa is closely associated with the national icon.
Ramaphosa is not the focus of attention just in South Africa. The international investment community is likely pleased by the elevation of an international big businessman whom many know personally. It has been skittish about South Africa's prospects in face of the populist rhetoric by Julius Malema advocating seizure of white-owned land without compensation, and the massacre by police of workers at the Marikana platinum mine.
The New York Times on December 19, carried a long article by Lydia Polgreen that explores Ramaphosa's career and the seeming contradictions of a former labor leader and liberation fighter who has become an oligarch. Polgreen estimates Ramaphosa's personal wealth at U.S. $500 million. It was accumulated in part through Black Economic Empowerment, a government program intended to bring poor blacks into the economy. The story on the street is that Mandela encouraged Ramaphosa to go into business after he lost the party leadership to Mbeki. Seemingly out of politics for more than a decade, he is not associated with the incompetence and corruption that currently so tarnishes the ANC, despite the fact that he is closely associated with Lonmin, which runs the Marikana mine.
Largely absent from the current press commentary is Ramaphosa's crucial role in negotiating with South Africa's National Party government that presided over the transition to "non-racial" democracy culminating in the 1994 elections. That story, told by Allister Sparks (among others) in Tomorrow is Another Country (1995) shows Ramaphosa's formidable political skills. The Zuma government too often projects incompetence. That makes Ramaphosa's return to politics, and the prospect that he could succeed Zuma as president of the republic, especially welcome.