Debjani Ghosh: How Trends in India's Tech Sector Can Benefit the U.S.
The United States should learn from the strengths of India's technology industry.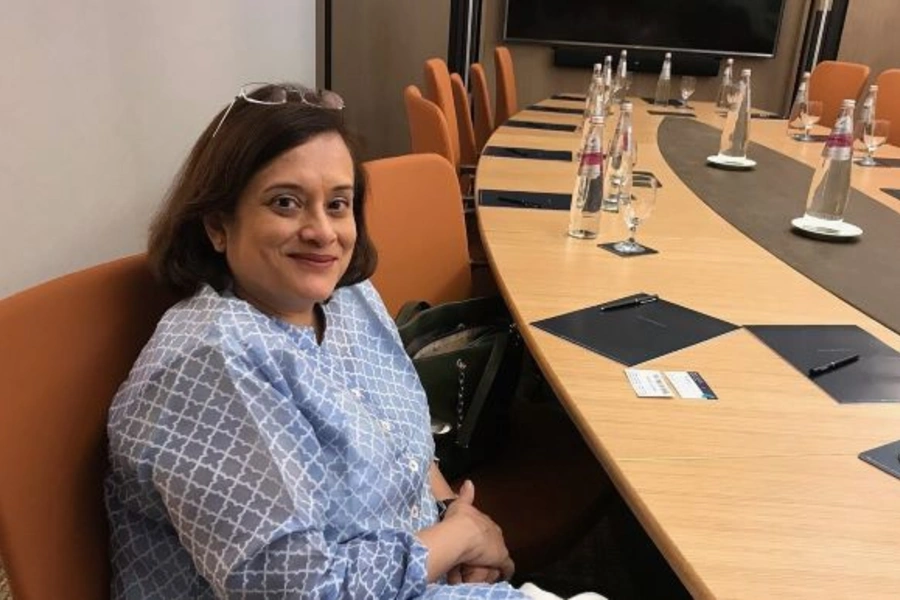 This interview with Debjani Ghosh is part of the Asia program's Women You Should Know in India Project, produced by Senior Fellow Manjari Chatterjee Miller and Research Associate Zoe Jordan, featuring influential women in India's political, economic, technological, and social fields whose work matters for the U.S.-India bilateral relationship and India's relationship with the world. 
Debjani Ghosh is the President of the National Association of Software and Services Companies (NASSCOM). A veteran of the technology industry, she is the first woman to lead it in the organization's three-decade history. She was honored in 2018 by the President of India in the 'First Ladies' program that recognizes exceptional women pioneers, and Vogue declared her Tech Leader of the Year 2020.
Ms. Ghosh is a firm believer in the power of technology to enhance lives and create social good.
What do audiences in the United States commonly misunderstand about the digital and information technology, and software industry in India?
The Indian technology industry is globally a heavyweight player, but there are two important facts American audiences need to understand. First, the Indian technology industry today has a global presence in over one hundred countries, and draws on employees from 150 nationalities. And, far from taking jobs away from U.S. citizens, Indian information technology (IT) is making a critical contribution to the U.S. economy through local investments, fueling innovation and the labor force, and developing and enabling skill development for the local workforce. What sets India's technology industry apart is its digitally skilled talent which is large—over 1.6 million digitally-skilled people—and diverse.
In India, middle-class families value a STEM-focused education for their children, and it is sort of ingrained in Indian culture to think of STEM as a must-have foundation. That is a huge competitive advantage. If you look at the STEM graduates coming out of India, the numbers are mind-boggling. India has a higher number of women STEM graduates than in the West. On top of that, the IT workforce is shattering barriers because it increasingly consists of people from smaller cities and towns as well as non-specialists. The industry wants not just engineers from large metros but people who have crossed the urban-rural divide, who have specialized in arts, in healthcare, finance, and other niche domains. That's why it is diverse because it's truly a wonderful mix of gender diversity as well diversity in socioeconomic status and educational background.
As a result, India is today the largest hub for technology innovation with $227 billion in total revenue in 2022. The software product industry in India is also fast maturing and is estimated to gross $1 trillion in value, and by NASSCOM estimates, almost a quarter of the industry's revenues by 2030.
What are the most consequential factors in your field of digital and information technology and business that will play a role in India's relationship with the United States or world in the next 3-5 years?
The Indian IT industry works closely with U.S. academia and the government to power research and development (R&D) in areas such as the life sciences and health care. In 2018, the Indian tech industry created approximately half a million jobs in the United States, and contributed $57 billion to the U.S. GDP.
But there are ongoing opportunities for collaboration because the United States excels in cutting-edge R&D while India has the talent available to plug the gap between supply and demand in digital skills, and is pioneering the use of inclusive technology—by July 2021, 1.3 billion people in India had used the Aadhar system[1] for example.
What determines competitive advantage in the field of technology today is talent. Indian talent can be key for U.S. innovation and growth. India has a young talent pool which is willing to be trained, travel, work in different places, and adapt quickly to different cultures. Agility and adaptability are absolutely critical in this industry. 
The pandemic has also served to underscore the human-centric importance of the tech industry—technology has become a lifeline for our survival, connecting us to food, education, healthcare and work. New users who entered the digital universe are often using technology for the first time. In India and other countries many of them do not speak, read, or write English. I think as we build out technologies in this new world it truly has to be inclusive technology for all because the universe of users is expanding by the day. This is another area of tremendous future opportunity for India and the United States—to leverage the strengths of each country's comparative advantage and create an inclusive framework for building human-centric technology that can be used across the world.
What inspired you to pursue your career path? How does your personal background inform your work?
My father has been my constant inspiration in life. He shaped my values and thinking. When you grow up with someone who strongly believes that you are going to make a difference, you start believing in yourself and in your own ability to not just be an advocate of change, but also to make the change happen.
When I joined Intel over two decades ago, I realized that there was nothing more powerful than technology as an enabler of change. Being a non-engineer, for me it was all about how technology gets used and the impact it can have, versus how the technology is actually made. My obsession was to figure out how humans can best unlock the true potential of technology for good. What are the changes needed to make that happen? That became my calling and has guided every step in my career.
Can you speak to the status of women in the work that you do?
Diversity and inclusion has evolved as a business priority in the industry. If we want to ensure our technology is truly inclusive, then we, as an industry, have to embody that principle too.  The technology industry is moving towards becoming an inclusive industry with talent being the key differentiator above all. At the time of hiring, about 50 percent of the IT workforce is made up of women. But then, there's an attrition rate—the two most professionally-vulnerable phases for women are when they marry or have children—resulting in about a 36 percent female workforce. This is a leaky pipeline, which I don't know if we will ever solve for fully. But my advice to the industry and every CEO that I talk to is rather than having a drop-off at one of these vulnerable phases, to create flexibility so women can take the time off as needed and then come back. We have to ensure that we—our organization, our policies—are able to take care of women, especially during those two vulnerable phases. Nonetheless, with over 1.8 million women professionals, the Indian technology sector today is the largest private-sector employer of women.
When you look at the state of digital technology, and cyber security, what concerns you most or brings you hope? What are the most pressing priorities for you and your colleagues?
It's a common saying in the technology industry that good technology is invisible. The technology that we use every day tends to be what we don't think about. So, good technology has to be intuitive. There are pros and cons to this. It definitely helps people the more intuitive it gets. It expands horizons and brings in many more people who have never used technology before either due to language barriers or know-how. But I also think at the same time it increases responsibly on us, on the industry, to ensure that we build for it much more responsibility than we have in the past.
In the "digital next," trust and inclusivity have to become the cornerstones of progress. We have to grow a strong cyber security regime and create cybersecurity awareness, for example. As remote work becomes the norm across industries, we are seeing a significant increase in cyber security threats across the world. A situation like the conflict in Ukraine also tremendously adds to the risk. We are seeing activist hackers from across the world attacking the digital assets of a country to impede military operations. In the hyper digital world we are living in, security has to be built into the design principles of innovation and development. It cannot be an afterthought. A strong regulatory framework around cybersecurity has to be developed and this is where global corporations can play a key role. There are millions and millions of analog companies that are just starting off their digital transformation journey, and we need to ensure that they internalize security in their design versus as an afterthought. This wakes us all up to the realization that a digitized crisis like this can happen anywhere, anytime. 
[1] A unique identification number for all Indian citizens