Did Killing Mullah Mansour Work?
In May 2016, President Barack Obama authorized a U.S. military drone strike that killed Taliban leader, Mullah Akhtar Mansour. A year later, we can judge whether this leadership "decapitation" strike achieved its intended political objectives.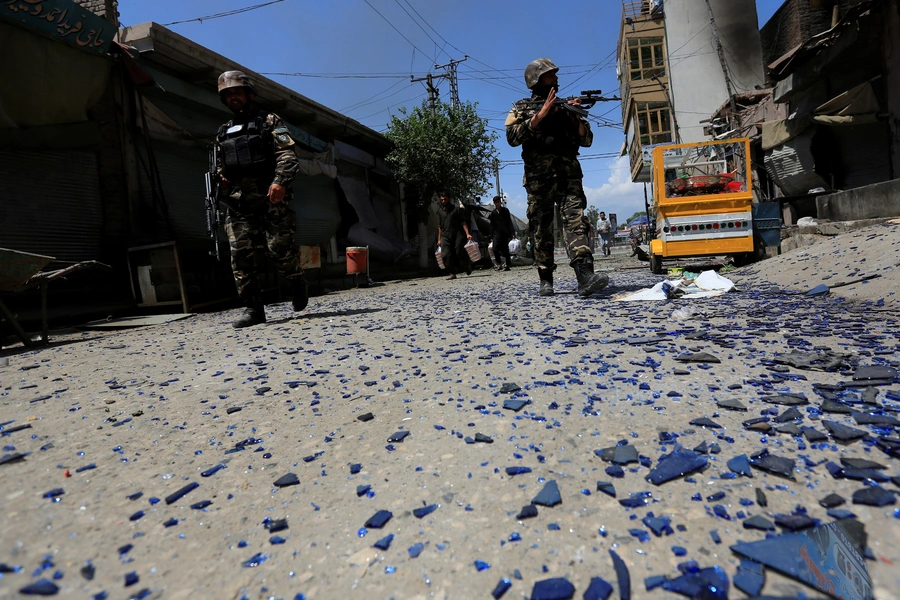 This blog post was coauthored with my research associate, Jennifer Wilson. 
When governments use military force outside of their sovereign territory, they generally provide some political justification for doing so. In modern times, aggressor states no longer defend their attacks on the grounds of merely punishment or revenge. Rather, they offer a range of justifications and intended political objectives, which are distilled to two: deterrence, with the goal of preventing an adversary from undertaking some behavior; or compellence, to stop an adversary from continuing an ongoing behavior.
One year ago, then-President Barack Obama authorized a U.S. military drone strike that killed Taliban leader, Mullah Akhtar Mansour, in a remote area of Pakistan. The strike was unusual both in that it was acknowledged by the Pentagon (and thus not a covert CIA attack), and where it was conducted, Balochistan—where no known previous military or CIA strikes had occurred.
At the time of the drone strike, I wrote a piece that offered two hypotheses—based on Obama administration officials' comments—that would allow analysts to determine if killing Mansour "worked." With a year having passed, we have enough evidence to judge whether this leadership "decapitation" strike achieved its intended political objectives.
Hypothesis one: Mansour's death will reduce Taliban attacks and fatalities against Afghanistan national security forces, U.S. and coalition troops, and Afghan civilians.
Despite Secretary of Defense James Mattis' claim that "last year was pretty disastrous for the Taliban," there are hardly any indicators of that, beyond the death of Mansour. According to Department of Defense bi-annual Afghanistan progress reports released in June and December 2016, the number of "effective enemy-initiated attacks—that is, attacks that resulted in casualties" totaled 4,480 in the six months before Mansour's death. In the six months after (from June 1 to November 20, 2016), there were a total of 5,271 effective enemy-initiated attacks. Those 791 additional attacks represent an increase following the killing of the terrorist leader.
According to State Department Office of the Inspector General (OIG), the number of districts under the Taliban's control or influence increased from forty-one last November to forty-five by the end of February 2017. The percentage of people living in districts under insurgent control, which Mattis has said is more important among Afghans than territory controlled, has also grown by 7.1 percent since August 2016, from 2.8 to 3 million.
Attacks against Afghanistan National security Forces (ANSF) have also not abated. The Pentagon keeps information about ANSF casualties classified, but the latest report by the Special Investigator general for Afghanistan Reconstruction revealed that ANSF casualties "continue to be shockingly high." In February 2017, General John W. Nicholson Jr., commander of NATO's Resolute Support mission and of U.S. Forces-Afghanistan, told a Senate panel that the ANSF was taking heavy casualties.
According to the United Nations Assistance Mission in Afghanistan (UNAMA) the number of civilian casualties to "anti-government elements" (meaning the Taliban) in 2016 were the highest recorded by the group since it began monitoring them. In the first quarter of 2017, 1,353 civilian casualties were attributed to anti-government elements, a 5 percent increase over the first quarter of 2016, before Mansour's death.
Hypothesis two: Mansour's replacement will be more likely to participate in the long-stalled peace and reconciliation negotiations with the Afghan government.
Shortly after Mansour's death, Taliban leaders announced that his deputy, Mullah Hibatullah Akhundzada, would assume the top position of the group. Earlier this month, the Office of the Director of National Intelligence, in its annual "Worldwide Threat Assessment" submitted to Congress, claimed the Taliban had it "effectively navigated its second leadership transition in two years following the death of its former chief" and predicted the group would "make gains" in 2017.
According to State's OIG, in December 2016 the Taliban formally rejected UN demands for a restarted peace process, adding this would remain true "as long as foreign occupation forces are present here." Furthermore, Taliban representatives claim to have refused to participate in Russian-initiated regional talks in December 2016 and February 2017.
Taliban leaders and purported representatives have demonstrated a willingness to engage in reconciliation talks with the Afghan government and other political groups. Moreover, increased pressure on the insurgent organization from Pakistan and Russia may make this more likely in the near future. However, there is no evidence that killing Mansour, who at the time had been the group's leader for just ten months, compelled the Taliban to engage seriously in peace and reconciliation talks, which Obama admitted was the primary goal of the drone strike itself.
Therefore, on balance, the U.S. military attack one year ago on Mansour did not achieve its intended political objectives. While the military may come closer to these objectives, as of today they are further from them than they were one year ago. When the United States, or any government, uses force the essential evaluative exercise is to identify these publicly-articulated objectives, and determine whether they "worked," or were just another military attack that killed someone or destroyed something. And when force does not work, citizens, journalists, and policymakers should ask civilian and military officials why they so consistently assume it will work next time.