The Digital Revolution Is Transforming Energy—Whether It Slows Climate Change Is Up to Policymakers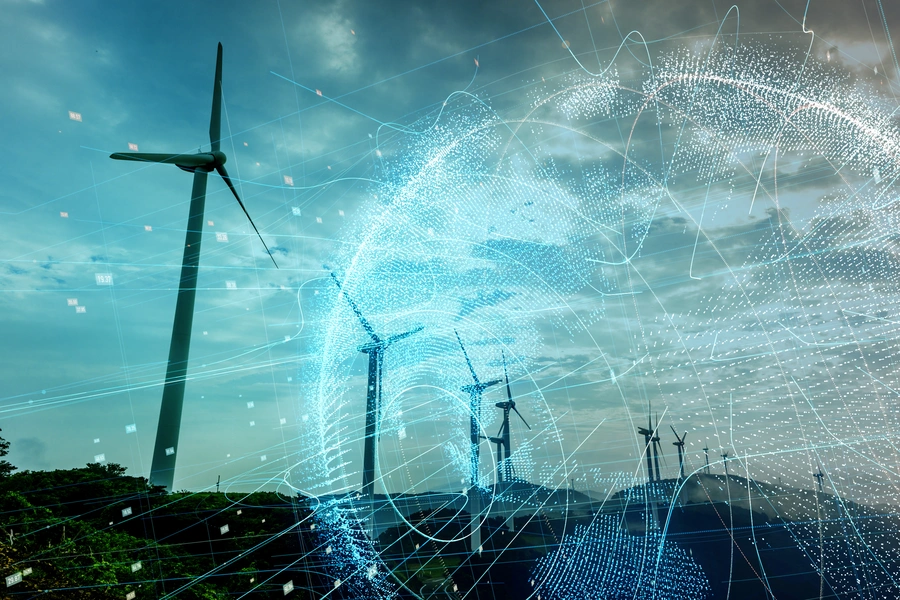 This post is about a new book, "Digital Decarbonization: Promoting Digital Innovations to Advance Clean Energy Systems," edited by Varun Sivaram. It is available as a paperback or e-book on Amazon, and you can also download a free PDF copy here.
Digitalization is all the rage in energy circles. The International Energy Agency published a major report last year proclaiming that the global energy system was on the cusp of a new, digital era. And indeed, advances in artificial intelligence and computing power, the falling cost of digital equipment such as sensors, and the connectivity provided by the Internet are transforming the way energy is produced, transported, and consumed. Many cheer on these trends because of the potential for digital innovations to make energy systems cleaner and more efficient.
But digitalization is not inherently clean. That's a prominent theme in a new CFR book published today, Digital Decarbonization, which features an all-star lineup of thirteen expert authors, ranging from university professors to corporate executives to the energy czar of New York state. The authors highlight the dramatic potential for digital innovations, from self-driving cars to smarter grids, to reduce energy-related greenhouse gas emissions. But they also warn that digital technologies could instead increase emissions by making it easier to obtain and use fossil fuels. Listed below are the diverse topics the book covers (and if you're looking for Cliffs Notes, my introductory chapter to the book offers a sneak preview into each of the subsequent chapters):
PART I: THE DIGITAL WAVE OF CLEAN ENERGY INNOVATION
Stephen D. Comello, (Stanford University) "Trends in Early-Stage Financing for Clean Energy Innovation"
David G. Victor (University of California, San Diego), "Digitalization: An Equal Opportunity Wave of Energy Innovation"
PART II: DIGITAL OPPORTUNITIES IN ELECTRIC POWER, TRANSPORTATION, AND DATA SCIENCE
Lidija Sekaric (Siemens), A Survey of Digital Innovations for a Decentralized and Transactive Electric Power System
Ben Hertz-Shargel (EnergyHub), How Distribution Energy Markets Could Enable a Lean and Reliable Power System
Peter Fox-Penner (Energy Impact Partners), The Implications of Vehicle Electrification and Autonomy for Global Decarbonization
Rohit T. Aggarwala (Sidewalk Labs), Autonomous Vehicles and Cities: Expectations, Uncertainties, and Policy Choices
Kyle Bradbury (Duke University), How Data Science Can Enable the Evolution of Energy Systems
Sunil Garg (Uptake Technologies), Applying Data Science to Promote Renewable Energy
PART III: MANAGING THE RISKS OF DIGITAL INNOVATIONS
Erfan Ibrahim (Bit Bazaar), Managing the Cybersecurity Risks of an Increasingly Digital Power System
Jesse Scott (Eurogas), Managing the Economic and Privacy Risks Arising From Digital Innovations in Energy
PART IV: POLICY RECOMMENDATIONS
Richard Kauffman and John O'Leary (Office of the Governor of New York), How State-Level Regulatory Reform Can Enable the Digital Grid of the Future
Hiang Kwee Ho (Nanyang Technological University, Singapore), Lessons from Singapore's Approach to Developing Clean and Digital Energy Systems
Digital innovations stand out against the landscape of clean energy innovation. Whereas technologies such as advanced nuclear reactors, next-generation batteries, and new projects to capture and store carbon dioxide all struggle to raise private funding, digital technologies in energy are successfully attracting a new wave of venture capital investment in cleantech (figure 1; credit: Stephen Comello). So unlike other technology areas, where policymakers must seek to stimulate investments in innovation, policymakers face a different challenge when it comes to digital innovations. Here, policymakers need to harness these technologies –which the private sector is already funding—to reduce, rather than raise, carbon emissions and mitigate risks such as those of cyberattacks and privacy breaches.
To find out more on how exactly to do so, I hope you'll download a copy of Digital Decarbonization. Digitalization presents a rare opportunity to rapidly transform energy systems that are tend to be frustratingly slow to change. Making sure that the changes we do get advance an ultimate goal of decarbonization couldn't be more important.