Do Americans Want to Retreat From the World?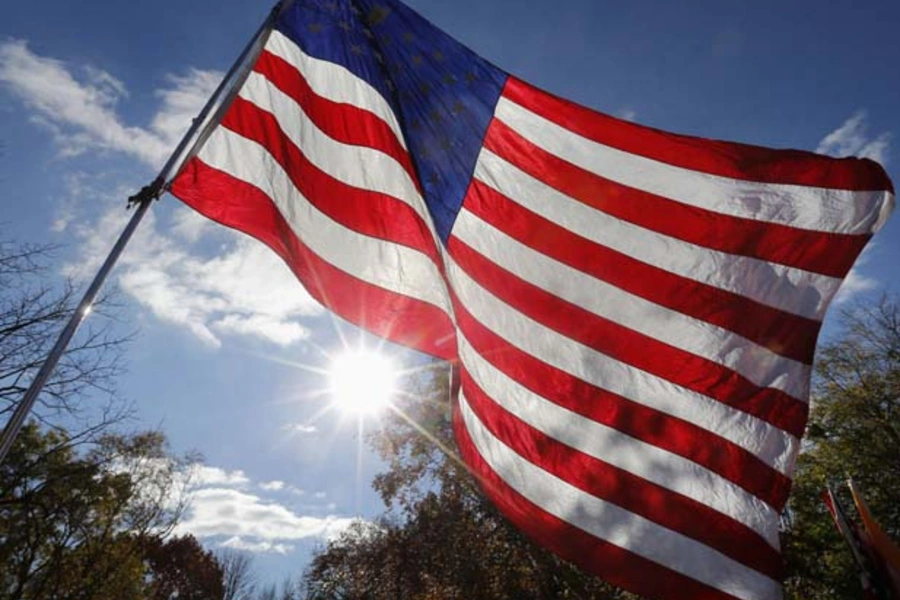 The Pew Research Center and CFR released a poll today on America's Place in the World.  The results send a mixed message: Americans are reluctant to embrace world leadership, but they are also unwilling to abandon it.
The poll's headline-grabbing result is that 52 percent of the public thinks the United States should mind its own business internationally. That is the highest number recorded in response to a question pollsters have been asking for a half century. It's also about twenty percentage points higher than a decade ago.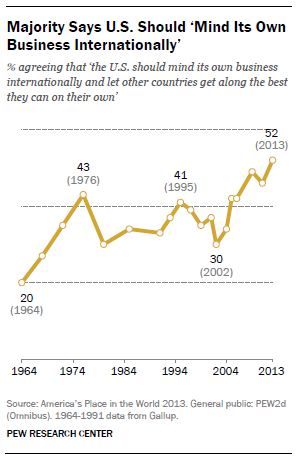 Americans are similarly skeptical that Washington is striking the right balance between domestic and foreign policy. A record 80 percent of the public says the United States should focus on problems at home rather than ones abroad. This year's response is eleven points higher than just a decade ago.
So Americans want Washington to give problems overseas a cold shoulder, right? Not quite. As much as Americans might like to wish away a messy world, they aren't retreating to Fortress America or rushing toward unilateralism. When asked what kind of role the United States should play in the world, 72 percent opt for shared leadership. That is in line with past responses.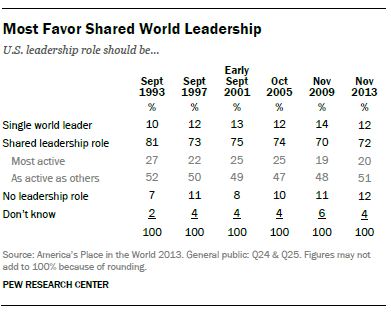 Just as important, 56 percent of Americans reject the idea that the United States should go its own way in the world. That's five percentage points higher than the low-water mark recorded four years ago. Nearly eight in ten Americans say the United States should take the views of its major allies into account when making foreign policy decisions. That's more or less the same response they have given over the last half-century.
The public also remains relatively—and perhaps surprisingly given the anemic U.S. economic recovery—positive about globalization. Two out of three Americans believe greater involvement in the global economy benefits the United States by creating new markets. The public sees growing trade and business ties as either very good (23 percent) or somewhat good (54 percent). Nearly two in three think foreign companies setting up shop in the United States mostly helps the U.S. economy. Nearly three in four, however, see U.S. companies setting up operations overseas as mostly bad.
Aspiring presidential candidates who read only the headlines about the Pew Research-CFR poll may be tempted to conclude that isolationism will be the winning foreign policy theme on the 2016 campaign trail. That would be a mistake. Americans are ambivalent about global involvement, not opposed to it. So the most successful candidate will likely be the one whose own mixed message taps both isolationist and internationalist sentiments.
The Pew Research-CFR poll covers a lot more territory, and my colleague Rachael Kauss and I assessed some of those results here.