The Economic Agenda After the Midterms
Following the 2022 midterms, control of Congress is split. Can both parties compromise to get any economic legislation passed?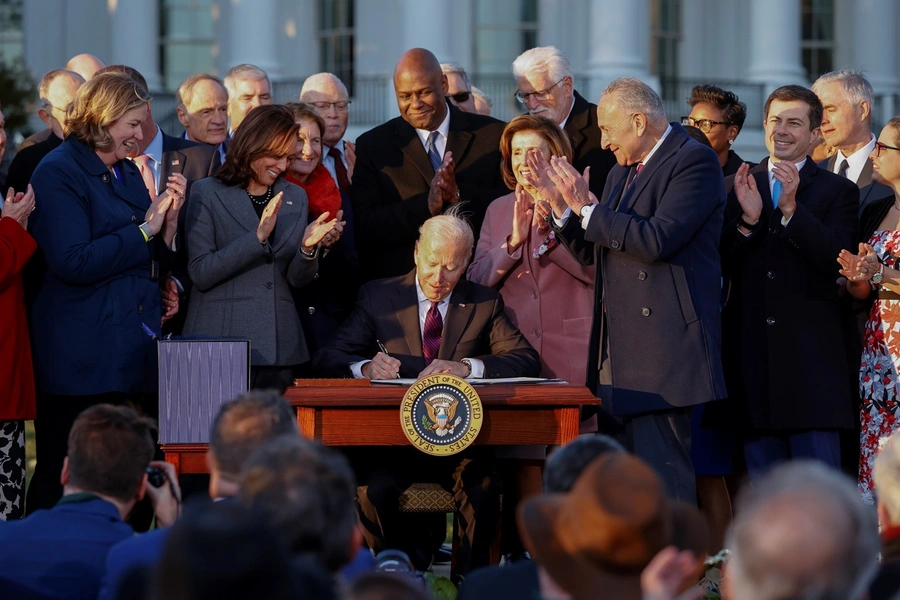 Republicans underperformed expectations in the recent congressional midterm elections but still managed to narrowly eke out control of the U.S. House of Representatives, ending unified Democratic control of Washington. This may well mark the end of President Joe Biden and the Democrats' legislative agenda and usher in gridlock for the remainder of Biden's term. In fact, neither party's economic agenda is likely to be enacted in full given that the Democrats still control the U.S. Senate and are unlikely to accept Republican proposals such as making permanent parts of the 2017 tax cuts without anything in return.
Inflation, which is at a forty-year high, was the leading economic issue in the midterms, with the Republicans campaigning on it extensively. However, with the Supreme Court overturning Roe v. Wade and several election-denying candidates on the ballot in key races, abortion and the future of democratic norms were also important issues—in many cases even overshadowing economic concerns— which likely hurt Republicans. Even on inflation, Republicans did not articulate a detailed plan to tackle it. In fact, most experts believe that the proposals that they did lay out would not have a meaningful impact on inflation and that some, such as tax cuts, could actually increase price pressures by pumping more money into the economy. The Democrats' recently passed Inflation Reduction Act, despite the name, is unlikely to make a dent on inflation either, though it contains other important provisions relating to climate and prescription drugs. Inflation will depend more on the Federal Reserve's policies on interest rates and how geopolitics affect international energy markets with the continuing Russian-instigated Ukraine conflict and OPEC's decision on oil production levels. There are some tentative signs that inflation may finally be cooling, but we may have to wait before we know for sure.
A divided Congress may lead not just to policy gridlock on Capitol Hill but could even threaten the nation's economic stability with a showdown over the "debt ceiling" brewing up for later this year. The debt ceiling is not actually a limit on spending, but rather a limit on the Department of Treasury's ability to borrow to pay debt that it already owes. Congress needs to approve any increase in this borrowing limit, which it has done dozens of times since the ceiling was first established in 1917. The last time the debt limit was raised was in 2021, by $2. 5 trillion, but it is expected that this limit would keep the government funded only into this year. With Republicans indicating that they may use the debt ceiling as leverage to gain concessions from the Biden administration, a debt limit showdown may be in the cards in the coming months. Breaching the debt limit would lead to the United States defaulting on its debt obligations, which would have catastrophic consequences for the country. Increased political polarization and consequent brinkmanship has made a default a real possibility in recent years. Even coming close to it has consequences, as happened in 2011, when the credit rating agency Standard & Poor's downgraded the United States' credit rating amid a debt-ceiling standoff between congressional Republicans and President Barack Obama over the Affordable Care Act. Hopefully they have learned their lessons from 2011, the rhetoric from both sides of the aisle eventually tones down, and they will not bring the country to the verge of default or beyond again.
Given the prospects of gridlock and default, is there any hope for bipartisan economic legislation in the incoming Congress? Yes, if both Democrats and Republicans are willing to compromise to get any part of their proposals enacted. President Bill Clinton and congressional Republicans compromised to enact welfare reform in the 1990s. In the two decades since its passage, this landmark overhaul of the nation's cash assistance program for the poor has reduced welfare dependency and increased female employment, but is criticized for limiting aid to neediest families. Are similar compromises possible today? Perhaps not on a scale as large as welfare reform, but it may still be possible. Despite heated partisan rhetoric today, the recently concluded 117th Congress passed a surprising amount of bipartisan legislation. The White House has indicated that it is open to a deal on retaining some of the Trump tax cuts in exchange for its favored policy of expanding the Child Tax Credit. The White House is even open to including work requirements that it once opposed in order to get Republican support. Whether this sees the light of the day is an open question, as both Democrats and Republicans would need to make compromises. Democrats have to accept retaining some of the Trump tax cuts that they campaigned against, and Republicans have to accept increased spending that would potentially increase the deficit. Whether the parties can agree to this would be a test case on whether they can compromise to tackle even more difficult, but critical, issues such as Social Security reform in the future.