Elections, Violence, and the Future of American Democracy
Violence during the election season undermines the United States' democracy, its relationship with allies, and its strength against adversaries.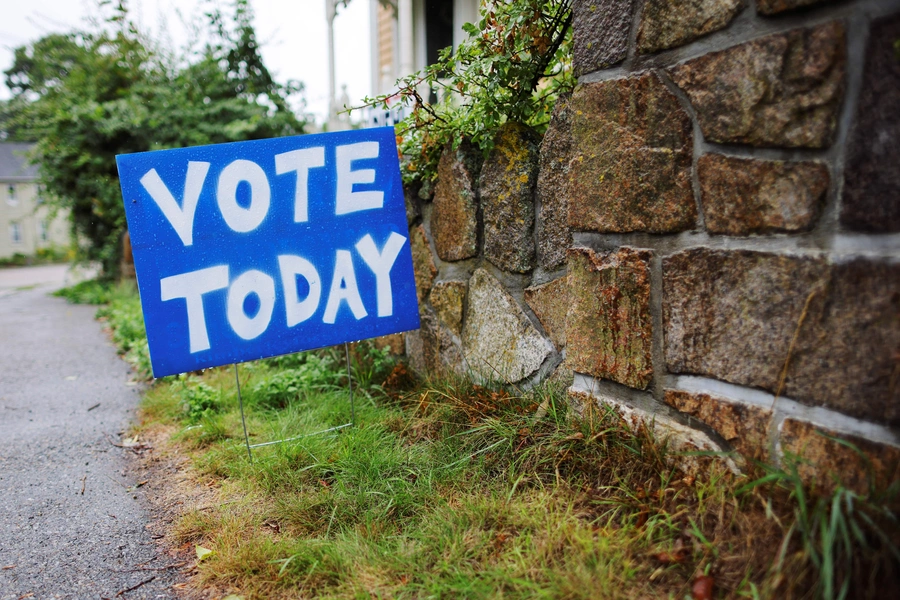 In the two weeks leading up to the last midterm election in 2018, the United States was shaken by four domestic terrorist attacks, all seeking different ways of pressing home a political message.
First, sixteen mail bombs were sent to leading figures of the Democratic Party and the broader left by a fanatic supporter of President Donald Trump seeking to "intimidate & scare." Days after the first bombs were found, a racist shot and killed two Black shoppers at a Kroger store in Jeffersontown, Kentucky. He had tried and failed to enter the predominantly Black First Baptist Church of Jeffersontown. On October 27, eleven worshippers were murdered at the Tree of Life synagogue in Pittsburgh by a gunman motivated by news reports suggesting migrant caravans were making their way north from Central America. And in early November, a shooter motivated by so-called incel ideology killed two at a Yoga studio in Tallahassee, Florida.
The 2020 election and its aftermath were similarly marred by violence, most evidently at the U.S. Capitol on January 6. The 2016 election, which saw the election of Trump, was met with a wave of hate crimes targeting minority communities—the Southern Poverty Law Center documented nine hundred reports of "harassment and intimidation" in the ten days after the election. Trump's election and inauguration both sparked widespread rioting, including in Washington, DC. President Barack Obama's campaign and election in 2008 famously catalyzed a flood of hate crimes, including threats against the candidate so severe he was granted Secret Service protection earlier than any other candidate in history. Indeed, elections without the threat of violence now sometimes seem a relic of a bygone era—if that era ever even existed.
And now, experts and government bodies alike are increasingly warning of (mostly far-right) violence before and after the 2022 midterms, with a number of issues often painted in existential terms—such as abortion and gun violence—on the ballot, not to mention another perceived referendum on former president Trump, who is now under federal investigation over his handling of classified documents.
Political violence preceding and succeeding American elections could not only dissuade citizens from presenting at the polls, but could also undermine U.S. democracy and stability in a number of ways. Firstly, and most importantly, violence in response to disappointing returns undermines domestic faith in U.S. democracy. Here, the impact of January 6 is already profound: a recent poll suggests just 38 percent of Americans believe the losing side will peacefully concede in future presidential elections; another poll shows 54 percent believe America will be less of a democracy for future generations. Moreover, violence responding to election results normalizes violence as a legitimate form of political activism when the ballot box fails—research suggests that one main risk factor for election violence is a history of election violence. And Americans who give up their time to support democracy as election workers are particularly threatened: the Department of Justice last year established a task force in response to threats against election workers, an issue which has only worsened over the past several months.
Secondly, electoral violence damages the trust of U.S. allies and the United States' ability to promote liberal democracy abroad. The events of January 6 were part of a broader, global democratic trend in which electoral violence is appearing more frequently, and leaves Washington less able to lead calls for change. In fact, over the past several years, the United States has been an exporter of extremism, sparking trends that now plague its European and other Western allies. Recent global analysis has focused on America's abdication of its "leader of the free world" role, and warns that a vacuum has been left for other powers to fill. As one analyst lamented, "The United States remains indispensable because it is the world's greatest military power—but not because other nations look to it for guidance."
Finally, it also undercuts the U.S. image of invincibility in the eyes of adversaries, both state (including great power competitors China and Russia) and nonstate. For evidence, look no further than their own statements and actions. "I realized the wisdom of God almighty in not guiding the fourth plane to its target," an al-Qaeda publication celebrated after January 6, "for their [the American rioters'] destroying the citadel of their democracy by their own hands . . . is more damaging to them and more soothing to the hearts of the believers." A Chinese foreign ministry spokeswoman similarly mocked the breakdown of American civility, declaring, "We hope that the American people can enjoy peace, stability and security as soon as possible." Iran, meanwhile, took more direct action—covertly publishing a hit list of officials who had refuted Trump's claims of electoral fraud, thus attempting to provide direct state support to America's extremist underground.
Combatting the possibility of violence over the next month and the transition that follows is thus critical, and will require a number of commitments from both sides of the political aisle. Most crucially, both sides need to make a concerted effort to tamp down existential political rhetoric and dog whistles to violence. While Republican rhetoric has been more direct and inflammatory—President Trump last month called the FBI and Department of Justice "vicious monsters" and dubbed President Joe Biden "an enemy of the state"—Democrats have also occasionally let themselves down, as when Biden responded to Trump's speech by decrying "MAGA Republicans" as "an extremism that threatens the very foundations of our republic." Regardless of one's own views on a topic, existential rhetoric serves only to raise the political temperature and demonize an outgroup, not as disagreeing fellow Americans, but as an enemy to be hated and eradicated. Government agencies need also to implement a plan that protects both election workers and particularly divisive politicians, both of whom will bear the brunt of conspiracy theories.
And finally, both sides, but particularly the Republican Party, whose unwarranted musings on election integrity over the past twenty-four months have led our democracy to the brink, need to commit to accepting the election results and trusting America, its brave election officials, and the rule of law—regardless of whether their preferred candidates win. The violently inclined extremist masses will follow instructions from on high, and public trust in America's institutions and government will trickle down. Leadership matters. Honesty should too.
History suggests the next few months will prove rocky with extremism and terrorism in the homeland. It will require an honest, bipartisan commitment to be better—and to put America first—to ensure U.S. elections once again provide a proud standard to allies and adversaries alike.