Voices from the Field features contributions from scholars and practitioners highlighting new research, thinking, and approaches to development challenges. This article is authored by Joia Mukherjee, Chief Medical Officer of Partners In Health.
Today, more than 800 women will die due to complications related to pregnancy and childbirth, and 99 percent of these deaths will occur in poor countries. There is perhaps no single statistic that most starkly demarcates those who have access to modern health care and those who do not. We know how to prevent these deaths, and in our increasingly interconnected world, it is in the best interests of all communities that we work hard to do so.
As Chief Medical Officer of the international medical charity Partners In Health, with projects in some of the world's poorest places and in support some of the world's most marginalized people, I am routinely in communities where 900-1,100 women die for every 100,000 live births—compare to the U.S. rate of fourteen deaths per 100,000 live births, which is a high ratio for a developed society. Put another way, the death rate during pregnancy and childbirth is nearly one hundred times greater if you live in Sierra Leone, Liberia, or Lesotho than if you live in the United States.
In countries such as Sierra Leone, Liberia, and Lesotho, women have up to a 3-5 percent lifetime risk of dying during childbirth. When I am in these places – particularly in the five African countries where Partners In Health works, and in Haiti – working with our staff of more than 15,000 local people, everyone knows someone who has died in childbirth. Everyone. A mother, a sister, an aunt, a wife, a daughter. Universally, this death, the death of a young woman, a mother of surviving children, a productive member of family, community, and society, is met with unimaginable grief, often the displacement and ill health of the children, and economic suffering in families and communities. Underneath this statistic – the maternal mortality ratio – is a moral issue, a human rights issue, a women's issue. Families are held back; communities are stunted; and nations cannot progress and prosper.
The good news is, we know what to do. Death during pregnancy and childbirth is entirely preventable. The cause of the large majority of these deaths is one of five things: bleeding, infection, uncontrolled blood pressure, obstructed labor or incomplete or unsafe abortion. The solution doesn't require expensive technologies, it doesn't require cutting-edge research, it doesn't require a gadget. It requires health systems.
Sadly, much of the health care in poor countries was, until very recently, delivered as single-issue campaigns – a vaccination campaign, a de-worming campaign, a vitamin A campaign. These programs largely were targeted toward children's health and were somewhat successful in reducing child mortality. In large part, such campaigns (also known as "vertical interventions") were done because they were deemed more feasible given the lack of health personnel, health facilities and drugs and commodities that were available in poor countries. Frequently, family planning is included in vertical campaigns, and child spacing and fewer children are both associated with better survival for women. However, even when family planning is available, some women will become pregnant, and vertical programs do not and cannot address these five major causes of maternal death.
To prevent women from dying in pregnancy and childbirth, women need to deliver in a facility and be delivered by a staff that is trained to deal with complications of childbirth, particularly emergencies when antibiotics, anti-hypertensive medications, a blood transfusion, caesarian section, or another surgical procedure is needed. At Partners In Health, we address women's health in a comprehensive way.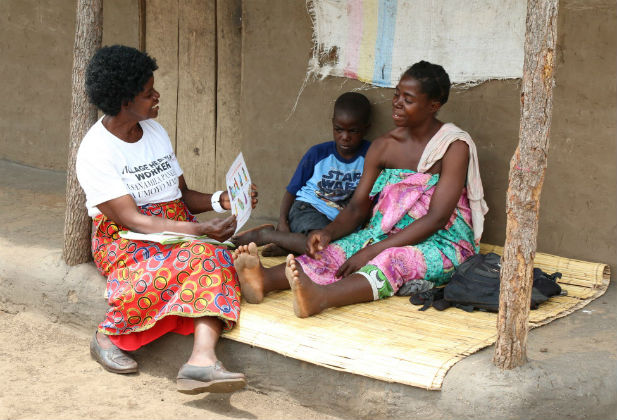 First, we focus on community. Paid community health workers encourage and even administer family planning; can identify pregnancy early and accompany a pregnant woman to a facility; and can assure that a woman returns with her child after childbirth for post-partum care.
Second, we provide high quality prenatal care at the earliest possible time so that complications – particularly hypertension, HIV and tuberculosis – can be identified and treated, which will improve the woman's health and the outcome of her pregnancy.
Third, we support facility-based delivery – that means that a woman should deliver her child in a facility with the support of a trained nurse, midwife, or physician so that if the complications outlined above arise, she can receive timely help. To assure facility-based delivery, it is often necessary to have a waiting home or lying-in house. In rural areas, women may walk hours to a health center, and if there are complications, it may not be possible to arrive at a facility on foot in time. For women living very far away, we have built waiting homes so that they can stay a week before their due dates in case complications arise.
Fourth, we support the provision of what is called emergency obstetrical care so that when one of the expected 15 to 20 percent of women who will have one of these severe complications has one, there are surgeons who can do a cesarean section or other life-saving procedure, there is a blood bank capable of matching her blood and giving a transfusion, and antibiotics and anti-hypertensive medications are at the ready. At Partners In Health, we work with governments to assure that the systems of care are available to women, and, in countries such as Lesotho and Rwanda, we have seen remarkable impact.
None of these interventions are novel or complicated, but the political will and funding for women's health must support a long-term approach to build the systems of care that women need – systems that include community workers; health centers with waiting houses; hospitals with staff including midwives and surgeons; and infrastructure that includes operating rooms, labs and blood banks. The shock of a maternal death to children, families, and communities does not have to happen. It is preventable. And ending unnecessary maternal death will improve the lives and livelihoods of all.