An Environmentalist Case for Resurrecting the WTO Appellate Body
As countries confront the environmental effects of global trade, the potential for disputes and abuses rises. A venue for addressing such concerns exists in principle—but is in desperate need of resuscitation.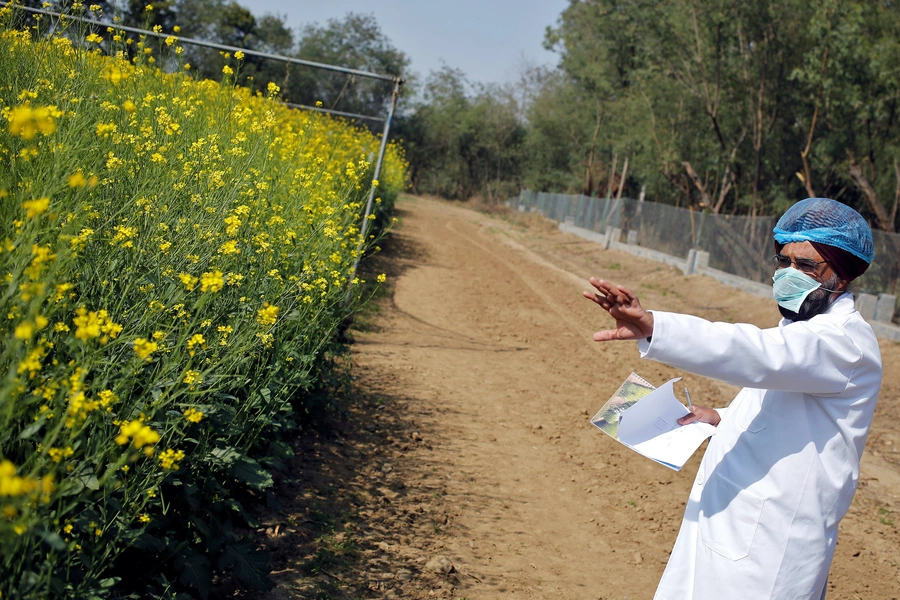 International trade and planetary wellbeing are unequivocally linked—a fact that world leaders are finally registering and acting on. The European Union (EU) recently announced new rules banning the import and domestic sale of six agricultural commodities produced on deforested or degraded land. Last month, the United States and the United Arab Emirates launched the Agriculture Innovation Mission for Climate, which aims to reduce emissions generated by the rapidly increasing international trade in agri-food products. Negotiations to resolve disagreements regarding fishing subsidies, a crucial step toward preserving the health of fish stocks and the ecological stability of earth's oceans, dominated World Trade Organization (WTO) discussions in the lead up to what was supposed to be its twelfth Ministerial Conference (MC12). MC12, which would have been the first WTO ministerial in four years, was postponed until early March 2022 due to concerns over the Omicron coronavirus variant.
While such environmental efforts are much welcomed, they open the door for new disputes between trading partners and the potential abuse of purported pro-environmental policies in service of protectionist interests. In principle, the WTO provides an effective means to peacefully resolve international trade disputes, through its Dispute Settlement Mechanism (DSM) Unfortunately, that system has been effectively defunct since 2019, thanks to the paralysis of the WTO's Appellate Body (AB). To effectively address the "environmental footprints" of international trade, WTO member states should prioritize the rehabilitation of the AB, both at its next ministerial (whenever that may actually be) and in the months leading up to it.
Country trade representatives were originally scheduled to convene in Geneva on November 30, just over two weeks after climate talks in Glasgow revealed the sorry state of climate diplomacy. The initial timing of MC12 would have been exceptionally fitting, considering that ameliorating the dual environmental crises of climate change and biodiversity loss will require global leaders to reconfigure the rules governing the international trade system. The postponement of these talks, therefore, is not only a blow to the international economy but also the global environment.
In a recent provocative Foreign Affairs piece, Jessica F. Greene depicts the global "flow of dollars" as the "root cause of climate change." According to the Organization for the Economic Cooperation and Development (OECD),  production, consumption, and trade accounted for one-quarter of all global emissions (approximately thirty-two billion metric tons) in 2015. Global value and supply chains are also directly and indirectly linked to biodiversity loss, incentivizing unsustainable practices like monocropping and the uniformization of cultivated species. Trade-related activities can also destabilize ecosystems and wild populations. Ballast water exchanges performed by shipping vessels introduce invasive species (e.g., the zebra mussel) into aquatic environments, and pathogens (e.g., Panama disease) are frequent invisible and uninvited travel companions in the transnational movement of people and products.
According to Greene, "bringing the climate agenda to the halls of the [WTO], the [Group of 20], and other financial institutions," increases the tools policymakers have "to rein in climate obstructionists." Adopting more sustainable international trade policies and practices, such as the UN Conference on Trade and Development's BioTrade Principles and Criteria, can also mitigate global biodiversity loss and support stable, well-balanced ecosystems. Fortunately, some countries are already moving in this direction. The EU's novel Carbon Border Adjustment Mechanism will help equalize the price of carbon, dissuading polluters from simply moving production to regions where carbon is cheaper (or free). Countries have also been experimenting with gene-editing technology (e.g., CRISPR) to create crops that are climate-change resilient, not reliant on insecticides or algal bloom-producing fertilizers, and less land-intensive. 
Such new trade and production policies and initiatives, however, raise important questions regarding WTO compatibility and invite potential disagreement on how free trade interests should be balanced with environmental concerns. For example, experimentation with CRISPR may reignite debates between the EU and its trade partners regarding import and sale restrictions on genetically modified agricultural products and whether gene-edited crops should be subject to the same regulations as genetically modified organisms (GMOs).
Until recently, countries were able to seek and obtain redress and clarity regarding such issues through institutional rather than unilateral means (i.e., trade wars) by utilizing the WTO's Dispute Settlement Body (DSB) panels and AB. For example, in the case involving European GMO restrictions, the United States, later joined by seventeen third parties, turned to the WTO DSM to address grievances regarding an EU (then the European Communities) moratorium on the approval of biotech products, which the United States claimed hindered the importation of U.S. agricultural and food products into the single market. The DSB Panel assigned to the case was able to discern which EU policies and actions were inconsistent with mutually agreed-upon trade principles and commitments, and which were not, thereby providing a factual basis upon and channel through which relevant parties could reach a settlement.
The DSM is the WTO's "unique contribution" to the multilateral trading system. It promotes the stability of the global economy by balancing required considerations articulated under the WTO regime and contending with various nuances of international trade relations. For example, in the United States–Import Prohibition of Certain Shrimp and Shrimp Products case, brought to the WTO by India, Malaysia, Pakistan, and Thailand, the AB stated that, under Article XX of the General Agreement on Tariffs and Trade (GATT), "countries have the right to take trade action to protect the environment (in particular, human, animal or plant life and health) and endangered species and exhaustible resources." However, because the United States had applied its ban on shrimp imports "harvested with technology that may adversely affect certain sea turtles" in a discriminatory fashion, the AB ruled against it in this case.
In another case, Australia–Measures Affecting Importation of Salmon, the AB underscored the importance of scientific evidence in evaluating environmentally-motivated trade actions. Finding no credible evidence that the importation of frozen, headless, eviscerated Canadian salmon exposed Australian fish stocks to the threat of disease, it ruled in favor of Canada as the complaining party. The AB similarly distinguished genuine environmental concerns from protectionism in United States–Standards for Reformulated and Conventional Gasoline, finding that the United States had violated WTO principles by failing to apply the same emissions standards it required for imported gasoline to domestic producers struggling to compete with foreign ones.
In each of these examples, the AB sought to strike a balance between safeguarding principles of free and fair trade, curtailing abuses for protectionism, and upholding the WTO's stated commitment to sustainable development. More generally, these cases underscore that the AB is the cornerstone of a credible WTO dispute resolution process, providing disgruntled parties with a means to seek further redress or correct a perceived wrong by appealing DSB Panel decisions. 
The AB's current paralysis, by contrast, has crippled the WTO's credibility as an adjudicator. Because the Dispute Settlement Understanding grants members the right to appeal, any party to a dispute can now abuse this situation by appealing a DSB Panel decision, knowing full well that its case will not be heard anytime soon. This puts the dispute settlement process in limbo, maintains the status quo in perpetuity, and could prompt other parties to seek redress through unilateral action. CFR Senior Fellow Jennifer Hillman, herself a former WTO judge, warns that without an AB, member states could "lose the ability to collect [their] winnings because there won't be a binding way to force other countries to come into compliance."
In the weeks prior to what would have been MC12, the United States reaffirmed its commitment to the WTO, claiming that it wants the body to succeed. But how this success is to be achieved and evaluated remains unclear. A central goal of the rules-based international system, of which the WTO is a part, should be to promote human welfare by preventing ecological collapse. To "succeed," in other words, the WTO needs to join the fight against climate change and biodiversity loss. Fulfilling this mission will be tricky, however, since new disputes and abuses are bound to arise as countries begin to confront the environmental implications of the global trading system. To address these quandaries, the world should immediately move to resurrect the WTO's Appellate Body, as the centerpiece of a revitalized Dispute Settlement Mechanism.
Ania Zolyniak is a research associate with the Council on Foreign Relations' International Institutions and Global Governance program.