The Era of Good Feelings
The current diplomatic constellation presents Africa with plenty of options; the region must choose well.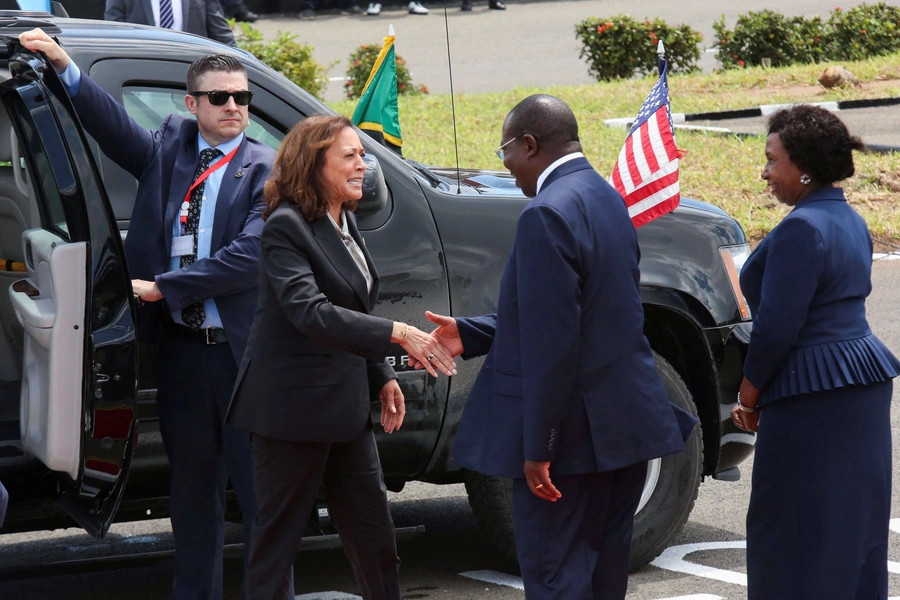 Since the conclusion of the U.S.-Africa Leaders Summit last December, the traffic from Washington to various African capitals has been unmistakably busy. Vice-President Kamala Harris, currently rounding up a nine-day trip to Ghana, Tanzania, and Zambia, is the latest and, so far, most senior American official to jet into the region with a diplomatic pouch weighed down by goodwill, kisses, and felicitations.
The list of the VP's forerunners is not shabby. Since August last year, U.S. Representative to the United Nations Linda Thomas-Greenfield has visited Africa twice, the most recent trip back in January to Ghana, Mozambique, Kenya, and Somalia, the latter for a first-hand assessment of the situation in the beleaguered east African country. Ambassador Thomas-Greenfield had been preceded by Secretary of the Treasury Janet Yellen, whose 10-day trip to Senegal, Zambia, and South Africa respectively in January was aimed at demonstrating that the Biden administration is "all in on Africa, and all in with Africa." First Lady Jill Biden's one-week visit to Namibia and Kenya back in February was her sixth visit to the continent overall, the first as First Lady.
A presidential visit to Africa later this year is all but certain following President Joe Biden's seeming assurance to that effect at the December summit where he called for the admission of the African Union (AU) as a permanent member of the Group of Twenty (G20) nations.
American officials have, as indicated, not been traveling empty-handed. Vice-President Harris kicked off her three-country visit with a promise of $100 million in new support for Benin, Ghana, Guinea, Cote d'Ivoire, and Togo to help them "address security, governance, and development issues in the region." During Secretary of State Antony Blinken's visit to Niger last month, the first of such by a U.S. Secretary to the landlocked West African country, he too announced $150 million in new humanitarian aid to Africa's Sahel region. President Biden has announced an investment of $370 million in Africa by the U.S. International Development Finance Corporation to facilitate "access to clean energy for millions of people, supply farmers with critical fertilizers and help companies that bring clean water to communities." Overall, the United States is committing $55 billion to the continent over the next three years.
It goes without saying that this aggressive diplomatic courtship, allied with a newfangled determination to "bring resources to the table," is not taking place in a vacuum. For one thing, Washington, roused from its seeming complacency towards the African region, appears determined to curtail growing Chinese and Russian political, economic and military influence. For another, and with the end apparently not in sight for the Russia-Ukraine war, ensuring broad African solidarity with the Western alliance is of critical moment.        
The United States is by no means alone in its recalibration. Other Western countries, including France and Germany, are rethinking their African diplomacy. The latter, which at one point had at least 5,500 soldiers deployed in Mali, Niger, Chad, Burkina Faso and Mauritania, has officially pulled the plug on its anti-jihadist Operation Barkhane in the African Sahel region. While some 3,000 troops will remain in Niger, Chad and Burkina Faso, they will, significantly, "not act independently," but "in coordinated actions with national armies." For its part, Germany is floating a new Africa strategy broadly aimed at building "networks and partnerships that benefit both sides, not just one."
All in all, not only is there is no mistaking the new tone in Euro-American diplomatic circles, Western repentance of its accustomed peremptoriness is something to applaud. Nevertheless, while, when it comes to Africa, the West may have a lot to be penitent about, and while the United States should be especially commended for its apparent determination to put its money where its mouth is, it would be regrettable if the current moment were to be reduced to an exchange of monies and mea culpas. If anything, the current conjunction calls for moral clarity on the part of the United States and major Western nations as to Africa's critical needs, and what the western alliance can bring to the table in order to ensure that a new era of equal partnership helps promote African democratic and economic stability in the long run.
If that is the case, thinking beyond monetary handouts and infrastructure finance—the Beijing strategy—is a desideratum. That is not because these do not matter, but because figuring out why such investments invariably fizzle out (as they tend to do) and helping to create hospitable conditions for homegrown investment matters more. In the same vein, while relief for indebted African countries is definitely welcome, it would be a mistake to ignore the reality that what appears to be a debt problem in many African countries is in fact a governance problem, the inescapable manifestation of a multitude of political sins, not least of which is lack of transparency and financial recklessness. Hence, beyond helping beleaguered African countries pursue relief, Western countries should assist the continent's private sector in building strong economic institutions anchored on a foundation of free enterprise. The goal here is to kill three birds with one stone by simultaneously laying the foundation for public prosperity, strengthening private individuals against state encroachment, and taking a hard stand against the wishy washy and self-serving collectivism of some African leaders.
For their part, African countries must look beyond their immediate economic and infrastructure needs to their moral destination and the kind of societies they want to build. Since no just society is possible without a foundation of respect for individual rights and civil liberties, African countries must rededicate themselves to these inalienable fundaments. The West has a role to play here, especially if it does not want to be mistaken with China and Russia, its two competitors for whom human rights are a dispensable irritant. It cannot afford to relent on its insistence that African leaders respect their citizens' human rights. There is nothing African about human rights abuse. On the contrary human rights (including sexual and reproductive rights) are the non-negotiable condition for human flourishing.   
Lastly, the general omission of Nigeria from the itineraries of American officials is a strategic error. True, the country can't seem to get out of its own way, but it remains one of the foremost African states, one that the United States will have to cultivate as it seeks to turn a new page on the continent. It is too crucial an ally to ignore. Abuja must be a stop on President Biden's visit.
Reina Patel contributed to the research for this article.