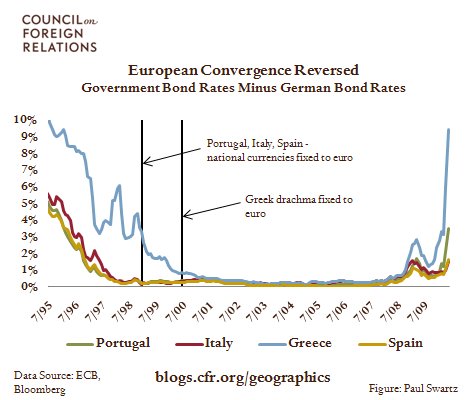 Before the creation of the euro, European governments borrowed at very different rates. In July 1995, Portugal, Italy, Greece, and Spain all had to pay at least 4% more than Germany on their borrowings. This spread was in large part driven by differences in the market's inflation expectations. As the market became increasingly confident that these countries would join the euro, this spread narrowed. As shown in the chart, by the time the various national currencies were pegged to the euro the spread was nearly gone. During the second half of 2008 the spread returned. This time, the demand for higher returns does not reflect a fear of higher inflation, but rather the view that these countries are much more likely than Germany to default.
Mallaby: Leaving the Euro Behind?
Wolverson: The Risk of Greek Contagion
Kupchan: Crisis for Europe in Greek Debt?