Financing Japan's Defense Leap
Prime Minister Kishida's strategic review will be announced this week.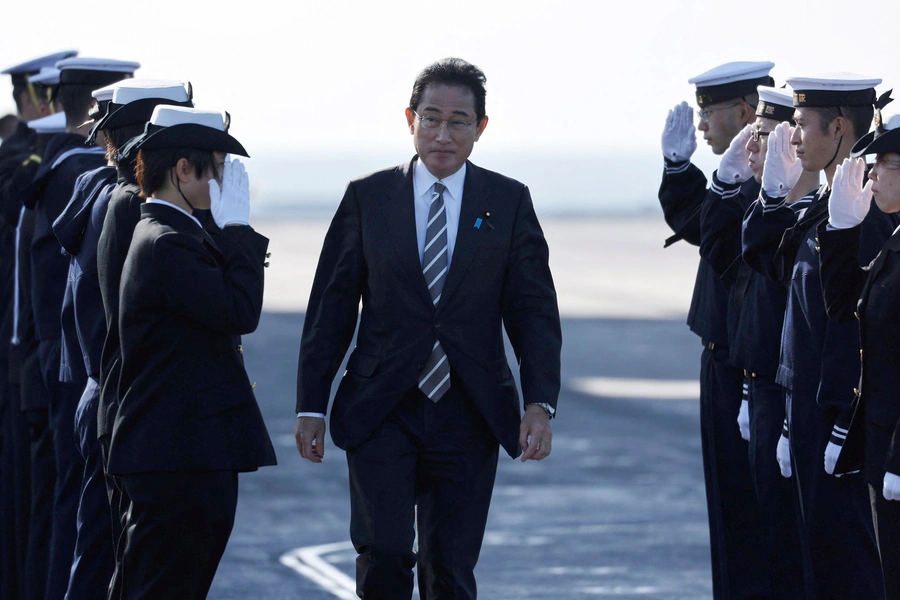 This Friday, Prime Minister Kishida Fumio will announce the long-awaited results of his year-long strategic review. A new National Security Strategy and two defense related policy documents – one a ten-year defense plan, the other a procurement plan to support it – will reflect what has been one of the most focused efforts to date at recalibrating Japanese military power. Japan's prime minister has promised "a fundamental upgrade" in military capability, and committed to doubling Japan's defense spending from 1 to 2 percent of Japan's GDP over the next five years.
Kishida has done a remarkable job in preparing for this warp-speed jump in Japanese military capabilities. Domestic opposition has been minor, and even the idea of doubling Japan's defense budget has drawn remarkably little outcry in a nation where the public has long been sensitive to any changes in military policy. According to a December Yomiuri Shimbun poll, 51 percent of respondents favored increased defense spending. Even the Liberal Democratic Party's (LDP) dovish coalition partner, the Komeito, has abandoned its caution and endorsed Kishida's expansion of Self Defense Force capability. On November 28, the prime minister committed his government to spending a total of 43 trillion yen (315 billion dollars) over the next five years to boost the SDF's ability to defend their country.
Though opposition to Kishida's effort to bolster Japan's defenses has been surprisingly muted, political backlash has erupted in response to the prime minister's idea of a defense tax. Japan's wobbly government finances have been a source of worry for some time and the pandemic has not made things better.  Japan's government debt is now 232 percent of GDP, highest in the OECD, and servicing that debt requires 22.6 percent or more of the budget annually. Rather than incurring greater debt, Kishida argues that "it is our generation's responsibility to future generations" to chip in via a defense tax to pay for this national investment.
Remarkably, Kishida's idea of a defense tax has raised the most hackles within the LDP.  At a meeting last week, party members were reportedly aghast at the idea.  The head of the Policy Research Council, former Minister for Economic Trade and Industry Hagiuda Koichi, quickly emerged as a critic, arguing (against the Ministry of Finance) that there is no reason not to issue bonds given the urgency of Japan's security situation.  Even members of Kishida's own cabinet have spoken out against the tax.  On Monday, the Minister for Economic Security, Takaichi Sanae, a rival candidate for the LDP presidency last year, tweeted that she "can't understand the prime minister's true intentions," creating a flurry of media speculation about how Kishida would respond.  Even the former head of the LDP's foreign affairs committee, Sato Masahisa, spoke out against Kishida's handling of the rollout of Japan's new strategy.  It is worth noting that the most vocal critics were close associates of former prime minister Abe, and like Abe are hawkish on Japan's defenses. 
Already reeling from public opprobrium over the Unification Church scandal, Kishida's approval rating remains somewhat precarious. A Kyodo poll taken in late November showed the prime minister's approval rating dipped to 33.1 percent, down from 37.6 percent a month earlier, and his disapproval rating rose to 51.6 percent.  Moreover, despite its win in the last general election, the LDP has suffered greatly since the assassination of former prime minister Abe in July as the party's entanglement with the Unification Church became widely known. Within the LDP there is concern about the party's prospects in next spring's regional elections. Even if the LDP felt more confident, introducing a tax hike takes time and a serious effort at persuasion. Japanese prime ministers have fallen due to voter anger over tax hikes, even as the public recognized the need to improve the nation's fiscal health.  Adding a greater tax burden on households as Japan seeks to recover from the COVID-19 pandemic risks an even more serious popular backlash. 
To soften the impact on the public, the Expert Council on Comprehensive Defense Capability as National Strength reportedly favored a corporate tax.  As expected, business leaders have not responded warmly to this idea. Keidanren Chairman Tokura Masakazu in a press conference in early November simply stated that it is "only natural that the cost is spread out thinly and broadly among the people."
Beyond this unpopular idea of a defense tax, the Kishida Cabinet is also considering how to divert government revenue from other sources.  For example, some of the spending on SDF bases and their improvement could benefit from revenues gathered from construction bonds, the first time a general account would be used for military purposes.  A more contentious idea is to divert revenue from bonds issued for the Tohoku recovery, bonds whose repayment could be extended to 2037. 
But diversion will not be enough to double Japan's defense spending over the next five years, and so the political choice of how to cover the gap in revenue (estimated by some to be 44 billion dollars) lies with the prime minister. However this quandary is resolved, it will be difficult to avoid some political cost for Kishida and for the LDP. Japan's decision to invest heavily in strengthening its defenses remains unquestioned. Realistically, some combination of financing streams will be the likely solution over the next five years. The prime minister may have to put his own political future on the line to push back against those within his party who can only see the electoral writing on the wall.