Five Questions on How Diversity Strengthens Foreign Policy: Jendayi E. Frazer
The Five Questions Series is a forum for scholars, government officials, civil society leaders, and foreign policy practitioners to provide timely analysis of new developments related to the advancement of women and girls worldwide.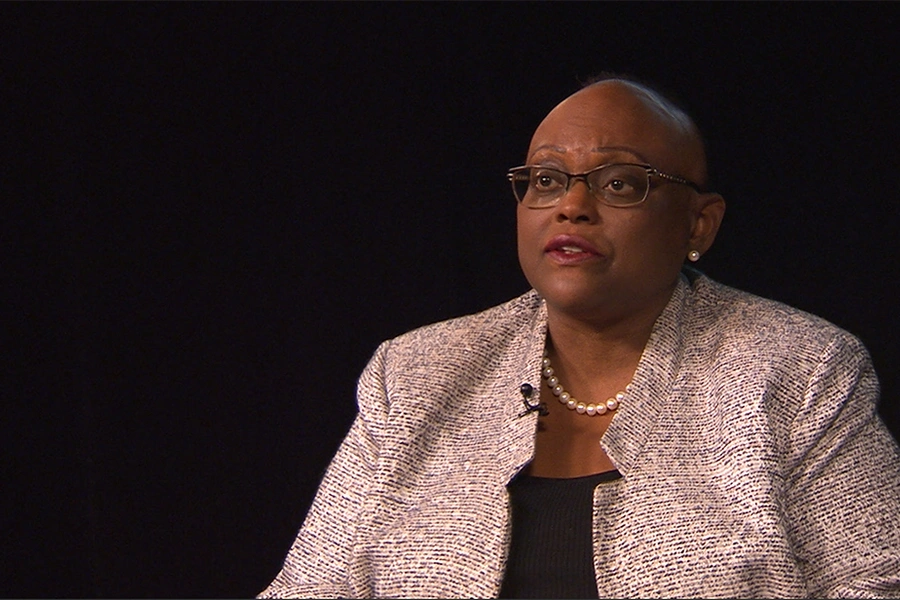 This post is authored by Rebecca Hughes, research associate with the Council on Foreign Relations' Women and Foreign Policy program. The interview is part of the CFR Women and Foreign Policy program's Women at the Table interview series—produced by CFR Senior Fellow Jamille Bigio and Research Associate Alexandra Bro—which features global leaders and U.S. diplomats who have contributed to peace and security processes around the world. The complete video series can be found in the CFR Women and Foreign Policy program's digital interactive report Women's Participation in Peace Processes.
This interview is with Jendayi E. Frazer, adjunct senior fellow in CFR's Africa program. She previously served as U.S. assistant secretary of state for African affairs, and was the first female U.S. ambassador to South Africa.
Why did you pursue a leadership role in national security and foreign policy?
I pursued a leadership role in national security and foreign policy partly because I was very comfortable in the space. My father was in the military and I was an Army brat, which meant that I was exposed to international affairs early on. Over the dinner table, I was always arguing with my father about foreign affairs. I also wanted to understand my own personal experiences, not only from growing up but also, from when I was in Kenya, as an exchange student and there was an attempted coup. That experience is what led me to want to understand civil-military relations and the role of the military in politics. Finally, I also had serious role models of women in leadership, whether it was Secretary Condoleezza Rice or Madeleine Albright. And I think that really creates the space to feel empowered, to be able to sit at that table, know that you have mastered your details, and you're going to make those difficult decisions, and you're quite capable of doing so, just like any man that's in the room.
Do you think it is important to have women in decision-making positions in the U.S. foreign policy establishment?
Yes. First, it's important for America because women are the majority of this country. Second, women have unique aspects in decision-making, in bringing people together and building teams. Third, women's diversity of experiences brings more to the decision-making process. Diversity is extremely important in decision-making, so that there's no groupthink and no narrow perspectives. When there is diversity at the table, you have the advantage of a broad set of personal and professional experiences that you can use to make the best decisions.
Do you think that women's participation in peace and security efforts has made a difference?
Women's participation in peace and security efforts has made a tremendous difference. In 2008, Secretary Condoleezza Rice brought a UN Security Council resolution to the United Nations that classified sexual violence as a war crime, a crime against humanity, and a constitutive act of genocide. Secretary Madeleine Albright, during Bosnia, also classified rape as a war crime. When I was at the National Security Council, there was a war in Liberia. And the women civil society leaders from Liberia were really the people who led the peace movement. Essentially, they forced the men to the negotiating table, and they were awarded the Nobel Peace Prize for their work. So, I think that having women in positions of power has made a difference.
Why do you think women are underrepresented in national security and foreign policy?
Women remain underrepresented in national security and foreign policy partly because of culture. For instance, war and military planning are often spaces with very macho cultures. In foreign affairs, I've found that men often raise their hand first and fastest. And men have a leadership style that is reflective of pushing themselves forward, whereas women often put forward their teams. For example, when I was at the State Department, the men, when they were doing evaluations of themselves, would often talk about "me," "I," "I'm the best," "I did this," and "I accomplished that," whereas women would often talk about what their team accomplished and how they led their team. And when the evaluation was over, it was the men who were promoted first and often received the awards, because they had been promoting themselves, whereas women tended not to do that.
What advice do you have for women who are seeking a seat at the table?
My advice to women who are looking for a seat at the table is that they should master their subject. You win at the table of decision-making because you have mastery of the details. Study hard, work hard, and do the extra work. And when you get to the table, have the confidence that you can command that table.