Friday Asia Update: Top Five Stories for the Week of September 4, 2015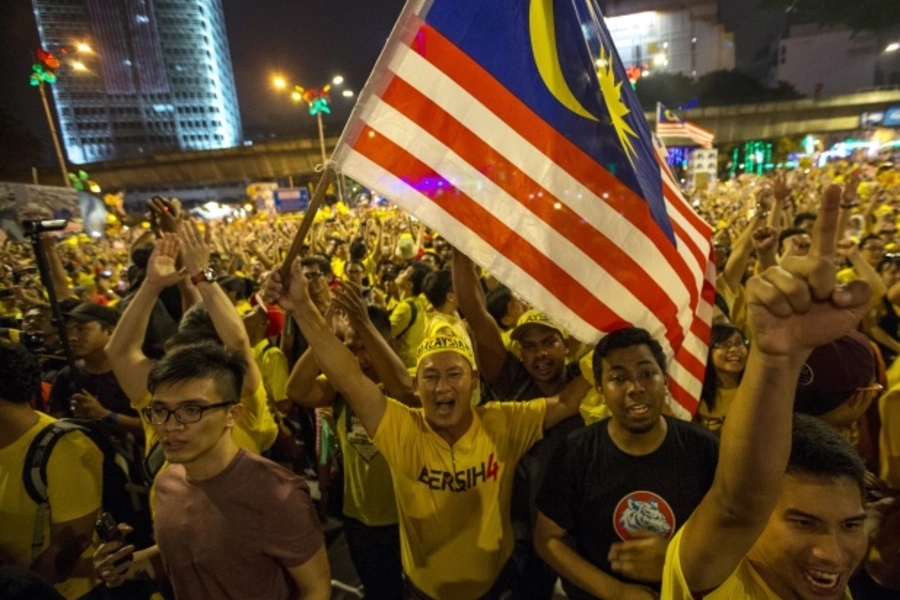 Ashlyn Anderson, Rachel Brown, Lincoln Davidson, Lauren Dickey, Ariella Rotenberg, and Ayumi Teraoka look at the top stories in Asia this week.
1. Malaysian protestors call for prime minister to step down. Tens of thousands of protesters demonstrated in Kuala Lumpur last weekend, saying that Prime Minister Najib Razak is unfit to govern following allegations that he took $700 million from a government development fund. They were joined by former prime minister and one-time Najib ally Mahathir Mohamad. The demonstrations were organized by Bersih, a coalition of NGOs that has demonstrated for years against the Najib government, calling for greater transparency and less corruption in elections. Previous Bersih rallies, which drew crowds much larger than this week's demonstrations, have been shut down by police wielding tear gas and water cannons; this weekend's protest, though declared illegal, was allowed to continue.
2. Millions of workers signal opposition to Modi's labor reforms. Spurred by government proposals for labor reform, 150 million workers in India turned out for a nationwide strike. Workers from banks, mines, factories, construction, and transportation joined the cause, which led to an estimated $3.7 billion in economic losses—mostly due to stranded exports at ports. The strike was called by ten trade unions, and marks the sixteenth nationwide strike since the first round of economic liberalization measures in 1991. The labor reform proposal sought to simplify India's labor laws while offering to raise the minimum wage to appease the unions. Although the trade unions have called the largely peaceful strike a "grand success," government and industry constituents shrugged off the "partial" losses.
3. Japan's darkest day. Over the past forty years, more Japanese youth have taken their own lives on September 1 than on any other day of the year. Data provided by the Cabinet Office of Japan came to light when a librarian in Kawasaki tweeted a call to use public libraries as spaces of "refuge" for those who were "thinking of choosing death over school in September." This news illustrated how social media can be a double-edged sword—while there have been many cases in which social media was used for bullying, this case highlights social media's ability to reach those in need of help. The large number of youth suicides has been a serious issue for Japan, which ranks fifth in the number of suicides among OECD countries and the second among Asian countries after South Korea. Last year, for the first time, the most common cause of death of those aged ten to nineteen in Japan was suicide, and the fastest growing suicide demographic was young men aged twenty-two to forty-four.
4. World War II victory parade in China. Yesterday, China held a lavish parade in Beijing to commemorate the seventieth anniversary of its victory over Japan in World War II and to display its military might. In total, forty thousand people were present in Tiananmen Square, among them twenty-three heads of state and government leaders including Russian President Vladimir Putin and Republic of Korea President Park Geun-hye. The most noteworthy announcement of the event came from President Xi Jinping, who declared that the People's Liberation Army would be cut by three hundred thousand personnel by 2017. The reduction allows China to redirect spending to weapons systems and focus on expanding the navy and air force, analysts said today. The parade served as a platform for China to showcase its increasingly potent ballistic missile arsenal, including one such weapon that could potentially destroy a U.S. aircraft carrier. Chinese citizens themselves had mixed reactions to the parade, although thanks to censors hard at work over social and conventional media, the public image of the day remained intact.
5. Bangkok bombing suspects arrested. Thai authorities arrested three suspects this week in connection to the bombing of Bangkok's Erawan Shrine on August 17, which killed 20 people.  One of the suspects, Kamarudeng Saho, is a Thai Muslim, while the other two are foreigners identified as Yusufu Meerailee and Adem Karadak. Eight arrest warrants have been issued, including one for a Turkish man. One of the foreign men was arrested while trying to cross the Thai-Cambodian border and is believed to be an ethnic Uighur from China's Xinjiang region, although his passport has not yet been authenticated. In the Bangkok apartment where the other foreign man was arrested, police found fake Turkish passports and bomb-making supplies.  Members of the Thai junta had long been adamant that the attack was not a case of international terrorism, but officials admitted for the first time this week that there may be a connection between the Bangkok bombing and the issue of Uighur migrants in Thailand. In early July, Thailand returned to China 109 Uighurs who had travelled to Thailand en route to Turkey. The Chinese government has often linked Uighur migrants to terrorism, and if a connection is found with the Bangkok attack this may strengthen their claims.
Bonus: War criminal popsicles. As China celebrates the seventieth anniversary of its victory in World War II, one ice cream chain in Shanghai has taken the festivities to a new extreme by offering an ice cream popsicle shaped in the likeness of Japanese war criminal Hideki Tojo. The store, Iceason, has pushed its product on the Chinese market through a "10,000 people together eat the Japanese war criminal" advertising campaign. If the nationalist sentiment isn't enough, the 3D-printed ice cream also comes in five flavors—vanilla, blueberry, mocha, mango, and tiramisu—for 30 yuan (around $4.70).