Above the Fold. Pundits who predicted that Iran would top the list of foreign policy problems in 2012 have early evidence that they were right. President Obama signed legislation over the holiday break imposing tough new sanctions on Iran's oil business. The EU is signaling that it will soon phase in an embargo on Iranian oil, a development that seemed unlikely just a year ago. Tehran has responded to these developments by threatening to shut down the Strait of Hormuz and firing some short-range missiles. Add in Israeli officials worrying that time is fast running out on their chance to strike militarily at Iran's nuclear facilities and GOP presidential candidates pounding the lectern demanding that the White House get tough and you can understand why alarm bells are ringing. Does that mean we're headed for a military showdown sometime soon? Probably not, for the simple reason that both sides have good reason to avoid it. The administration, which hasn't shown much enthusiasm for using force despite insisting that all options are on the table, has its hands full with problems elsewhere and knows that any attack it launches could trigger events it can't control. Tehran knows that if it tries to carry out its threat to close the Strait of Hormuz that it risks a military attack that could go well beyond destroying its navy and derailing its nuclear program. So rather than heading straight for a showdown this battle of wills is likely to take a few more dips and turns as the White House looks to give sanctions time to work and Tehran tries to use that time to push further ahead with its nuclear program.
CFR Event of the Week. It's been a quiet week here at CFR, so I decided to dip into the archives. With Iran dominating the headlines recently, I recommend checking out an event we had back in October when CFR's Isobel Coleman and the New York Times' David Sanger sat down with students to discuss CFR's Crisis Guide: Iran. The Crisis Guide is a great resource as well; it features a video overview of the conflict, a timeline, and an analysis of various options for U.S. action. You can listen to the audio of the event with Coleman and Sanger, or watch the video below.
Click here to view this video on YouTube.
Read of the Week. Mitt Romney may have won ugly in Iowa this week, but what matters is that he won. He's now the undisputed GOP frontrunner, and the odds are good that he will take the nomination. So now might be the time to read Vanity Fair's new profile of the former Massachusetts governor. Yes, it includes the obligatory recounting of the infamous car trip with the family dog strapped to the roof.
Blog Post of the Week. President Obama traveled to the Pentagon yesterday to announce the release of his administration's new defense strategy. The eight-page document is long on generalities and short on detail. But as Fred Kaplan argues, the general thrust of the strategy could create an existential crisis for the Army and Marine Corps.
Poll Question of the Week. Lost in all the sound and fury attending the results of Tuesday night's Iowa caucuses is the fact that no actual convention delegates were at stake. The caucuses are essentially a straw poll, or if you prefer, a nonbinding preference poll. The first convention delegates will be awarded in next Tuesday night's New Hampshire primary. So what are the polls telling us? No surprise, here—Mitt Romney is the man. All the polls show him with a healthy lead. To pick just one, the 7News/Suffolk University poll out today has Romney at 40 percent, Ron Paul at 17 percent, Rick Santorum at 11 percent, and no one else in double digits. But even if these poll numbers hold up, Romney won't be walking away with all twelve New Hampshire delegates. The "Live Free or Die" state will be awarding its delegates in proportion to how well each candidate does in the popular vote.
Chart of the Week. Why is Iran's threat to shut down the Strait of Hormuz attracting so much attention? Because as the chart below shows, the strait really is a choke point when it come to the transportation of oil. Only the Strait of Malacca, which runs between Indonesia and Malaysia, comes close in its importance to world shipping. Nearly sixteen million barrels of oil move through the Strait of Hormuz each day. That translates to nearly twenty percent of all the oil moved daily. Now for the good news. The odds that Tehran could shut down the strait are close to nil. Iran's naval capabilities are mediocre at best, blocking a twenty-mile wide stretch of navigable waters is hard, oil tankers don't burn or sink easily, and the U.S. Navy has enormous capabilities to keep the strait open. And in the highly unlikely scenario in which the Iranians succeeded in shutting down the strait, they would be the biggest losers. They depend on oil exports to keep their economy running. What the Iranians can accomplish with their saber rattling is to make the markets nervous, drive up the price of oil, and test Washington's will.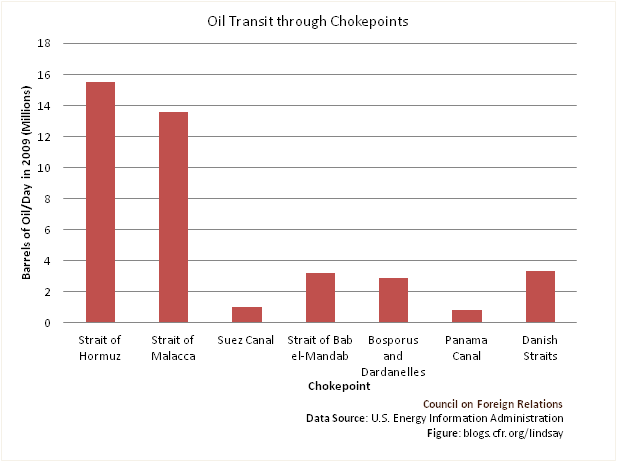 Too Good Not to Note. Liz Economy looks at what the GOP presidential candidates have been saying about China. Evan Feigenbaum sees twelve trends in China in 2012. Yochi Dreazen argues that the United States and Iran are already locked in an economic war. Robin Wright thinks that the United States is closer to a shooting war with Iran than most Americans realize. Max Fisher collects the videos that tell the story of year one of the Arab Spring. Tony Cordesman thinks that the Obama administration's new defense strategy is asking the right questions. Steve Coll wonders whether Ron Paul might turn out to be the spoiler who hands Barack Obama a second term in the Oval Office. David Rothkopf makes the case for President Obama's underappreciated, undersold success stories. Mike Moran worries that 2012 could be 1937 redux.
Perils of Prediction. "I'm told by two reliable sources that Rudy Giuliani intends to run for the GOP nomination for president in 2012. He may throw his hat in the ring soon." William Kristol, June 8, 2011. If you missed Mayor Giuliani at the Iowa caucuses, it's because he wasn't there. Maybe 2016.
Quote to Ponder. "Ain't no sense worrying: If you have no control over something, ain't no sense worrying about it—you have no control over it anyway. If you do have control, why worry? So either way, there ain't no sense worrying." Mickey Rivers, a superb center fielder during his fourteen-year Major League Baseball career.
A Reason to Smile. A Sugar Bowl Victory.