Friday File: Cherry Trees Blossom in Washington, DC
March 23, 2012
6:07 pm (EST)
Blog Post

Blog posts represent the views of CFR fellows and staff and not those of CFR, which takes no institutional positions.
Above the Fold. Washington, DC, owes a huge debt of gratitude to Tokyo. It was one hundred years ago next Tuesday that Japan's largest city gave our nation's capital 3,000 cherry trees to plant along the banks of the Tidal Basin. (No, George Washington did not plant them, and no, he did not cut down any cherry trees. That story was invented by Parson Mason Weems who wrote a not-quite-accurate biography of Washington shortly after America's greatest president died.) First lady Helen Taft and Viscountess Chinda, the wife of the Japanese Ambassador, planted the first two trees. Thanks to the splendid caretaking of the National Park Service, the trees have thrived. Seeing them in full bloom brings to mind the lovely words that Henry Wadworth Longfellow wrote long ago:
Sweet is the air with the budding haws, and the valley stretching for miles below
Is white with blossoming cherry-trees, as if just covered with lightest snow.
Washington's cherry trees are so spectacular that the city has held a National Cherry Blossom Festival  every year since 1935. The average date for the peak bloom is April 4, and this year's festival runs until April 27. But the National Park Service says that this year the peak bloom came two weeks early, on March 20th to be exact, which happens to have been the first day of spring in the northern hemisphere. But even if the peak bloom has already passed or you don't live anywhere near Washington, and especially if you are struggling to decide whether to take that job overseas or to pick which college to attend, get outside this weekend to enjoy Spring's beauty. It's something to behold.
CFR Event of the Week. Are America's schools good enough to keep the U.S. economy competitive and the country safe? A CFR Independent Task Force issued a report this week, entitled "U.S. Education Reform and National Security," that suggests that the answer is no. Former New York City schools chancellor Joel I. Klein and former secretary of state Condoleezza Rice chaired the task force. They stopped by CFR's Washington, DC, office to discuss the report with Nightline anchor Terry Moran. Klein and Rice's concern is backed up by plenty of statistics, such as the fact that only 24 percent of high-school graduates are ready for college courses and three-quarters of young Americans cannot qualify to join the military. Klein argues that the problems bedeviling American education will require work to fix: "We need significant change. Small-bore tinkering is not going to get us where we need to go." To hear more about the report and its findings directly from the task-force chairs, you can watch the video here or below, listen to the audio, or read the transcript.
Read of the Week. The CFR-sponsored Independent Task Force Report, "U.S. Education Reform and National Security," is worth reading. I don't know that I agree with all of the Task Force's findings and recommendations. You may not either. So feel free to use the comment boxes below to tell me how the report gets things wrong and what you think Americans and their government should be doing to improve our educational system. Of course, feel free to note where you think the Task Force report gets things right as well.
Blog Post of the Week. India is emerging as a global power, but South Asia remains among the least economically integrated regions of the world. That lack of integration is both a hindrance to India's economy and a substantial opportunity. Evan Feigenbaum writes that Indian officials understand the problem and are seeking to emphasize the economic dimensions of their national strategy. Evan thinks that this could be a good thing for both India and its neighbors.
Poll Question of the Week. It's not just Washington, DC, that has had a warmer than usual winter and flowers blooming when it's normally snowing. The same thing is true of most of the country. (It was 82 degrees when I visited the University of Illinois earlier this week. The locals told me that students typically aren't lounging around on the quad in shorts and bathing suits in early March.) So what do Americans think accounts for the warmer weather? The answer looks to depend on the party affiliation of the person you are asking. Gallup reports that 51 percent of Republicans and Independents say that the warmer weather reflects normal temperature variations. In contrast, 43 percent of Democrats blame global warming. Is there anything the Democrats and Republicans do agree upon?
Chart of the Week. In the last few months, CFR has been doing more videos. Some of these are one-off interviews with government officials, business leaders, and subject experts who have participated in CFR meetings. Others are parts of series we have been doing on Lessons Learned, Global Governance, and Campaign 2012. These efforts got me wondering how much video has grown over the past few years. So I checked out the latest YouTube statistics. The answer, as you can see in the chart below, is a lot.  (YouTube's crack research team has put together a fun and clever website that makes it easy to visualize video's growth.) But looking at the skyrocketing rate of videos being posted to YouTube left me wondering about a different question: Will we reach the point a few years down the road that we are all too busy recording and posting videos to have any time left over to watch them?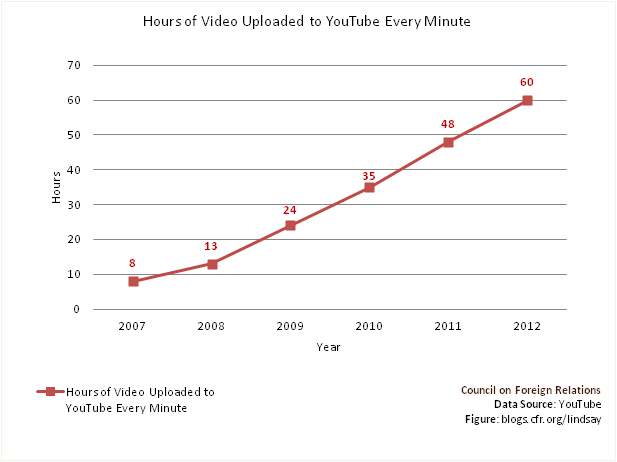 Too Good Not to Note. Adam Segal reports on China's Twitter War. Elizabeth Economy goes into full Kremlinologist mode to tease out the meaning and consequences of Beijing's decision two weeks ago to oust Chongqing Party Secretary Bo Xilai. Ed Husain urges France's Jews and Muslims to show solidarity against jihadis. CFR's Geo-Graphics blog says that Karl Marx knows who has gotten the benefits of the economy's recovery. Ted Alden argues that Americans need to learn how to win in the global economy when ideas aren't invented here. Stewart Patrick fears that South Africa is abandoning its idealistic aspirations about protecting fundamental human rights and embracing a foreign policy that defends absolute sovereignty and nonintervention above all else. Walter Russell Mead examines how India hedged its vote at the UN Human Rights Council on credible allegations that Sri Lanka committed atrocities against its Tamil minority. Mohammad-Mahmoud Ould Mohamedou sees Libya as following Iraq's lead, and he doesn't mean that as a compliment. Christopher Hill worries that none of the Republican presidential candidates "is particularly interested in the details of any of America's relationships around the globe." Ryan Lizza looks at Mitt Romney's problem with evangelical voters and his road ahead to the GOP presidential nomination. John Cassidy assesses what the nomination of Jim Yong Kim means for the future of the World Bank. Mike Moran thinks that Obama made a mistake in nominating an American for the World Bank presidency.
Perils of Prediction. "2012 NCAA Men's Basketball March Madness Bracket Predictions: Florida State Surprises, Syracuse Disappoints, Michigan State wins 2012 NCAA Men's Basketball Championship." – Mark Donatiello, March 14, 2012. Let's see. Florida State is contemplating exam finals rather than basketball finals after losing to the lower-ranked Cincinnati Bearcats. Syracuse's dreams of another national championship are still alive after a heart-pounding victory over Wisconsin. And Michigan State won't be cutting down the nets in New Orleans after getting steamrolled by Louisville. The upside to Michigan State's loss is that sofa stores in East Lansing should be doing a brisk business in the coming weeks.
Quote to Ponder. "If we had no winter, the spring would not be so pleasant; if we did not sometimes taste adversity, prosperity would not be so welcome." Anne Bradstreet
A Reason to Smile. The Face-off for the Frozen Four. #HTTV