Friday File: Saluting General David Petraeus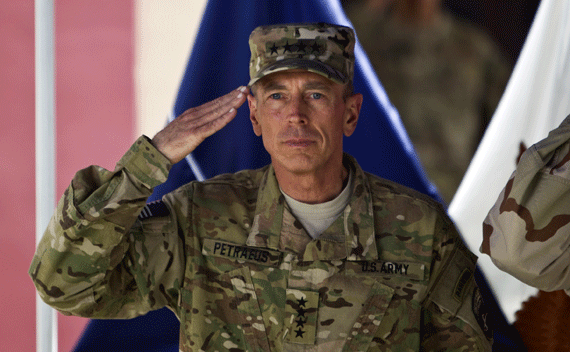 Above the Fold. General David Petraeus formally retired from the U.S. Army on Wednesday. He certainly accomplished a lot in his thirty-seven year military career. Commander of the 101st Airborne Division in its drive on Baghdad during the Iraq War. Chief architect of the "surge" in Iraq. Commanding general of the United States Central Command. Commanding general of the International Security Assistance Force in Afghanistan. Along his way to earning four stars he took time out to earn a PhD in international relations from Princeton University. His superiors certainly liked job Petraeus did. Chairman of the Joint Chiefs of Staff Admiral Mike Mullen was lavish in his praise at Wednesday's retirement ceremony, saying of Petraeus: "You now stand with the giants, not just of our time, but of all time joining the likes of Grant and Pershing and Marshall and Eisenhower as one of the great battle captains of American history." Fingers crossed that Petraeus does half as well in his next post as Director of the Central Intelligence Agency. For now, though, let's just thank him—and all the other career military officers whose retirements do not make front page news—for their service to the country.
CFR Event of the Week. Social media have figured prominently in the Arab Spring. Facebook, YouTube, and Twitter have connected activists within and across the Arab world and helped mobilize broader publics. Before these dramatic developments, CFR invited Eric Schmidt, Chairman of Google, and Jared Cohen, CFR adjunct fellow and Director of Google Ideas, to discuss the interaction between technology and society and the effect of new technologies in countries like Iran and China. Watch the full video or listen to the audio. In the clip below, Eric and Jared talk about the social value of American technology exports.
Click here to view this video on YouTube.
Read of the Week. One of the best articles ever written on foreign policy is Robert Jervis's "Hypotheses of Misperception," which World Politics published more than forty years ago. The article examines how government leaders consistently misread others' actions and intentions. Professor Jervis's fourteen hypotheses have stood the test of time. My favorite may be Hypothesis 14: "actors tend to overlook the fact that evidence consistent with their theories may also be consistent with other views." The outpouring of analyses on whether the fall of Tripoli vindicates the Obama "lead-from-behind" strategy attests to the fact that this particular misperception persists (and that policymakers aren't the only ones to fall victim to it). "Hypotheses of Misperception" should be required reading for anyone who works or comments on foreign policy. It's also a pretty good guide to navigating life in general.
Blog Post of the Week. GOP presidential candidates haven't said a lot about foreign policy. They have said even less about U.S. relations with Latin America. That's a shame. As my colleague Shannon O'Neil points out, Latin America is among America's fastest growing trading partners and one out of six Americans trace their heritage to region. Never one to be put off by a good challenge, Shannon reviewed the records of several major GOP candidates to see where they might be leaning on Latin America and especially U.S. relations with Mexico. She detects a few fault lines, mostly having to do with immigration, that could figure prominently in the coming Republican presidential debates.
Poll Question of the Week. Nothing succeeds like success. Clear evidence of this adage can be seen in the polling on the U.S. military intervention in Libya. When CNN/ORC asked Americans back in July, "Do you favor or oppose the U.S. military action in Libya," 60 percent of respondents said they opposed it and only 35 percent favored. Now that Tripoli has fallen to the rebels, 54 percent favor the intervention and 43 percent oppose it. This switch in approval doesn't mean that Americans want to do more in Libya. Two out of three Americans say that the United States should not be involved in attempts to form a civilian government and restore order in Libya. So on that score Americans don't appear to be with President Obama but rather with GOP presidential candidate Michele Bachmann who issued a statement after the rebels entered Tripoli stating "I opposed U.S. military involvement in Libya and I am hopeful that our intervention there is about to end."
Chart of the Week. The Obama administration chose to lead from the back in Libya rather than the front. Despite the change from traditional strategy, the United States was hardly on the sidelines during the intervention. As the chart below show, the only country that flew more strike sorties over Libya than the United States was France. No, that is not a misprint. French pilots and planes flew roughly one-third of the military strikes on Libya. Denmark flew the third most sorties. Again, not a misprint.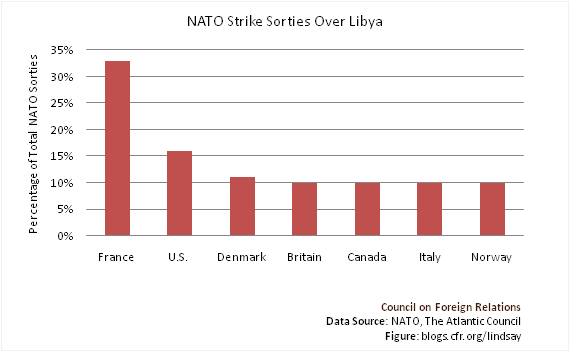 *Percentage of total strike sorties calculated at varying points through the war. For more details, visit the Atlantic Council's "NATO Source" blog. Strike sorties are missions flown with the intention of dropping ordnance on a target.
Too Good Not to Note. Richard Haass argues that 9/11 was a tragedy but not a historical turning point. Liz Economy explains why China worries about new Japanese prime minister Yoshihiko Noda. Adam Segal cautions that while China is often behind cyberattacks it isn't always at fault. David Rothkopf dissects Mitt Romney's speech to the VFW's national convention. Joshua Foust asks how American is interventionism. Former Australian prime minister Malcolm Fraser worries that America is in the midst of a self-inflicted decline. Brad Plumer reports that oil production in the United States has boomed since Obama became president but it hasn't done much to drive down gas prices.
Perils of Prediction. "Even though the [University of Michigan] Wolverines are expected to win easily Saturday at Michigan Stadium, they're treating Appalachian State with respect." So much for expectations. The Wolverines, ranked number five at the start of the 2007 college football season, lost to Appalachian State 34-32 in a game Michigan fans call "The Horror." It marked the first time that a team from the Football Championship Subdivision—formerly known as Division I-AA—defeated a ranked Football Bowl Division–formerly Division I-A—team. Michigan paid $400,000 to be beat at home in front of 109,218 fans by the team from Boone, North Carolina. And yes, the pain of The Horror still haunts Michigan fans. They howled last week when Michigan athletic director Dave Brandon announced that the Wolverines will meet the Mountaineers in a rematch in 2014.
Quote to Ponder. "The team, the team, the team." Glenn E. "Bo" Schembechler.
A Reason to Smile. The Victors, the greatest college fight song of all time.
An Extra Reason to Smile. College football is back and your favorite team is undefeated.