The Future of Lava Jato and Brazil's Reform Agenda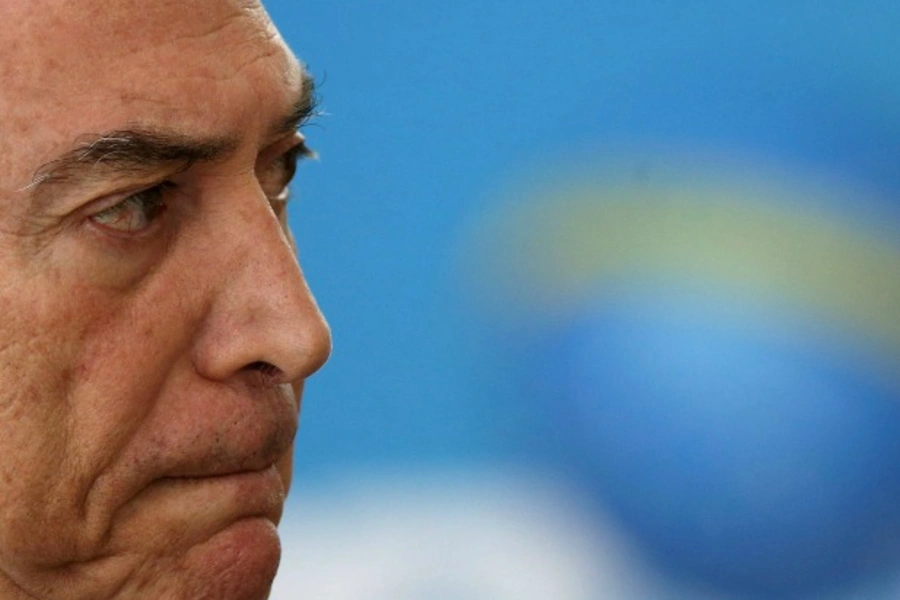 The tragic January airplane crash that killed Justice Teori Zavascki, a member of Brazil's highest court (the Supremo Tribunal Federal, STF), has given President Michel Temer an opportunity to seize yet another commanding position in Brasília: a potentially balance-shifting court seat. This appointment, and other machinations underway in Brasilia, could undermine the Lava Jato investigation, engender a popular backlash, and ultimately undercut the incipient reform efforts underway in Congress.
Past STF nominations have not been always been overtly political. Although the Workers' Party (PT) which governed until last year appointed eight of the eleven justices on the STF before Zavascki's death, it chose a number of nominees who were already judges or prosecutors in their own right, and thus proved willing to rule against PT incumbents when necessary. Joaquim Barbosa, most famously, was nominated by former President Lula, but this did not temper his willingness to zealously pursue the pathbreaking mensalão corruption case against senior administration officials. Zavascki, likewise nominated by the PT, was also thought to be his own man, a career judge unwilling to bend the law to meet political exigencies. At the time of his death, Zavascki was responsible for overseeing the trial court spearheading the Lava Jato case. His propriety in that case led many to worry that his death could lead to significant delays in the approval of a variety of plea bargains signed by more than seventy Odebrecht executives. So deep were the doubts that there has been an undercurrent of disbelief surrounding his death, including a series of questions about the suspicious conditions surrounding the plane crash that killed him.
Like other tragic and high profile deaths in recent Brazilian history, uncertainty about the cause of Zavascki's death may linger. But the rumors are motivated at least in part by recognition that the Lava Jato investigation has threatened many of the backroom bargains that lie at the heart of Brazilian politics, and by fear that the beneficiaries of those bargains now appear ready to take advantage of Zavascki's vacancy to slow and even turn back the judicial clock.
Already, there are justices on the STF who are seen as unsupportive of Lava Jato. Some are driven by sincere legal convictions, such as the protection of defendants' civil rights, while others are simply mercurial or plain partisan. The upshot is that the STF – which must judge all cases against sitting federal politicians – hangs in the balance, at a critical moment when the Odebrecht plea bargains have been approved by chief justice Cármen Lúcia Antunes Rocha, and dozens of cases against leading federal politicians appear to be nearing judgment.
Temer has nominated his justice minister, Alexandre de Moraes, as Zavascki's replacement. Although he is a prosecutor, Moraes has spent much of the last fifteen years as a political appointee in state and federal government. Newspapers have accused him of plagiarism on his doctoral thesis, and of being too much of a politician, rather than a technical judge in the Zavascki mold. More worrying in light of the Lava Jato case is his previous role as defense lawyer to Eduardo Cunha, the disgraced former Brazilian Democratic Movement Party (PMDB) congressman who presided over the lower house of Congress during last year's impeachment drama. If confirmed, Moraes will be one of eleven justices ruling on Cunha's case, as well in the pending corruption trials of Cunha associates. Leading editorial pages are tinged with alarm.
Temer, meanwhile, has floated the idea of nominating a criminal defense lawyer or a PMDB stalwart as Moraes's successor in the Justice Ministry. There is nothing wrong, of course, with having a defense lawyer as justice minister – one of Brazil's most influential justice ministers during the Lula years, Márcio Thomaz Bastos, came from a similar professional background and was instrumental in pushing forward very important anticorruption reforms. Meanwhile, the conditions for anticorruption efforts have greatly improved in Brazil in recent years, and politicians' efforts to save their own skins will be resisted by civil society, prosecutors, and judges. Zavascki's replacement as supervising justice on the Lava Jato case, Luiz Edson Fachin, is believed to be a disciplined and balanced judge, and he has just authorized investigations against a variety of high-level PMDB politicians, including former president José Sarney.
But the optics are quite bad, not least because the new appointments come against a backdrop in which a third of the Congress faces criminal cases before the high court, and the Odebrecht plea bargains open the way to new charges against approximately fifty federal politicians. It is hard to avoid the conclusion that the scandal-plagued PMDB and its allies seem to be doing everything they can to save themselves.
The chutzpah of politicians under Lava Jato's scrutiny is remarkable. There have been a variety of efforts to roll back anticorruption statutes and to restrict prosecutors' leeway. Already, the congress has quashed a ten-point reform package proposed by prosecutors and supported by more than two million citizens in a public petition. Last week, Temer nominated another scandal-ridden advisor to become a minister, in a move many interpreted as a bid to give him privileged legal standing, since ministers can only be tried in the STF, a timid court which has convicted only four sitting politicians since the return to democracy three decades ago. Congress this week has been debating a proposal to weaken the electoral court's ability to punish political parties for campaign finance violations. The Senate has elected a scandal-laden PMDB heavyweight, Edison Lobão, to head the constitutional committee that will vet Moraes, as well as a new prosecutor general later this year.
Temer has tried to stay above the fray, denying allegations that have emerged about his own ties to corrupt dealings, and trying to focus Brasília's attention on desperately needed fiscal reforms. Appointing stalwart allies to the STF and cabinet positions may buy him congressional support that will help move forward the reform agenda this year. But in the long run, raising the hurdles to effective accountability could set back Brazil's reform agenda for a long time to come. If Lava Jato is stymied, and politicians are seen to have gotten off the hook, a popular backlash could very well shift the advantage in the 2018 presidential elections to a rightwing populist or a revanchist leftist. The governability that Temer's appointments purchase today may have costs to the deep reforms that Brazil desperately requires during the next president's term.