The G20 Mexico Summit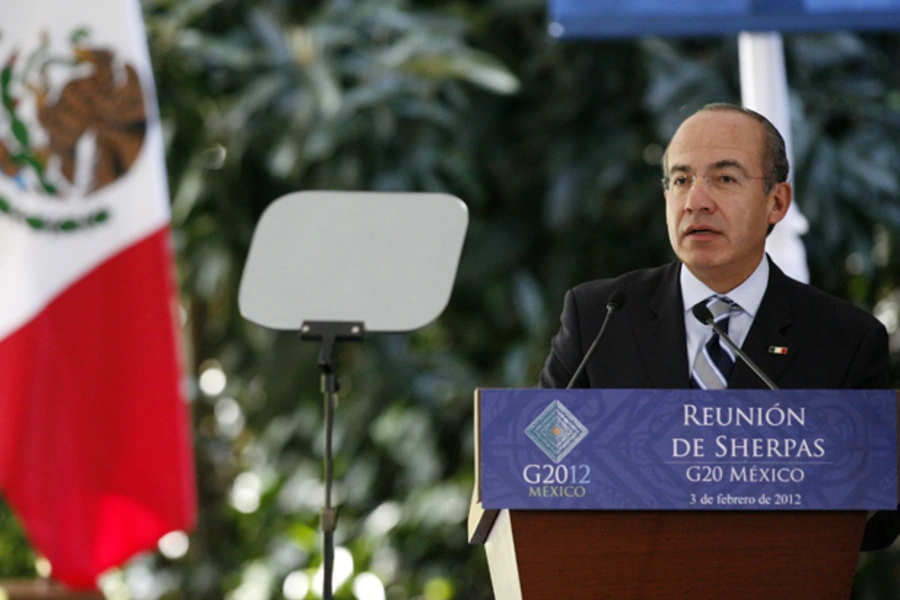 World leaders will gather June 18-20 in Los Cabos, Mexico, for the Group of Twenty nations summit. Watch the Internationalist interview below with Enrique Berruga, the president of the Mexican Council on Foreign Relations, about the upcoming meeting and future of the group.
Berruga says:
1. The G20 "has to deliver." With the global economy slipping back towards recession and the threat of a European crisis looming, "there's no time to spare." Members of the International Monetary Fund have agreed to provide that institution with almost $500 billion, but "the question is what to do with that money" and how to "revamp" the global financial system to make it more stable.
2. The Mexican presidency will propose a climate fund to promote growth that is "more efficient and cleaner at the same time."
3. Mexico depends on the welfare of the other G20 members and therefore highly values the forum. "Mexico and Canada are the two more-addicted-to-the-G20 countries of them all," Berruga notes.
Watch this video on youtube here.
4. While some believe that Mexico represents Latin America at the forum, Mexico really only represents its own national interest, and calls for such regional representation are overly idealistic. However, Latin American countries do ask their regional partners in the G20 (Brazil and Argentina in addition to Mexico) to push some of their agenda items.
5. For the first time, the Mexican G20 presidency convened a meeting of all G20 foreign ministers because the issues under debate are "so important that the foreign ministers have to be engaged." G20 summits generally gather finance ministers from member countries and yield a nonbinding communiqué without real commitments and deadlines. Including foreign ministers in the discussion will help add important diplomatic architecture to the debates and outcome document, in terms of follow through and substantive expertise. However, countries must avoid trying to replace the UN Security Council and take on issues beyond their remit, such as Syria.
This video is part of The Internationalist, a series dedicated to in-depth discussions about leveraging multilateral cooperation to meet today's transnational challenges.