The G7, NATO, and the Future of the West
Rather than making democracy a litmus test, G7 and NATO leaders would gain more traction by focusing on the need for all countries to defend the fundamental rules of the international system grounded in the UN Charter.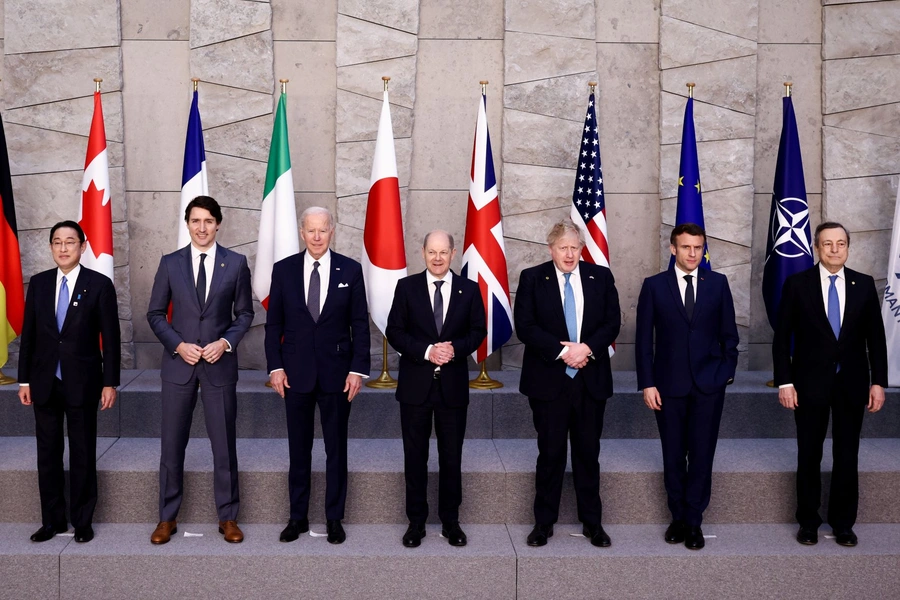 The annual summits of Western leaders are rarely dramatic. This year is different, thanks to the Russian invasion of Ukraine, the biggest geopolitical shock to the European order since 1945, and the gravest violation of the UN Charter since the Iraqi seizure and annexation of Kuwait in 1990. When U.S. President Joe Biden joins with his Group of Seven (G7) counterparts in Germany (June 26–28) and fellow North Atlantic Treaty Organization (NATO) leaders in Spain (June 29–30), their overriding priority should be to signal the West's determination to defend the rules-based international system against Moscow's aggression. This effort is more likely to resonate globally if it is framed as a defense of the UN Charter principles of sovereignty and non-intervention, rather than as a clash between the forces of autocracy and democracy.
On Saturday, the leaders of the largest advanced market democracies will convene in the Bavarian resort town of Schloss Elmau under the German G7 presidency. In addition to the group's standing members (the United States, Canada, France, Germany, Italy, Japan, and the United Kingdom, as well as the presidents of the European Union and the European Commission), German Chancellor Olav Scholz has invited the leaders of five other democracies—Argentina, India, Indonesia, Senegal, and South Africa—to attend.
The German leader has set an ambitious summit agenda for the assembled democracies. Formulated well before the war in Ukraine, it encompasses five themes:
Environmental sustainability: Scholz will seek endorsement for his concept of a "climate club," conceived as a high-ambition group open to all countries committed to putting a price on carbon, accelerating decarbonization, and assisting emerging countries with their energy transitions. President Biden will find it difficult to throw his full weight behind this laudable initiative, given his own inability to back up his Glasgow pledges with domestic climate legislation.
Economic recovery: G7 leaders will also seek to stabilize a volatile global economy beset by surging inflation and food and energy insecurity. Among other steps, they will tout a recent G7 action plan to address short-term disruptions of agricultural exports from Ukraine and a new global alliance to promote long-term food security in developing countries.
Global health: The assembled leaders will reaffirm their commitment to strengthening the WHO; tout their latest Action Plan on COVID-19, emphasizing vaccine delivery and equity; and endorse the creation of a Pandemic Prevention, Preparedness, and Response Fund to be housed in the World Bank.
Infrastructure: Last year in Cornwall, England, the G7 announced a "Build Back Better World" (B3W) scheme intended to compete with China's well-funded Belt and Road Initiative. After a year of underwhelming results, President Biden intends to rebrand B3W as a new partnership for global infrastructure, with a particular focus on the Indo-Pacific. National Security advisor Jake Sullivan promises that it will be "one of the hallmarks of Biden administration foreign policy."
Democratic solidarity: The fifth official theme of the German presidency is "stronger together," a message that has taken on new resonance in the wake of the war in Ukraine. Russia's naked aggression has reinvigorated Western unity, reaffirming the G7's enduring importance as a coalition of likeminded, open societies determined to defend their way of life. This message will be more persuasive if it is accompanied by a new round of even tougher sanctions. 
From Bavaria, all G7 leaders will travel to Madrid for a summit with fellow NATO partners. This includes Japanese Prime Minister Fumio Kishida, who will be the country's first leader to join a NATO meeting. Their immediate bureaucratic task is to endorse the alliance's updated Strategic Concept. Much has changed since 2010, when the last such document was approved. Just three years ago, French President Emmanuel Macron dismissed NATO as "brain dead," essentially adrift without a clear purpose. Russian President Vladimir Putin's decision to invade Ukraine has suddenly galvanized the alliance, restoring its centrality as the most important bulwark of Western freedom and security.
According to NATO Deputy Secretary-General Mircea Geoană, who previewed the new concept at the Copenhagen Democracy Summit on June 10, the updated strategy will emphasize this new era of geopolitical competition, identify China and Russia as the West's main strategic rivals, and underscore the importance not only of bolstering collective defense but of building resilient democratic societies. The document will also commit the alliance to shoring up its newly vulnerable Eastern flank. In Madrid, expect the allies—except Turkey—to welcome the prospect of Finland and Sweden's entry into NATO.
The task before the allies will be to demonstrate their staying power and solidarity. After decades of U.S. complaints about allied underinvestment in collective defense, most European nations have begun to ramp up military spending, most dramatically in the case of Germany. Along with the United States, they have delivered large stocks of weapons and materiel to help Ukraine defend itself. The big challenge will be to maintain domestic support for these outlays as the war grinds on and a global recession looks more likely. A related dilemma will be navigating transatlantic tensions over the continued aspirations of some European nations, including but hardly limited to France, to advance the EU's "strategic autonomy" vis-à-vis the United States. Like its predecessors, the Biden administration wants to ensure that any new European defense investments are directed overwhelmingly toward strengthening NATO, rather than toward an independent EU military capability. As time goes on, the United States will find it hard to have it both ways. The United States should be prepared to show flexibility on this matter, welcoming increased EU capabilities as a sign of maturity and reduced dependence.
Together, the G7 and NATO summits provide an opportunity for the West to present a united front against Russia's naked aggression in Ukraine and, more generally, in defense of a rules-based international system in which open societies can flourish. At the same time, Biden and his fellow leaders should beware declaring a new Cold War, which would be likely to alienate many countries disinclined to choose sides in a new bipolar confrontation.
Many observers have interpreted the Russian invasion of Ukraine as an epochal, "before and after" moment, akin to the fall of the Berlin Wall or the attacks of 9/11. The temptation is understandable. Coming only days after Vladimir Putin and Xi Jinping declared a Sino-Russian partnership "without limits," the invasion seemed to signal a new era of militarized competition pitting the democratic West against its authoritarian adversaries. President Biden, who has himself declared the "battle between the utility of democracies... and autocracies" to be the "defining struggle" of our time, has reinforced this depiction of the war in Ukraine as the opening salvo of a new Cold War.
The risk is that such framing will prove unpersuasive and counterproductive to a wider global audience. Many nations are skeptical of the standing of the United States to present itself as a paragon of democracy, particularly in the wake of the Trump years, and especially after the attempted coup of January 6, 2021. It is also difficult as a practical matter to sort the world's 193 nations cleanly into democracies and non-democracies—a reality underscored by the questionable guest list for the president's first Summit for Democracy. Moreover, as Biden's upcoming trip to Saudi Arabia shows, democratic governments often sacrifice espoused principles for perceived strategic interests, exposing them to charges of hypocrisy.
Such "us-versus-them" framing also risks alienating democracies and partial democracies in Africa, Asia, Latin America, and the Middle East on which the West depends both to bolster the rules-based international system and to cooperate on global matters like climate change, trade, and pandemic disease. Many nations, including among others Brazil, India, Indonesia, Singapore, and South Africa, would prefer to maintain a pragmatic stance rather than join a new "free world" coalition. Forcing them to choose sides is unrealistic and unwise.
Rather than making democracy a litmus test, Biden and his fellow Western leaders would gain more traction by focusing on the need for all countries to defend the fundamental rules of the international system grounded in the Charter of the United Nations. Regardless of regime type, geopolitical calculation, or stage of economic development, all UN member states have committed themselves to the principle that no country should be allowed to seize another's territory by force, and that such violations of international law are fundamentally illegitimate. In Bavaria and Madrid, G7 and NATO leaders should drive that message home.
This publication is part of the Diamonstein-Spielvogel Project on the Future of Democracy.