The Great Chinese Netizen Slogan Contest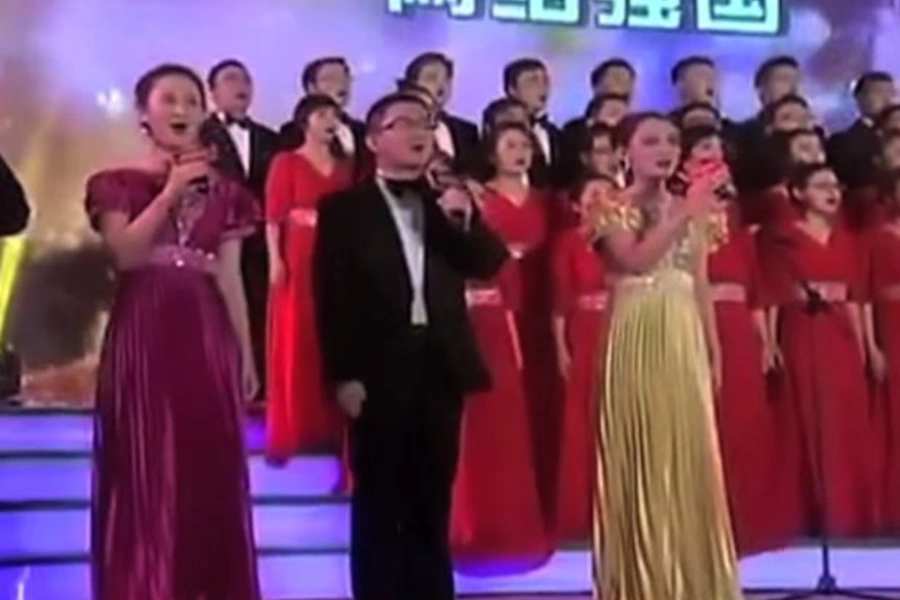 Lincoln Davidson is a research associate for Asia Studies at the Council on Foreign Relations. You can follow him on Twitter @dvdsndvdsn. 
A million homes the Net together ties,
Cyber civilization on all of us relies.
Pretty catchy, no? These two lines could be awarded a prize by the Cyberspace Administration of China (CAC) in a contest they've just launched to identify the best slogans and stories of what it means to be a "good Chinese netizen."
China has been gearing up its online propaganda machine for weeks as the country prepares for today's military parade in Beijing commemorating the seventieth anniversary of Japan's defeat in World War II.  Internet regulatory offices around the country have been organizing events to celebrate the nearly three-quarters of a century old victory. On Tuesday, for example, the Beijing Internet and Information Office launched a signing contest to promote the "War of Resistance".
The state press has also been working overtime to prepare for the parade. State-owned papers China Daily and China Youth Daily ran editorials calling on "Internet warriors" to "forward march" and "protect the grand troop review with your fingertips"—which is to say, talk about it online in an ideologically correct manner. What is ideologically correct? Posts that take a "sunny" view of the Chinese Communist Party (CCP) and avoid "historical nihilism," the CCP's latest term for interpretations of history they consider revisionist.
Political slogans have a long, rich history in China. From the "terse, miserly code" used by ancient Chinese intellectuals to the chants of youths in Tiananmen Square during both the Cultural Revolution and the 1989 demonstrations, slogans have often been the linchpin on which Chinese politics turns. Some of them are actually quite catchy. The phrases competing in the CAC slogan contest, however, really aren't that catchy, which perhaps explains why they've only been able to garner a few hundred votes, despite the size of the Chinese Internet. Some choice examples (admittedly, most of these do sound better in Chinese than in translation):
Give the Internet a blue sky,
Give your heart a pure land,
Use the firewalls of your heart to resist viruses,
Use the magnets of your thought to absorb knowledge,
Make every click hold up an oasis for your heart. (293 votes)
Even a thousand li isn't far
To come and leave a "like"
Let's endure the storms together
Netizen comrades
Separating fact from fiction
Together tasting the bitter and the sweet
An alliance of civilization
You and I stand strong. (124 votes)
And currently holding the lead position with 992 votes:
The sweet sound of the mouse's click-click-click,
The keyboard tap-tap-tap of truthful words.
The stories that are also part of the contest are much more interesting however, because they give us a better view of what exactly CAC Director Lu Wei means when he calls on Chinese people to be "good netizens." In a speech in June, Lu identified four rules that "good Chinese netizens" follow, among them "having a civilized approach to the Internet."
One story (which leads the pack by a significant margin with 1724 votes) tells of a man named Li Xiangwei from Luoyang, Henan Province, who has made several long-form posts online calling out local injustices. For example, when Luoyang launched a bike share program in 2013 that required a 600 RMB (about $94) deposit to use for two hours, he made a post criticizing the program that led the government to reduce the deposit to 200 RMB and extend the free use period to three hours.
Another article (with 283 votes) by a man named Mu Xiangdong tells how the Internet helped him achieve his dream of becoming a journalist. While working for the publicity office of a foreign firm in Dongguan, a coworker posted a poem Mu had written for the company's internal newsletter on his personal blog. It drew a lot of attention, so Mu decided to start his own blog where he shared articles he'd written. After an article he wrote about a migrant worker who had been mugged was picked up by China Daily, he started working as a freelance reporter. Now, to show his gratitude for everything the Internet has done for him, he works hard to be a good Chinese netizen.
These stories suggest that, in the view of the CAC, being a good netizen is about more than refraining from posting content the CCP deems objectionable. Instead, a good netizen is something of an Internet reboot of the Mao-era concept of the model worker: someone who goes above and beyond, but never strays off the ideological path.
In today's China, those who support causes the CCP opposes—such as feminism, human rights, and religious freedom—face investigation and detention for their efforts. There's a lot of incentive to be careful about what you post online. However, by highlighting local government accountability stories as models for China's netizens, China's net regulators seem to be encouraging more online criticism. They are unlikely to succeed. Given the fickleness of Chinese authorities—a constantly wavering line between what kinds of criticism are acceptable and what kinds aren't—there's not much incentive to be an online model worker at all.