Guest Post: Preventing the Third Intifada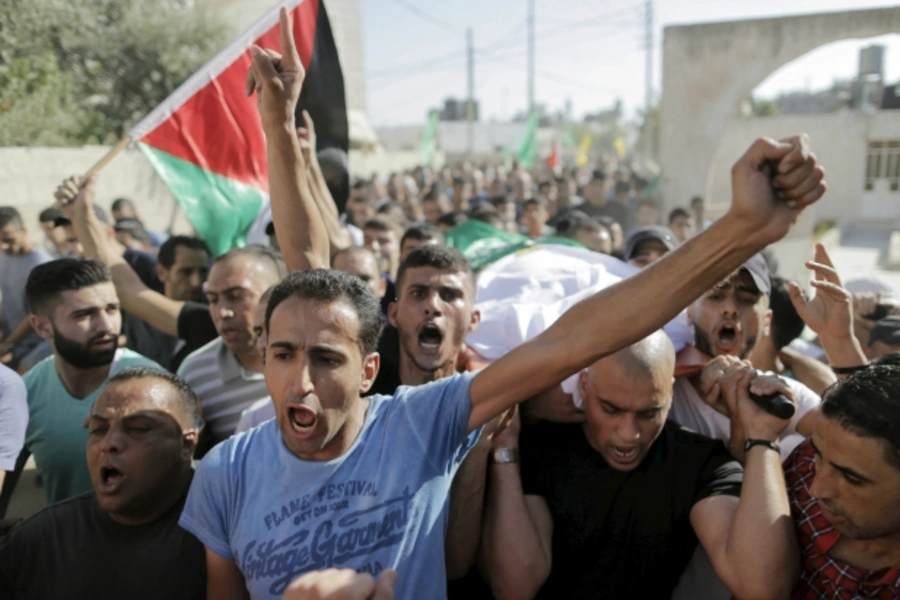 Patrick Romano is an intern in the Center for Preventive Action at the Council on Foreign Relations.
If tensions escalate further, the West Bank could erupt in a violent uprising—sometimes referred to as the third intifada—for the first time since 2005. The death of a Palestinian toddler in an arson attack by Jewish extremists on July 31 was the latest example of an increasingly violent situation. Recent flare-ups between Israeli police and Palestinians over the al-Aqsa mosque, sometimes deadly arrest raids by Israeli forces on West Bank homes, and continued discord over Israeli settlements all underscore growing Palestinian frustration with the perceived status quo: lack of political independence, a depressed economy, encroaching Israeli settlements, and an increasingly divided Palestinian Authority (PA).
In a new Center for Preventive Action (CPA) Contingency Planning Memorandum, "A Violent Uprising in the West Bank," Steven Simon, a visiting lecturer at Dartmouth College and former senior director for Middle Eastern and North African affairs at the White House, explores the conditions that could lead to the third intifada and lays out U.S. policy recommendations for preventing or mitigating such a crisis.
While the second intifada ended over a decade ago, Simon asserts that recent developments have increased the risk of a third intifada. Progress toward political independence has stalled, resulting in mounted frustrations among Palestinians. This has amplified attacks—such as the June 2014 kidnapping and murder of three Israeli teenagers, which was summarily followed by the retaliatory slaying of a Palestinian youth by Israeli extremists.
The expansion of Israeli settlements in the West Bank and their encroachment on holy areas like the Temple Mount/Haram al-Sharif have further increased tensions. Additionally, Hamas' rising popularity in the West Bank, along with the PA's more frequent internal disputes, could lead Hamas to attempt to challenge the PA or the Israeli state itself through military force, Simon warns. Finally, there is a growing trend of jihadist groups, such as the self-proclaimed Islamic State and al-Qaeda affiliates, trying to radicalize Muslims in the West Bank by urging them to act against Israel. This threat of jihadist penetration and other tension-inducing developments have created a combustible situation in the West Bank.
To prevent these conditions from leading to an outbreak of sustained violence, Simon proposes the following preventive recommendations for the United States:
• Renew hope in and progress toward a two-state solution by making official, public statements that signal the U.S. belief in the necessity of returning to peace negotiations
• Persuade the Palestinian Authority and Israel to desist from potentially provocative actions
• Support Palestinians with economic, political, and security assistance
• Help counter external provocations by increasing U.S. support to Israeli and Palestinian intelligence on jihadist threats
But why should the United States care or act? A third intifada would impact U.S. interests in numerous ways. Another violent uprising would make it more difficult for Washington to broker a two-state solution—a longstanding core U.S. foreign policy objective. Renewed strife would also place more stress on the troubled U.S.-Israel relationship, making it even harder for the two countries to cooperate on issues such as the regional rise of Iran or the fight against the Islamic State. More broadly, European governments, whose populations are increasingly anti-Israeli, would likely respond sympathetically toward the Palestinians in the event of a third intifada, further fracturing trilateral relations between the United States, Israel, and Europe. Worse yet, if an uprising breaks out in coming weeks, insecurity in Israel could undermine congressional support for the recent P5+1 agreement with Iran over its nuclear program, which the U.S. Congress will vote on in September.
For more in-depth analysis on why the West Bank may be heading toward a third intifada and what the United States can do to prevent that crisis or mitigate its consequences, read Steven Simon's Contingency Planning Memorandum, "A Violent Uprising in the West Bank."