Hello, François Hollande: President of France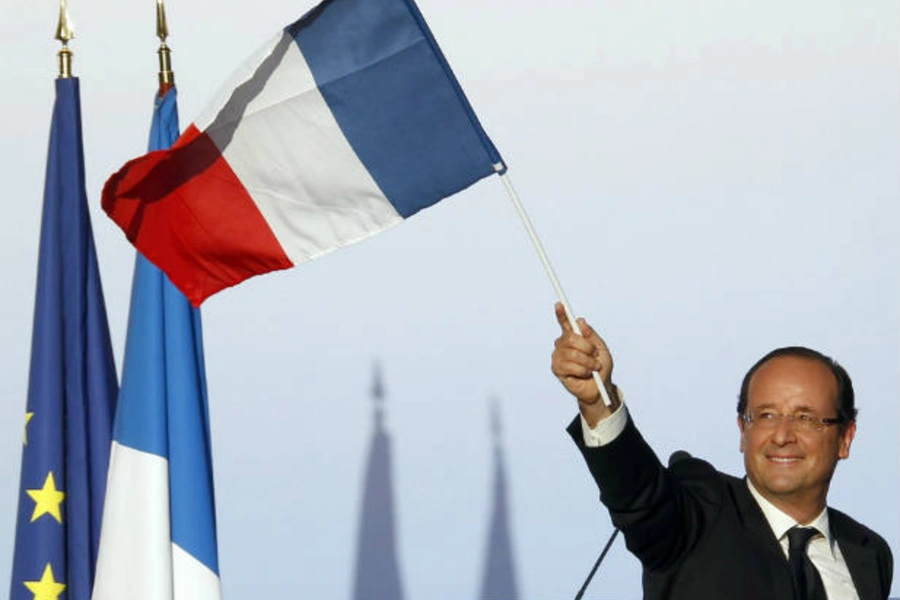 Streaks are made to be broken. After seventeen years on the outside looking in, a Socialist Party candidate has finally returned to the French presidency. François Hollande defeated Nicolas Sarkozy by four percentage points, 52 percent to 48 percent. Hollande's victory marked the first time in more than four decades that an incumbent French president lost his reelection bid. The man who vanquished the incumbent back in 1981 was François Mitterand, the last Socialist Party president and Hollande's idol. Hollande hopes to match or even outdo his hero. If he succeeds, he will enter the pantheon of great French presidents. Why? Because France's unemployment rate stands at a twelve-year high of nearly 10 percent, its economy is expected to grow by at most 1 percent in 2012, and its debt-to-GDP ratio exceeds 85 percent and is headed higher. As they say, to the victors go the toils.
The Basics
Name: François Gérard Georges Hollande
Date of Birth: August 12, 1954
Place of Birth: Rouen, Seine-Maritime, Upper Normandy, France
Religion: Undetermined (French politicians typically do not discuss their religious beliefs)
Political Party: Socialist Party (center-left)
Marital Status: Never married, but he and former Socialist Party presidential candidate Ségolène Royal had four kids together. His current companion is Valérie Trierweiler, a French political journalist.
Children: Thomas (b. 1984), Clémence (b. 1985), Julien (b. 1987), and Flora (b. 1992)
Alma Mater: HEC Paris, ENA Strasbourg, and the Institut d'Etudes Politiques de Paris
Political Offices Held: First Secretary of the Socialist Party (1997—2008), Mayor of Tulle (2001—2008), and President of the General Council of Correze (2008—present)
What Supporters Say. Hollande certainly had supporters eager to see him become president. At one rally in Paris, 18,000 of them chanted "François president!" But much of the support for Hollande came from voters who had tired of Sarkozy and wanted a change. As one Hollande supporter told the press:
Remove Nicolas Sarkozy, who made too many mistakes in the course of five years, who made poor choices that divided the French.
Hollande won a big boost when former French president Jacques Chirac abandoned Sarkozy, who once served under him, and threw his support behind Hollande. Chirac, a towering conservative figure in France, rarely makes public appearances as he struggles with Alzheimer's disease. However, one of his close associates, historian and writer Jean-Luc Barre, made headlines when he told Le Parisien in April that:
Jacques Chirac is true to himself when he says he will vote for François Hollande.
Former French prime minister and failed presidential candidate Lionel Jospin, who is popular with the rank-and-file in the Socialist Party, also supported Hollande. Jospin thinks so highly of Hollande that he told an interviewer that had he won the 2002 French presidential election:
I had the idea of making him a minister…or more.
French voters elected Hollande because of his policies, but his sense of humor probably helped as well. French stand-up comedian and film actor Gerhard Proust said of Hollande's wit:
He's very good. I even kept an article of his in my notes because it was so funny. And he's the only politician who writes his own lines…You look at me and you say 'this guy will never make me laugh.' It's the same with Francois Hollande. But that's a good thing, because people are more easily surprised.
Hollande's weight may have even been a positive. Hollande wants to repeal many of the austerity measures that Sarkozy imposed. French commentator Christian Salmon observed that was an appropriate position for Holland to take because: "You can't preach austerity with a double chin".
What Critics Say. Some of Hollande's critics call him "dangerous." Others dismiss him as "Flanby," a kind of caramel custard, because he "cultivates blandness." Hollande's perceived softness will hurt him going forward, says Marie-Eve Malouines, political editor for French Info radio:
In France we like our presidents tough. François Hollande thinks that now, because of the economic crisis, the French might want a different sort of leader. He thinks people want to pull together around a president who is kind.
During the campaign, far-left challenger Jean-Luc Mélenchon called Hollande a "captain of a pedalo in a storm." (A pedalo is a small paddle boat.) In the late 1980s, Sarkozy "once likened [Hollande] to a sugar cube, arguing he 'dissolves in water.'"
The Economist, which endorsed Sarkozy back in 2007, calls Hollande "rather dangerous":
It seems very optimistic to presume that somehow, despite what he has said, despite even what he intends, Mr. Hollande will end up doing the right thing. Mr. Hollande evinces a deep anti-business attitude. He will also be hamstrung by his own unreformed Socialist Party and steered by an electorate that has not yet heard the case for reform, least of all from him. Nothing in the past few months, or in his long career as a party fixer, suggests that Mr. Hollande is brave enough to rip up his manifesto and change France.
Perhaps the sharpest dig at Hollande came from his former partner and the mother of his four children, Ségolène Royal. During the primaries, she asked a startling question:
Can the French people name a single thing he has achieved in thirty years in politics?
Monsieur Hollande and Madame Royal may have some unresolved issues.
An elderly French voter captured the sense of many French people that President Hollande won't change much. Their skepticism isn't based on concerns that Hollande is weak, but rather that France's dire economic problems require painful choices that no one wants to make:
The situation is so catastrophic that whoever wins it won't make much difference. The French want change but only on the condition that it doesn't change anything for them.
Sadly, this statement describes more than just French voters.
Stories You Will Hear More About. If Hollande's name doesn't sound "French," it's because it isn't. His surname reflects the fact that his ancestors were Calvinists who "escaped the Netherlands in the 16th century and took the name of their old country."
Although Hollande may trace his ancestry back to the Netherlands, he had a typically French upbringing. He was born in Upper Normandy in 1954. His father ran in a local election in 1959 as a right-wing candidate. The elder Hollande's political ambitions, if not his ideology, apparently had an effect on the son. Hollande's mother once told French TV that "as a child he wanted to be president." As a teenager, Hollande was a candidate for classroom representative and also for leader of the student union. He certainly went to the right school for French politics: the Ecole Nationale d'Administration. ENA is known as the "factory of the elite" in France. But, according to Hollande's friend and current adviser Dominque Villemot, he did not fit the ENA stereotype:
His flat was always pretty sparse, the furniture simple. He didn't have a car, he had a scooter. In Corrèze, he slept in a little room above his office. He never wore smart suits, even at ENA. That's part of his personality.
It was at ENA that Hollande met Ségolène Royal. They stayed together until the 2007 presidential election when Royal became the Socialist Party's presidential candidate. In doing so, she beat out Hollande, who was also a contender. Whether the nomination battle caused the breakup or not, Hollande left Royal for the political journalist Valérie Trierweiler. The two remain a couple and celebrated his electoral victory together. (This, of course, is further evidence that France is not the United States.)
Hollande and Royal "buried the hatchet" somewhat during the campaign, her jab about his lack of accomplishments notwithstanding. She stumped the country seeking to rally left-wing support for her former companion:
I ask from the bottom of my heart to the 17 million voters who wanted the Left to win in 2007: return to the urns on May 6.
Hollande wasn't supposed to be the Socialist Party's presidential nominee. One knock against him was that he has never held a ministerial post. And the odds-on-favorite to be the Socialists' nominee was Dominique Strauss-Kahn (DSK), former president of the International Monetary Fund. But his candidacy ended in a New York City hotel room. It always helps to have a rival candidate's campaign implode, but Hollande wasn't sitting idly by while everyone else was penciling DSK in as Sarkozy's challenger. According to French journalist Agnes Poirer, he was "preparing [his] campaign for eighteen months…much before DSK's demise":
Some say that he knew, like actually many others in the party, that DSK was doomed: his colorful private life was always bound to prevent his running for president. In that respect, he's not a candidate by default. He's simply a less charismatic personality than DSK, and less antagonistic than Sarkozy. It doesn't make him weaker though.
Whether he planned for DSK' s demise or not, things clearly worked out for Hollande—he's now president.
Hollande in His Own Words. Hollande is very excited to be elected president. In his victory speech at the Place de la Bastille, he promised, as Sam Cooke might say, that change is gonna come:
I am the president of the youth of France! I am the president of all the collective pride of France! I am the president of Justice in France! Carry this message far! Remember for the rest of your life this great gathering at the Bastille because it must give a taste to other peoples, to the whole of Europe, of the change that is coming. In all the capitals, beyond government leaders and state leaders, there are people who, thanks to us, are hoping, are looking to us and want to put an end to austerity.
Hollande's ascent to the top job in French politics was hardly pre-ordained. When he ran against future-French president Jacques Chirac in 1981 for a spot in the French National Assembly, Chirac said that Hollande was "no more well known than President Mitterrand's Labrador." (Yes, Chirac ended up helping Mitterand's Labrador become president.) Hollande used the crack to his advantage. He garnered national attention during a meeting with Chirac. He raised his hand and said:
I am Francois Hollande; I am a candidate, the one you compared to Francois Mitterrand's Labrador.
Now that he is more well-known—and president—he can forge his own foreign policy. Hollande certainly disliked much of what Sarkozy did overseas:
I don't think his international track record is viewed as all that positive. Remember his complicity with George Bush. His deals with Qaddafi and his shameful hosting of the Libyan leader in Paris remain a smear on France's record. His embrace of Bashar al-Assad and his Africa policy that has literally shocked people with its cynicism have also been widely decried. It's true his more recent role in Libya was commendable, and his hard position on Syria has been right—though, again, regarding a dictator he earlier embraced. Similarly, his action within the [euro] crisis has been viewed as responsive but contrasts with his two years of hesitation before things became urgent. So Sarkozy's more recent international decisions contrast the earlier ones that mostly produced failures and reversals.
Hollande intends to distinguish himself from Sarkozy not just in terms of his policy choices, but in terms of his personality as well:
There are also people who view Sarkozy in a positive manner—as a decider, a leader who doesn't hesitate. But he's primarily seen as someone who hasn't resolved France's problems, hasn't calmed its fears, and who has continually improvised on a large number of important decisions. I must demonstrate I'm closer to people—a simpler, calmer presence, yet someone who can also make decisions and obtain promised results. That's what voters are electing the president to do: make decisions—often hard, critical decisions—and get things done. Simply not being Nicolas Sarkozy won't be enough to win the election.
One way Hollande says that he will distinguish himself is by being "careful":
I don't want to make a mistake. I want to make judicious decisions from the beginning.
Perhaps. But he used some questionable judgment in his choice for a song in a campaign ad. And then there is the old saying that if you are not failing, you are not trying.
Foreign Policy Views. Hollande's relationship with Angela Merkel will be closely watched. Sarkozy collaborated so closely with the German chancellor that some spoke of the two as "Merkozy." Will a tandem of "Merllande" (or "Horkel") emerge? Probably not. Hollande wants to renegotiate the European fiscal treaty to promote growth as "a more effective way of reaching the same goal of controlling the debt and reducing deficits." Indeed, the renegotiation is his "key foreign policy priority." He says he is "ready to open this discussion with Merkel." She, however, seems disinclined to participate in such a negotiation:
The fiscal pact has been negotiated, it has been signed by twenty-five government leaders, and has already been ratified by Portugal and Greece. Parliaments all over Europe are about to pass it. Ireland has a referendum on it at the end of May. It cannot be negotiated anew.
Hollande shot back that"it's not Germany that decides for the whole of Europe." Indeed, the Franco-German:
partnership shouldn't be a directorate for other EU members. Today it's not even a genuine partnership, because one half is currently driving and the other is a passenger. France has become a follower in the relationship. Europe needs an engine, and the Franco-German motor has provided that when the two nations have converged on important topics during critical periods. But that partnership shouldn't be a directorate for other EU members.
Hollande claims that he has support from other European leaders, including "conservative ones," to challenge Merkel. So there could be some rough spots in Franco-German relations in the months to come.
With all that being said, Hollande says that France's relationship with Merkel is "indispensible"
I'm…the candidate who knows that the German-French friendship is indispensable for Europe. And I will never let myself be carried away to making statements that would change it.
Indeed, Hollande is likely to propose a Franco-German treaty to integrate the two powers even further.
As for France's other great love-hate affair, Hollande says he will try to work with the British:
We are the two countries with the most military might in Europe. Therefore, our two countries have to speak from the same sheet… We have a different view of Europe and we assume responsibility for that, we believe a greater closeness in defense matters could be useful. We have to be pragmatic…We would hope to make this [Franco-British] alliance, this entente, lead to greater cooperation elsewhere in Europe, to open things up to other countries either in intervention, military cooperation, or industrial co-operation. We are in a period where budgets are very tight and shrinking so this is necessary.
France and Britain are both members of the the North Atlantic Treaty Organization (NATO), and both countries have troops in Afghanistan as part of the International Security Assistance Force (ISAF) mission. In January, Sarkozy pledged to remove French troops from Afghanistan by the end of 2013, moving up the original 2014 withdrawal date by a year. Hollande wants to move up that withdrawal date by another full year, to the end of this year. That pledge, however, comes with a caveat—it would happen only "in consultation with our allies." Nonetheless, Hollande's defense spokesman and presumptive defense minister, Jean-Yves Le Drian, insists that the withdrawal:
will be done. We believe we have done our duty and now it is time to leave. François Hollande has been very clear about this.
Indeed, Hollande says that he will have French troops out of Afghanistan within nine months "even if we need to hire Antonov transport planes from the Russians."
Despite his desire to get French troops out of Afghanistan, Hollande still considers the United States and NATO as friends:
Even if we should have several differences of approach with the United States on NATO and Afghanistan, we are aware that we are allies and partners.
French officials recently called for using force in Syria. Hollande is not opposed, as long as it is done under a certain condition: "If done within a UN framework, we [France] would participate in such an intervention."
But he's not against diplomacy on this issue, either:
I don't dispute the position of French diplomacy at this point, which is doing what it can: supporting the Arab League which going is in the right direction when it asks for UN peacekeepers to come to Syria.
Hollande did not speak much about Iran during the campaign. But some experts expect that he will keep Sarkozy's hard-line policy, minus the chest-thumping:
Hollande's orientation will be on fixing France's many domestic problems, and even if he leaves the formal position on Iran unchanged, he's very unlikely to adopt Sarkozy's approach of pressing other Western powers and agitating for a harder line.
Even so, the Iran officials prefer Hollande to Sarkozy.
Don't expect Hollande to make nice with international finance. He is not a fan:
My true enemy has no name, no face, no party…[it] is the world of finance.
While he might not like the world of finance, he may well discover that it has the power to make—or break—his economic policies.
Outlook for Relations with Washington. Sarkozy was, in the French political context at least, a pro-American president. On more than one occasion, he expressed his admiration for the United States and his desire to maintain a strong alliance:
I want to make an appeal to our American friends to tell them that they can count on our friendship, which has been reinforced by the tragedies of history that we've faced together. I want to tell them that France will always be at their side when they need her.
But his fidelity came with a caveat: "Friendship…means accepting friends can think differently."
Hollande has staked out the same terrain:
France will remain a reliable ally of the United States. Nevertheless, ally does not mean aligned.
Hollande came to the United States in 1974 to study the American fast-food industry. Since then, he has been sympathetic to America. He recalls his time here as:
a very difficult period for the United States. Nixon was being pursued, the dollar was very low, there was a doubt about America, the exit from Vietnam, but I saw the potential.
This doesn't mean he will always follow Washington's lead. His desire to remove French troops from Afghanistan by the end of 2012 is a case in point.
French professor Homer Sutton thinks that Hollande is a "no-nonsense pragmatist" when it comes to the United States:
Hollande knows that he needs the United States and that the United States needs Europe, so I think there would be a great deal of cooperation there.
Perhaps disagreements between the two countries will fade away. One reason for hope is that Hollande connects with Americans when it comes to food. He has "a personal weakness for hamburgers." Maybe President Obama will take Hollande to Ray's Hell Burgers the next time he is in Washington.