Hello, Xi Jinping: President of China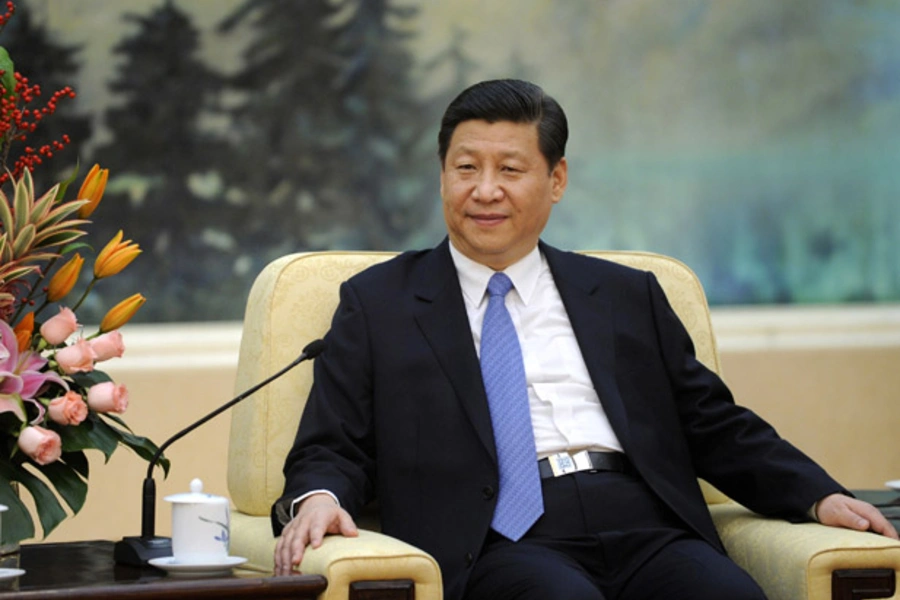 Good news comes in threes. Just ask Xi Jinping. Back in November he was named Secretary General of the Communist Party of China and Chairman of China's Central Military Commission. Yesterday he picked up his third impressive title, president of China, when the National People's Congress voted 2,955 to one with three abstentions to give him the job. (No word yet on who the delegate was who marched to the beat of his, or her, own drummer.) Xi now heads up China's three major power centers: the party, the military, and the government. In short, he is a man to be reckoned with.
The Basics:
Name: Xi Jinping
Date of Birth: June 15, 1953
Place of Birth: Beijing
Religion: Atheist. Members of the Chinese Communist Party are officially prohibited from having religious beliefs
Political Party: Communist Party of China
Marital Status: Married and divorced Ke Lingling. Married to Peng Liyuan, "China's most dazzling folk singer," since 1987.
Children: One daughter, Mingze, currently studying at Harvard
Alma Mater: Tsinghua University
Political Offices Held: Member of the Central Committee of the Chinese Communist Party (2002-present), Member of the Politburo Standing Committee (2007-present), Vice President (2008-2013), Vice Chairman of the Central Military Commission (2010-2012), Secretary General of the Communist Party of China (2012-present), Chairman of the Central Military Commission (2012-present)
What supporters say.  Xi is what is known in China as a "princeling"—he is the son of Xi Zhongxun, a revered leader in the Chinese revolution. But those bloodlines don't mean that Xi led a cosseted life. His father was purged several times by Mao, and Xi Jinping was one of the thirty million "sent-down youth" forcibly relocated to work in the Chinese countryside during the Cultural Revolution. Xi ended up in a remote village in Shaanxi province, where he lived in a cave dwelling for almost seven years. Guo Yanjun, chairman of CNHK Media, the publisher of a biography of Xi, told CNN that he believes this experience made Xi sympathetic to those left behind by China's growth:
Even after he became a leader, he helped farmers.
Guo says that his favorite story about Xi was what happened when he left Shaanxi in 1975 to return to Beijing to attend Tsinghua University. The local villagers accompanied Xi on the almost twenty-mile walk to the nearest train station.
Former Singaporean prime minister LeeKuan Yew praises Xi as "a thoughtful man who has gone through many trials and tribulations."
Xi distinguished himself in the Communist Party by helping transform some of China's most developed and prosperous provinces. Cheng Li, of the Brookings Institution, writes:
On the economic front, Xi's leadership experience in running Fujian, Zhejiang, and Shanghai, three economically-advanced regions, has prepared him well for pursuing policies to promote the development of the private sector, foreign investment and trade, and the liberalization of China's financial system...
Xi is still well-remembered in Wenzhou, a bustling commercial center in Zhejiang province. One Wenzhou businessman told the BBC:
Xi spoke up for private businesses, saying they are a crucial component of the economy. State-owned companies are powerful and monopolise many resources. Xi Jinping created an environment for private and state businesses to compete fairly.
Zhang Rihong, a real estate company chairwoman from Heilongjiang province and member of the National People's Congress, told CBS,
I'm very happy. With President Xi leading us, China will be more prosperous and more powerful. This is welcomed by all.
Many foreign observers are also optimistic. They see Xi as someone open to negotiation and partnership. David Lampton, who directs Johns Hopkins School of Advanced International Studies' China Studies program, is one such optimist. He told CNN:
From my conversations with people in the United States, the reigning understanding is, 'This is a guy we can work with."
Bo Zhiyue, a political scientist at the National University of Singapore, told Bloomberg Businessweek:
He [Xi] has ambition to be a great leader, someone like Mao Zedong. He wants to change things.
Given how well that worked for one of his former rivals, he may want to reconsider.
What critics say. Not everyone loves Xi. Of course, if you are Chinese and dislike Xi, you have strong incentives to keep your opinion to yourself. And when Chinese do air criticisms, they tend to make them generic rather than personal. Zhang Ming, a professor of political science at Renmin University, told CBS News:
At present, the party and the government have very little public credibility. The way to regain credibility is to at least show some results, but at this point that can't be seen and I predict there won't be any real results later.
Foreign observers are more comfortable questioning Xi's zeal for reform. David Shambaugh, director of the China Policy Program at George Washington University's Elliott School of International Affairs,  argues:
It will be at least two years before Xi can consolidate his power and be in a position to tackle the powerful vested interests that run China today. And it is not clear that he is even so inclined. Thus, when anticipating China's future after the 18th Party Congress and the potential for reform under Xi Jinping, expect more of the same: authoritarian stagnation and gridlock at home, with increased abrasiveness abroad.
Elizabeth Economy argues that it is too soon to be either supportive or critical of Xi and his policies:
Speculation over Xi Jinping and the new Chinese leadership is understandable: Chinese citizens, as well as the rest of the world, are eager to understand what a Xi Jinping presidency will mean. While such speculation may seem like harmless fun, the danger is that we impute intentions and capabilities to Xi that are not there—leading to misguided expectations, and, even worse, miscalculations.
Stories you will hear more about. Corruption has been a hot topic in China. Just consider the behavior—and fate—of fallen Chinese political star Bo Xilai. Xi says that he will make fighting corruption the number one focus of his reform efforts:
If you go into politics, it must not be for money… Even if an official does not achieve great things in his career, at least he should be able to say he has not put money up his sleeve. He must be upright.
Senior Chinese government officials live very well, much better than their forbearers did during the Long March. Princelings attend prestigious—and expensive—schools and universities in foreign countries, party bosses live far beyond what their official salaries would allow, and state functions end with tables of food left unfinished. One Bloomberg correspondent writes of food waste in China:
I've attended dinners and banquets at which hundreds of dollars of food remained untouched on Lazy Susans. In one memorable case, I remember a large table on which three live lobsters, served as sashimi with their guts open to the room, were left uneaten, their eye buds twitching as guests (including me, with a glance back) left.
At the end of last year, Xi grabbed headlines during an official visit to Hebei province by sitting down to a simple dinner of "four dishes, one soup." Analysts dispute whether such public-relations measures will work in the long run. The Economist quotes one Beijing businessman as commenting that officials "are not spending less, they are just hiding it better."
In 2011, U.S. ambassador Gary Locke inadvertently put Chinese officials and their high living ways in a bad light. Locke, who had previously been governor of the state of Washington, was photographed buying coffee at an airport Starbucks and carrying his own luggage. The photograph became an internet sensation. China Daily columnist Chen Weihua wrote:
To many Americans, there was probably nothing unusual about this. But to most Chinese people, the scene was so unusual it almost defied belief. How could someone who holds the rank of an ambassador to a big country not have someone to carry his luggage, and not use a chauffeured limousine. In China even a township chief, which is not really that high up in the hierarchy, will have a chauffeur and a secretary to carry his bag.
If Xi cracks down on corruption among the Chinese elite, he may hear more questions about his own spending habits. Analysts wonder how Xi, whose official salary nets out at under $13,000 a year, can afford his daughter's Harvard tuition. Bloomberg reported last year that Xi's extended family has invested in companies that together control $376 million in assets. Bloomberg's investigators didn't dig up anything on Xi or his immediate relatives, but they apparently antagonized in Beijing—the Chinese government censored Bloomberg's website and allegedly sent security agents to keep an eye on its employees.
Another question about Xi's leadership will be how much power he actually wields. Communist China was dominated first by Mao and then by his liberalizing successor, Deng Xiaoping. China's political system has since evolved into a "system…set up to prevent a strong leader," as Bruce J. Dickson, a professor at George Washington University's Elliott School of International Affairs, puts it. Xi was the consensus candidate for national leadership, but at least initially he will be constrained by what the other members of the Standing Committee of the Politburo want.
Xi was one of the inspirations for the protagonist of New Star, a popular 1986 novel by KeYunlu about a young party official fighting corruption and pushing through liberalizing economic reforms.
In his own words. Xi's rise to the top was not easy. It took him ten tries to be admitted as a member of the Communist Party. He says that he took the rebuffs in stride:
I did not lose heart and had no feelings of inferiority… I just thought that there were more good than bad people in the party.
Xi has not said much (if anything) about how he feels to be running China or about what he intends to do. As Professor Dickson notes:
Chinese leaders don't rise to the top telegraphing what changes they'll do. They rise to the top showing how loyal they are to the incumbent. What they'll do when they rise to the top—that's the big question.
So don't expect Xi to make an appearance on The View or to agree to a sit down interview with Oprah.
Indeed, Xi doesn't think much of the press. In a rare interview earlier in his career, he said:
When we are all doing our duty within our respective area of responsibility, then it is the community that creates the results. Therefore it makes no sense mentioning the individual. That is the reason why I have refused giving personal interviews. There are also people who write autobiographies. I do not do that either.
The "people" theme showed up in Xi's remarks last fall at the first public appearance of the new Standing Committee of the Politburo. Evan Osnos of the New Yorker described it this way:
His speech was no barn burner, but it was refreshingly free of Party hymns. He never mentioned the harmonious society, or Jiang Zemin's tortured locution, "the three represents." Instead, he referred so often to "the people" that it seems destined to become a watchword of his tenure.
Judge for yourself. Here is one of the lines from Xi's speech:
It is the people who create history. The masses are the real heroes. Our strength comes from the people and
Xi likes American-made World War II movies, especially those set in the Pacific theater. He told then-Ambassador to China Clark T. Randt that he "tremendously enjoyed Saving Private Ryan" and wanted to visit Guadalcanal. Xi says he likes American war movies because they distinguish between good and evil, something he says is missing in Chinese films like Curse of the Golden Flower by acclaimed Chinese director Zhang Yimou.
Xi also likes basketball. When he visited the United States in 2012 he attended an LA Lakers game. He has also been photographed kicking a Gaelic football on a visit to Ireland.
As you might expect from the man who now leads China, Xi is bullish on his country's future:
Everyone is talking about a China Dream…I believe the revival of the Chinese nation is the greatest dream of the nation since modern times.
In his November speech to the Standing Committee of the Politburo, he outlined his vision for China's future:
Our responsibility is to unite and lead people of the entire party and of all ethnic groups around the country while accepting the baton of history and continuing to work for realising the great revival of the Chinese nation in order to let the Chinese nation stand more firmly and powerfully among all nations around the world and make a greater contribution to mankind.
When one considers China's rapidly aging population, its massive environmental problems, its growing income and regional inequalities, and its dubious political system—to name just a few of the blemishes on the rising China story— Xi may find it easier to talk about his goals than to achieve them.
Foreign policy views. Xi takes the reins in a China whose international profile has been rising for more than a decade. He is not expected to depart radically from the leadership style of his predecessors, at least not until after he consolidates his hold on power, assuming he does. The conventional wisdom, however, is that he may be more comfortable asserting Chinese power and influence. Zhu Feng, of Peking University's Center for International and Strategic Studies,writes:
For starters, Xi is part of a generation raised and educated mostly in China's reform era, which has been a decisive influence in their lives. China opened itself to the world in 1978, when Xi and his contemporaries were young men eager to understand the world outside China. They are a generation inspired by Deng's realistic approach to shattering the walls that radical leftists had built around China, and one that believes that knowledge can change the destiny of the country and its people.
Xi will both benefit from and have to master growing Chinese nationalism. Nationalism can provide a substitute for the legitimacy that ideology once provided the Communist Party. (It's hard to take Marx and Mao seriously when China seems bent on doing Western capitalists one better when it comes to mastering the marketplace.) Nationalism can also serve to distract average Chinese from demanding more say over how they are governed. But nationalist fervor could also prove to be a dangerous beast to ride. It could push Xi to be more aggressive than he might prefer, especially when it comes to clashes with China's neighbor, Japan. For many Chinese, the memories of the Japanese invasion of Manchuria and World War II are still fresh. At the same time, Chinese citizens now demanding that Beijing take a tough line with the Japanese over the Diaoyu Islands  might under the right circumstances turn their anger inward if Xi fails to address problems like corruption and China's infamously out-of-hand pollution problem.
In his November 15 address after becoming Communist Party General Secretary, Xi said:
China needs to learn more about the world, and the world also needs to learn more about China.
It is safe to say that the world is learning a lot about China, and it will undoubtedly learn more as the country continues to rise.
Outlook for Relations with Washington. Xi has visited the United States twice. In 1985 he visited Iowa to research American agriculture. He returned to the United States again in 2012 for a trip that received reasonably warm press coverage. Xi struck a conciliatory tone as he hop scotched around the United States:
The Pacific Ocean is wide enough to accommodate the two major countries of China and the US.
Chinese officials weren't happy with President Obama's so-called pivot to Asia, now rechristened "rebalancing." Nonetheless, Xi moderated his criticism when speaking to the American public. The closest he came to showing any pique was when he observed:
One cannot rely too much on military power regarding Asia-Pacific diplomacy.
The odds aren't good that Xi's mild words will translate into a sudden improvement in Sino-American relations. Elizabeth Economy noted at the time that Xi's 2012 visit was a public relations exercise for Chinese as well as American audiences:
Xi's remarks did not differ in any substantial way from remarks made by previous Chinese leaders. He talked about the desirability of cooperation and consensus between the United States and China and the growing importance of the relationship, but certainly broke no new ground on issues such as human rights and trade.…Xi's job was not to break new ground, but to prevent any political catastrophe from ruining his succession prospects.
Xi showed more candor during a 2009 speech in Mexico, when he called critics
foreigners with full bellies and nothing better to do engage in finger-pointing at us.
He added:
China does not export revolution; second, it does not export famine and poverty; and third, it does not mess around with you. So what else is there to say?
It doesn't take a Ph.D. in political science to figure out who Xi was implicitly criticizing with that remark.
Commentators have made much of the contrast between the confident, personable Xi and his predecessor, the "robotic" Hu Jintao. That confidence may be tested. As Economy writes:
Over the past ten years, the range of issues with which the United States and China must contend has expanded dramatically. However, the actual level of cooperation has not kept pace. Both China and the United States are committed to a stable and peaceful relationship, but it is characterized above all by friction, uncertainty, and mistrust.
Translation: Buckle up your seat belts. We might encounter some turbulence.