Hola, Enrique Peña Nieto: President-Elect of Mexico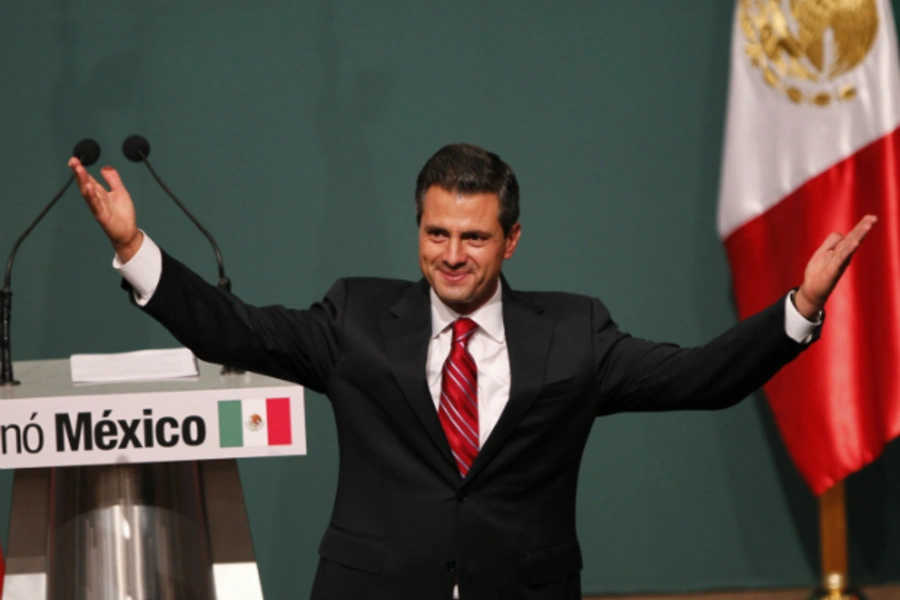 Enrique Peña Nieto had a very good weekend. While Americans were grumbling about record-breaking heat and residents of Washington, D.C., were learning to live without air conditioning because powerful storms Friday night left them without electricity, he was winning Mexico's presidential election. With nearly 90 percent of the ballots counted, he looks to have won roughly 38 percent of the vote, handily defeating Andrés Manuel López Obrador of the Partido de la Revolución Democrática (Party of the Democratic Revolution or PRD), who pulled in 32 percent, and Josefina Vázquez Mota of the Partido Acción Nacional (National Action Party or PAN), who pulled in 25 percent. But Peña Nieto won't be moving into Los Pinos, Mexico's White House, anytime soon. Felipe Calderón, the incumbent president, who could not run for reelection because the Mexican constitution limits presidents to one, six-year term or sexenio, has another five months to serve. So Peña Nieto has to wait until December 1 to take the oath of office. If you want to follow how things play out in Mexico during this lame duck period, check out my colleague Shannon O'Neil's blog, Latin America's Moment.
The Basics
Name: Enrique Peña Nieto

Date of Birth: July 20, 1966

Place of Birth: Atlacomulco, Mexico State, Mexico

Religion: Catholic

Political Party: Institutional Revolutionary Party (Partido Revolucionario Institucional, PRI)

Marital Status: Married to Angélica Rivera Hurtado (Peña Nieto's first wife, Mónica Pretelini, died in 2007)

Children: Alejandro, Paulina, and Nicole with Mónica Pretelini; Angélica, Fernanda, and Regina, step-children with Angélica Rivera Hurtado; a son with Maritza Diaz Hernandez; and a son, now deceased, who was born to an unnamed partner

Alma Mater: Universidad Panamericana, Instituto Tecnològico y de Estudios Superiores de Monterey

Political Offices Held: Mexico state governor (2005-2011); Mexico state congressman, served as majority leader of his party and speaker of the state legislature (2003-2004); secretary of administration for the State of Mexico (2000-2002)
What Supporters Say
Peña Nieto's supporters praise his ability to get things done. Claudio X. Gonzalez, the chairman of Kimberly-Clark de Mexico, says that only Peña Nieto can modernize Mexico's decrepit energy sector:
So we're only coming into doing what we have to do, and it's the 21st century and we're now ready to move. And as I say, Enrique Peña Nieto is probably the only candidate that can really get it done, because if he wins, he probably will have enough muscle in Congress to be able to do the things that have to be done.
Indeed, a centerpiece of Peña Nieto's campaign was his claim that he had delivered on his compromisos—608 promises he made to his constituents when he was governor of the state of Mexico, which encircles Mexico City and happens to be Mexico's most populous state. As Eric Olson of the Mexico Institute points out:
He's made a name for himself as promising things and delivering those things, and being a pretty effective governor.
Peña Nieto promises to bring that same record of following through to Mexico as a whole.
Throughout the campaign Peña Nieto contrasted his self-proclaimed ability to get things done with what he argued was President Calderón's failure to do likewise. Mexico's murder rate has surged during Calderón's presidency as drug-related violence has exploded. Many Mexicans voted for Peña Nieto in the expectation that he will quell the drug violence and return the country to normalcy. A young man from Texcoco put it succinctly:
I think they [the PRI] were in power so long for a reason. . . . The time PAN was in power, there were a lot of deaths. When PRI ruled, we didn't see that.
One of the criticisms leveled against Peña Nieto is that the PRI represents "old" Mexico. The PRI gained the Mexican presidency in 1929 and held onto it until 2000 through a mix of election rigging, political repression, and corruption. Peña Nieto has dismissed the PRI's past corruption as the work of "dinosaurs" and pledged not to repeat the mistakes of the past. Cesar Camacho, the president of a PRI-sponsored think tank, agrees that things will be different this time around:
The PRI of 2012 is not the PRI of the 20th century. It's a better-organized PRI that learned the lessons of political orphanhood.
Peña Nieto received an unexpected plug from Vicente Fox, the man who broke the PRI's hold on the Mexican presidency in 2000. The former president declared in April that a win for his party's candidate, Vázquez Mota, would take a "miracle." He followed this remark up by saying last month as Vázquez Mota trailed Peña Nieto in the polls by double digits:
A clear winner is emerging…we have to close ranks behind who will win.
Fox's exhortation to all Mexicans to "close ranks" behind Peña Nieto probably ended whatever slim chances Vázquez Mota had of winning.
Many Mexicans voted for Peña Nieto less because they like him and more because they don't like either Vázquez Mota or López Obrador. Carlos Elizondo, a political science professor in Mexico, said during the campaign:
The real question is, why are his opponents so bad?
Vázquez Mota or López Obrador could look good in hindsight if Peña Nieto can't make a dent in Mexico's many problems. And he can't forget that six-in-ten Mexican voters cast their ballots for one of his opponents. So he doesn't have a thick cushion of good will.
What Critics Say
Peña Nieto's critics typically see the PRI's defeat in 2000 as a watershed in Mexican politics akin to the fall of the Berlin wall. After all, the PRI was known as "the perfect dictatorship" for a reason. If John M. Ackerman, a professor at the Institute for Legal Research of the National Autonomous University of Mexico, is to be believed, Peña Nieto will take Mexican democracy backwards:
Pena Nieto is a wolf in sheep's clothing. He hides behind a telegenic smile and sharp attire, but he represents Mexico's old corrupt political class.
Corruption allegations gained steam last month when the Guardian published documents that suggested Peña Nieto may have paid the television network Televisa for favorable coverage during his time as governor. Described by its chief as "a soldier of the PRI" in 1990, the network commands a 70 percent share of Mexico's television audience.
Peña Nieto said the documents "have no solid basis and are not authentic," and Televisa said the Guardian used "apocryphal material that has been repeatedly published and denied." López Obrador was having none of that. He called for Peña Nieto and Televisa to come clean:
They should hand over all the information, the contracts, that they haven't wanted to show. . . . Of course they have them, and we need to see how much they paid, for what kind of message, and if they include all the promotion of Peña Nieto on the television.
Many young voters like Peña Nieto, but some don't. In May, students protested when Peña Nieto made a routine campaign stop at Ibero American University. They interrupted his speech to decry his human rights record. Afterward, campaign aides suggested the protestors were not students but political plants organized by rival parties. In response, 131 students released a video entitled "YoSoy131," or "I am the 131," in which they showed their university ID cards and explained their grievances.
The video went viral. High-school and college students across Mexico suddenly began tweeting #yosoy132 to signal their sympathy for the protestors. One of the demonstrations sparked by the #yosoy132 movement drew nearly 100,000 people last month. The protests also gave Peña Nieto's opponents fodder with which to attack him. Vázquez Mota accused him of hiding from demonstrators during the initial protest at Ibero American University. In the final presidential debate she said:
Mr. Peña Nieto, we don't want someone who is going to hide in the bathroom of a university to solve the country's problems.
The protests obviously failed to derail Peña Nieto's campaign. One reason was their leaderless, disorganized nature. Another was that they were dominated by young people, who (just like their counterparts north of the border) are less likely to go to the polls. Jorge Buendia, a Mexican pollster, summarized the political weakness of Mexican students succinctly:
They are many. But they vote the least.
Some of the criticism directed at Peña Nieto has targeted his personal life. He has admitted to cheating on his first wife, who died in 2007 of cardiac arrest triggered by an epileptic seizure, and fathering two children by two other women while he was married. The mother of one of these children, Maritza Diaz Hernández, complained on Facebook in January 2102 after the PRI pledged to protect all Mexican children that Peña Nieto neglected his own child. Last month, AshleyMadison.com, a website that helps married people arrange affairs, used Peña Nieto's likeness on a billboard in Mexico City. The tagline:
Unfaithful to his family. Faithful and committed to his country.
An aspiring Mexican political science Ph.D. student no doubt has already begun writing a dissertation assessing whether the ad helped or hurt Peña Nieto's campaign.
Stories You Will Hear More About
Stories about Peña Nieto inevitably get around to complimenting his good looks. The favorite word to describe him, as the Wall Street Journal declared on the front page of Saturday's paper, is "telegenic." Just how handsome? Well, according to a poll done earlier this year by Hounters.com, a dating agency, 88 percent of married Mexican women say they would cheat on their husbands with Peña Nieto.
Peña Nieto's opponents have tried to use his looks against him, suggesting that he is an empty (though good looking) suit. But he has brushed off barbs about how he is "a male Barbie" and "the PRI's policy Beckham." To many of his supporters, his good looks are just a bonus. As one woman explained her reason for supporting Peña Nieto:
He has worked, he has kept his promises. He is very human, and he is gorgeous.
Peña Nieto's good looks certainly haven't hurt him when it comes to social media. In late 2011, the forty-five-year-old had more fans on Facebook than all of his main rivals (and outgoing president Calderón) combined. And when Mexican voters went to the polls this weekend, he had six times as many fans as López Obrador, his next closest competitor.
But Peña Nieto may not be the most popular person in his own house. His current wife, Angélica Rivera Hurtado, has acted in a series of Mexican telenovelas. Her fans call her "La Gaviota," or the Seagull, for the role she played in one of these soap operas. Mexicans learned that she would marry Peña Nieto when he introduced her to Pope Benedict XVI as his fiancée. According to the Wall Street Journal, "the pair have since become the Brad Pitt and Angelina Jolie of Mexico."
Whatever role good looks and celebrity played in Peña Nieto's election victory, he and Mexico face some daunting policy challenges. Since Calderón began targeting drug kingpins in late 2006, more than 55,000 Mexicans have been killed in drug-related violence. An estimated 16,800 died last year alone. That translates into roughly one person dying every half hour. What makes matters worse is that the Mexican government's own data show that more than 98 percent of serious crimes go unpunished.
Peña Nieto says that he has a plan to reduce drug-related killings. It rests on "four pillars," including tailoring the police force to combat organized crime and coordinating efforts on the national, state, and local levels. What does that mean? Well, whereas Calderón sought to break up the large cartels and target their leaders, Peña Nieto says he will instead stress preventing crime and increasing the size of the federal police force. In Peña Nieto's words:
This doesn't mean that we don't pay attention to other crimes, or that we don't fight drug trafficking, but the central theme at this time is diminishing violence in the country.
Last month, Peña Nieto named the former head of the Colombian national police, General Oscar Naranjo, as his top security adviser. Naranjo helped carry out Colombia's war on drugs, which included devising the operation that killed famed cocaine kingpin Pablo Escobar in 1993. In announcing Naranjo's appointment, Peña Nieto said:
The reason we have this environment of fear today in Mexican society is the absence of security. . . . It's clear that the Mexican people expect immediate results.
Peña Nieto's credentials in fighting drug violence have been questioned. In his final state of the state speech as governor last year, he declared that violence, which had doubled in the rest of the country from 2006-2011, had in fact fallen by more than half in his state:
One of the most illustrative achievements that we have is the reduction in murders per 100,000 people, from 16.5 in 2005 to 7.6 in 2010.
The problem was, the drop was entirely the result of a change in how his administration counted murders. (The previous count had included accidental deaths and suicides.) Once the methodological change is taken into account, the murder rate in the state of Mexico had remained essentially flat. That in and of itself was a significant accomplishment, given trends elsewhere in the country, and it didn't need embellishment. To his credit, Peña Nieto owned up to his error:
The figures underwent a methodological modification in 2007...The criticism that The Economist makes is that it is technically inconsistent to compare figures derived using different methodologies. I share this view. In a democratic society, we politicians have to accept criticism, especially when it is founded.
Whatever his accomplishments as governor, Peña Nieto's success in curbing Mexico's murder rate—and how he goes about doing it—will be watched closely on both sides of the border. The fear in some U.S. policy circles is that he might buy peace in Mexico by turning a blind eye to what the drug cartels are doing.
Although much less visible than drug-related violence, Mexico's economic problems are just as worrisome to most Mexicans. In late May, the Mexican peso fell to its lowest point in three years, and economic growth has averaged just 1.8 percent over Calderón's six years as president.
Mexico's economic stagnation may have something to do with the rise of drug-related violence. The Mexican government estimates that violence may reduce annual economic output by 1.2 percent. And some of the violence undoubtedly has roots in the inequity and poverty endemic to Mexican society. Peña Nieto admitted as much during the campaign when he said that a major way to bring down violence was:
to stop crime from occurring rather than to react once a crime has already been committed. To achieve this, we need to reduce inequality of opportunities in our country, using as a base universal coverage of social security: health coverage, pensions and unemployment benefit.
Peña Nieto has promised to deliver economic growth once in office:
I will be the government of increasing economic growth and creating jobs. Take it from me that that's the main issue.
The open question is whether he has a workable plan to jumpstart the Mexican economy, and whether he can persuade the rest of the Mexican government to go along with it if he does.
News stories this week will assuredly hail Peña Nieto's election as heralding the PRI's return to power. It's probably a bit late to label it a "return," though. When judged by success at the state and local levels, the PRI returned to dominance several years ago. It now controls twenty of Mexico's thirty-one states, and more than half of its 2,440 towns and cities. With that kind of political dominance, the PRI will be on the hook to deliver for the Mexican people.
Peña Nieto in His Own Words
Peña Nieto generally stuck to centrist positions during the campaign. He was sometimes criticized for being vague, but given his early and big lead in the polls he had little to gain and possibly much to lose by being specific. But what he did say offers hints of the policies he will pursue.
Peña Nieto was unequivocal about drug-related violence:
My commitment is first to reduce violence. We need to take care of three main crimes: homicide, kidnapping, and extortion. That doesn't mean not paying attention to other crimes. But the name of the game is to reduce violence.
He advocated more private investment in Pemex, Mexico's massive state oil company. He stressed, however, that his enthusiasm for markets has limits:
We need to be more productive in Pemex, and I see a chance to make the reform that can allow the private sector to invest in exploration and refineries. Let me be clear: That doesn't mean to privatize. I believe the state needs to control hydrocarbons.
What happens with Mexico's oil industry should interest Americans. Mexico is the third largest source of U.S. oil imports, providing more than 1.1 million barrels per day in 2011. Mexico's oil industry has suffered in recent years, however, because Mexico's nationalistic oil policies have prevented it from attracting the kind of foreign investment and high technology that is needed to keep the oil flowing.
Peña Nieto also pledged to tackle Mexico's massive poverty, though in doing so he blamed the problem on the PAN:
Something that cannot be forgotten in discussing Calderón's past six years is that poverty has been increased by 12 million people. We have almost 60 million people in poverty. It is time to make a revolution before the revolution reaches us.
He embraced tax reform as a way to ensure better government services to all Mexicans:
To fund universal social security and a quality educational system, Mexico needs to pass a far-reaching tax reform. The Mexican government's tax take is only about 20 per cent of GDP compared with 36 per cent average of the countries belonging to the Organisation for Economic Co-operation and Development (OECD). . . . Mexico, therefore, must increase substantially the government tax take in the coming years.
Despite his slick campaign and dashing persona, Peña Nieto committed a few gaffes. At one point, he drew a blank when asked to name the price of a kilogram of tortillas, a staple of the average Mexican's diet. His explanation for not knowing?
I'm not the woman of the house.
In December 2011, he appeared at the Guadalajara International Book Fair, the second largest in Latin America. He stumbled badly when he was asked to name three books that had influenced his life. He mentioned "some parts" of the Bible but didn't say which, and then named The Eagle's Throne, a book by Carlos Fuentes, one of Mexico's great novelists and essayists, but credited someone else as the author. Peña Nieto wrapped up his four-minute-long answer by saying:
The truth is, when I read a book I often don't fully register the titles.
His critics responded by creating #LibreríaPeñaNieto ("Peña Nieto's Bookstore") on Twitter. It features tweets with the names of fake books with satirical titles.
(Peña Nieto's teenage daughter came to her father's defense, tweeting that she scorned "all of the idiots who form part of the proletariat and only criticize those they envy." That tweet may not have been politically savvy, but it gets high marks for parental loyalty.)
In an interview last month, Peña Nieto did a little better when asked to name his favorite American movies:
Lately the one I've been seeing in bits and parts is "Edgar Hoover." Very good, by the way. ... I was drawn to it, and the truth is, well, it's interesting. I recommend it. I'm probably halfway through. ... I also like comedies. ... Ah, "The Departed" is really good.
He would not be the first head of state more comfortable with movies than with books.
Foreign Policy Views
Peña Nieto said little about foreign policy during the campaign. That is hardly surprising. Most Mexicans are worried about what is happening within the country's borders and not outside them. However, in June, two of Peña Nieto's foreign policy advisers laid out a blueprint for Mexico's relations with the rest of the world in an article entitled, "Un Visión de México Para el Futuro" (or "A Vision for Mexico's Future"). The authors argued that Mexico's relations with the rest of the world suffered during the time that the PAN held the Mexican presidency:
Mexico's global position has declined during the last 12 years.
They argued that Mexico has to take several steps to reverse the trend. One such step is to update the North American Free Trade Agreement (NAFTA):
It's essential to look for ways in which diplomacy can bring NAFTA up to date. When NAFTA was signed in 1994, we did not yet feel China and India's overwhelming presence as our, the three countries', important trade competitors.
Peña Nieto's advisers also called for Mexico to counteract the growing power of Brazil in Latin America:
Various ministers in the region have constantly expressed that they have missed Mexico. We have lost important negotiation and mediation spaces. So it is not difficult to explain that Brazil has occupied the spaces, taking advantage of our absence. For this reason we should concentrate on promulgating different methods of participation with the region, and not only through bilateral relations.
The effort to be more assertive within Latin America would be coupled with a bid to be more assertive in global institutions:
We should underscore the importance of increasing our participation in political and financial organizations, in accordance with the magnitude of our country as a geopolitical, economic, and demographic force.
That activism would include pushing for reform at the UN:
Along with this, Mexico should continue with its practice of occupying positions within the Security Council, to actively participate in shaping the body that keeps a close eye on peace and international security. In this sense, the possibility of opening a new permanent seat should be our country's goal.
Peña Nieto's advisers think that Mexico should improve its relations with China (though it is unclear how this fits with their desire to retool NAFTA in the face of China's rise):
For the current government and for the PAN administrations [Fox and Calderón], China is an adversary. From our point of view this is erroneous.
The efforts to make friends with Beijing would be coupled with an effort to encourage Mexicans to better understand Asia more generally:
There is a great absence in Mexico: of knowledge and understanding about what is happening in Asia. That region is changing the way we see the world. It is not only the region that is growing the most, but it is also the region that is undergoing the most dramatic changes, in both geopolitical and economic terms.
Of course, predicting a candidate's foreign policy choices once in office is always difficult. So take these suggestions with a grain of salt.
Outlook for Relations with Washington
Peña Nieto wrote during the campaign of the importance that the election held for the next six years of Mexico's relations with the United States:
Once every twelve years there is a unique opportunity to reinforce the bonds between Mexico and the United States, when our presidential election cycles coincide. For Mexico, the July 1 elections will be a crucial moment that will set the tone for our future and define the US-Mexico relationship for generations to come.
Does this mean that Peña Nieto's election will bring big changes to U.S.-Mexican relations? Perhaps not. Vice President Joe Biden met with all three Mexican presidential candidates in March. He was asked whether he foresaw any differences among them when it came to cross-border cooperation. "No," he said, "I'm not being flip, but no."
So the betting money is on continued cordial relations between Washington and Mexico City. But that doesn't mean there won't be points of contention. Three in particular stand out: drugs, guns, and immigration. Mexicans aren't happy that the Merida Initiative, which was intended to be the centerpiece of U.S.-Mexican efforts to stem the drug trade, has produced so little. As Peña Nieto's advisers put it their  vision for Mexico's future:
In Mexico, without a doubt, we have to get our own house in order and search for more balanced cooperation with the United States, but we should also generate multilateral mechanisms to pay attention to this problem [drug trafficking]. In this sense the Merida Initiative has been a weak effort that did not achieve a single substantive achievement. The comprehensive efforts should at least include the Central American countries, the Caribbean, Canada, and Colombia.
Mexicans also aren't happy that the United States has done so little to curtail the demand for drugs within its borders. The American demand for illegal drugs is what makes the drug trade so profitable, which in turn makes the Mexican drugs cartels so willing to use violence. If American drug usage fell, the drug trade would become vastly less profitable, and thus less dangerous to Mexico.
Peña Nieto himself has suggested that Mexico should not "subordinate to the strategies of other countries" in fighting the war on drugs. That can be read as signaling that he might seek to pressure the United States to change its policies further. But official Washington seems confident that he will live with what the White House decides. Indeed, one unnamed Obama administration official dismissed his talk of not subjugating Mexico to other countries as a political "sound bite":
What we basically get is that he fully appreciates and understands that if/when he wins, he is going to keep working with us.
Mexicans are also angry at the United States for the flood of weapons that come south across the border. Americans may see loose guns laws as a sign of liberty, but for Mexicans these laws mean blood on their streets. They want Washington to halt the trafficking in death. As Peña Nieto's advisers put it:
The second amendment prevents obstacles from being put in the way of citizens acquiring arms. Here we should look to intensify the coordinated work along the borders and we should support legislative actions that demand more rigorous registrations for buying and selling arms.
Based on the pressure that the National Rifle Association put on members of Congress last week to vote to cite Attorney General Eric Holder for contempt of Congress over the Fast and Furious operation, which was launched to help stop the flow of weapons into Mexico, the chances that Washington will tighten its gun laws lie somewhere between nil and nada.
Immigration always has the potential to bubble up as an issue in U.S.-Mexican relations. Thirteen million Mexicans now live in the United States, which means that more than 10 percent of the people born in Mexico live north of the border. Mexicans were appalled when Arizona passed its strict immigration law back in 2010. The U.S. Supreme Court last month struck down much of that law, but not the centerpiece provision authorizing police to demand that people detained for crimes prove they are in the United States legally. With Washington unable to fix America's broken immigration system, the topic will remain an irritant in dealings between the White House and Los Pinos.
In all, any effort Peña Nieto makes to compel Washington to move on the issues that matter to Mexico will founder over a simple reality: Mexico City has little leverage over Washington. It is that basic reality that prompted (or so the story goes) the Mexican dictator José de la Cruz Porfirio Díaz Mori to lament a century ago: "¡Pobre México! ¡Tan lejos de Dios y tan cerca de los Estados Unidos!" (Poor Mexico, so far from God and so close to the United States!)