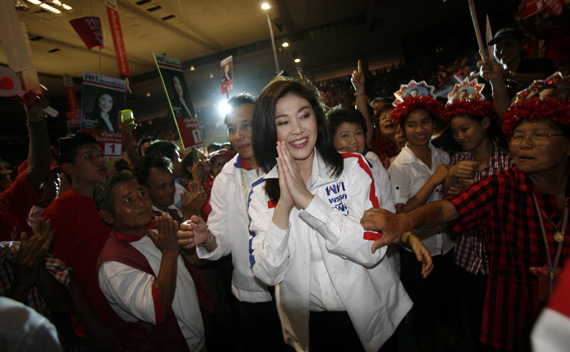 In the run up to Thailand's national elections, the opposition Puea Thai Party has repeatedly argued that it is more democratic and more reflective of popular opinion in the country. In some respects, they may be right; current polling suggests Puea Thai is going to win at least a sizeable plurality.
Yet the selection of Yingluck Shinawatra, Thaksin's younger sister, as the party's prime minister candidate, is a sign that Puea Thai is hardly as democratic as it seems. Siam Voices has an excellent analysis of this dichotomy. Yingluck is in many ways the most inexperienced prime ministerial candidate in modern Thai history; she has a decent record as a businesswoman and solid academic credentials, but she has no political background, and up until now expressed virtually no political ideas or opinions. Even now, in fact, Yingluck, though a decent speaker, basically just mouths platitudes and simplistic slogans, or simply says that she will be the puppet of Thaksin's ideas.
In other words, Yingluck has ascended to the prime ministerial candidacy because of nepotism. Plain and simple. Now, this may be a wise election move, making the poll about Thaksin, since the former prime minister still enjoys strong support in the north and the northeast, and a referendum on him and his ideas could work for Puea Thai. But it is hard to say that the selection of Yingluck bodes well for the democratic legitimacy of her party.