Gallup released a report yesterday showing that Barack Obama averaged a 49.1 percent job approval rating over his first term. How does that compare with other post-World War II presidents? Not terribly well.  As the chart below shows, only Gerald Ford and Jimmy Carter fared worse. Obama's immediate predecessor, George W. Bush, averaged a 62.2 percent job approval rating over his first term. (That thirteen-point advantage compared to Obama owes in good part to the historic rally-'round-the-flag bump that Bush enjoyed after September 11).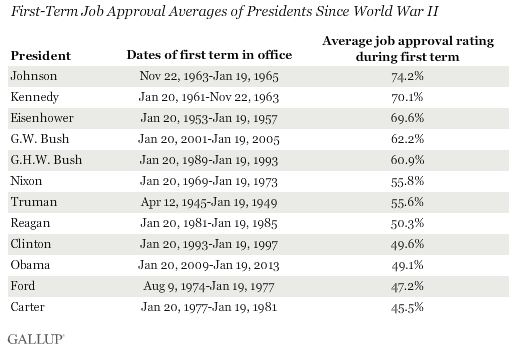 But as they say, there are lies, darned lies, and statistics. If you look at just the fourth-year approval ratings of presidents seeking re-election, which disqualifies Ford, who had been in office for only two years, Obama looks much better.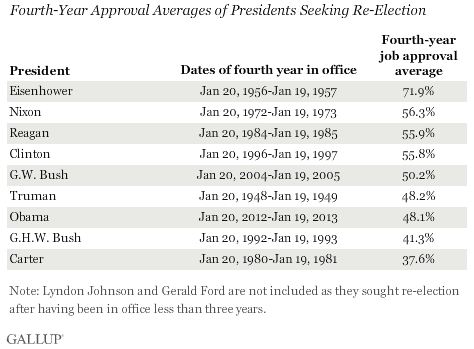 He scored substantially higher than Carter and George H.W. Bush, roughly the same as Harry Truman, and just two percentage points behind the younger Bush. Since Obama won reelection and neither Carter nor the elder Bush did, he now owns the record for the lowest fourth-year public approval of any two-term president since 1945.
The Gallup data contain two pieces of good news for Obama. The first is that Bill Clinton's average job approval rating jumped five points over the course of his second term, largely because the economy improved. If economists are correct that the U.S. economy is turning the corner, Obama's approval rating (which is a real political asset) could improve substantially as well.
The second piece of good news is that how contemporaries judge presidents may not be how future generations do. Richard Nixon's first-term popularity didn't save him from Watergate. He now frequently makes the list of worst American presidents. Meanwhile, Truman's popularity was sagging when he won a surprise victory in 1948—recall "Dewey Defeats Truman"—and in his second term he set the record for the lowest presidential job approval rating ever at 22 percent. Yet today Democrats and Republicans alike routinely lionize his accomplishments. The lesson seems to be: govern wisely and history will be kind.