How the Islamic State Benefits from Sexual Violence
Extremist groups benefit strategically and financially from the subjugation of women, says Nadia Murad Basee Taha, United Nations Goodwill Ambassador for the Dignity of Survivors of Human Trafficking, who spoke at a recent CFR roundtable meeting.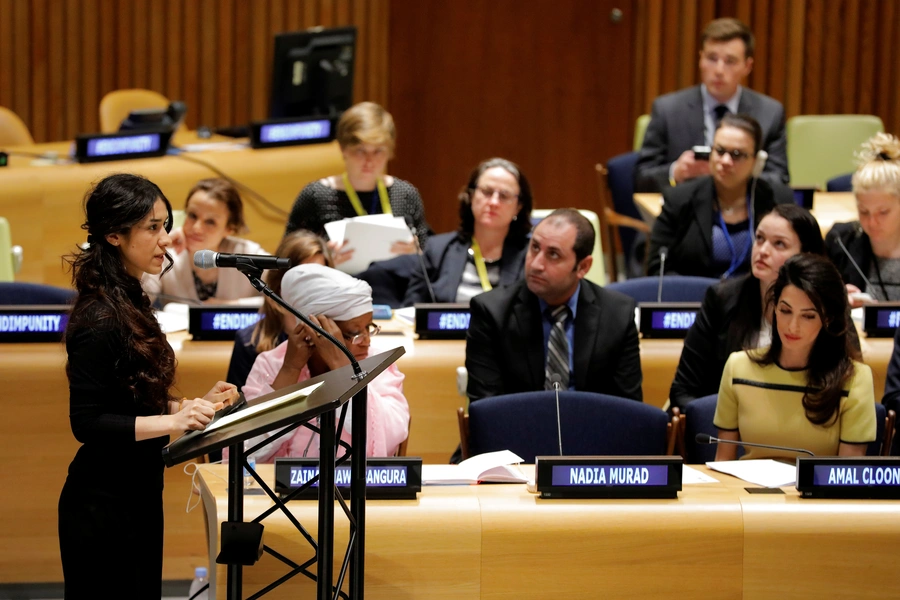 Extremist groups benefit strategically and financially from the subjugation of women. So says Nadia Murad Basee Taha, United Nations Goodwill Ambassador for the Dignity of Survivors of Human Trafficking: "The Islamic State didn't come to kill the women and girls, but to use us as spoils of war and as objects to be sold." They generate revenue from sex trafficking, sexual slavery, and extortion through ransom: the United Nations estimates that ransom payments extracted by the self-proclaimed Islamic State in Iraq and Syria from the Yazidi community amounted to between $35 million and $45 million in 2014 alone. In fact, as a new Council on Foreign Relations report outlines, conflict-related sexual violence has emerged as a core element of both the ideology and operation of extremist groups, including the Islamic State and Boko Haram in Nigeria. These groups use sexual violence not only to generate revenues but also to achieve security objectives by terrorizing populations into compliance, displacing civilians from strategic areas, and entrenching an ideology of suppressing women's rights to control reproduction and provide labor.
In her new book, The Last Girl: My Story of Captivity and My Fight Against the Islamic State, Murad shares the harrowing experience of witnessing the Islamic State's genocide of her Yazidi community, and a vision for how to defeat them and ensure the survival of the Yazidis. Last week, the Council on Foreign Relations (CFR) had the honor of hosting Murad and Mark Lagon, former U.S. Ambassador-at-Large to Monitor and Combat Trafficking in Persons, for a discussion on the Islamic State and efforts to counter human trafficking and conflict-related sexual violence. 
While the Islamic State sought to destroy Yazidi families and communities, the Iraqi government and leaders around the world now have an opportunity to ensure they do not succeed. But that requires more than defeating the Islamic State on the battlefield, Murad argued. Over 300,000 Yazidis remain displaced, and 3,000 are missing in captivity, including women and girls still held in sexual slavery. Murad's hope is that the U.S. government will support efforts to rebuild Sinjar and resettle Islamic State survivors, including by reconstructing the homes and schools that have been destroyed, removing the landmines left behind by the Islamic State, assisting survivors in their physical and emotional recovery, and protecting the rights of religious minorities in Iraq. Murad pointed to recent commitments by French President Macron, and called on other world leaders to similarly translate their sympathy for Yazidis into investments in their future. 
It is also essential to hold the Islamic State accountable, including for their use of rape as a tactic of terror. Survivors are ready to testify, but evidence is at risk of being destroyed before the Islamic State is brought to justice. As a first step, the United Nations Security Council in September called for the establishment of an independent investigative team to collect, preserve, and store evidence of acts that may amount to war crimes, crimes against humanity and genocide committed by the Islamic State—including sexual violence. Furthermore, the Iraqi government should classify survivors of sexual violence by the Islamic State as victims of terrorism, thereby ensuring appropriate support.
Supporting Yazidi women and girls to recover also requires countering the stigma that often follows survivors of sexual violence. As the recent CFR report outlines, research on the consequences of war cites sexual violence as one reason why women experience more long-term health consequences from conflict than men, and stigma remains a potent force that excludes women from the economic sphere, leading to a lifetime of poverty. The economic ramifications of conflict-related sexual violence can compound across generations, as children born of rape frequently experience discrimination and exclusion from services. The support of political and religious leaders can be critical to counter the stigma survivors face: when Yazidi spiritual leader, Khurto Hajji Ismail, welcomed survivors back into the community, it contributed to the reintegration of women and girls freed from Islamic State captivity, according to Murad. 
Finally, defeating the Islamic State and ensuring the full recovery of affected communities in Iraq also depends on including women. As Lagon observed, the U.S. government should ensure that women have a voice in peace negotiations and reconciliation. A new CFR digital interactive report details how women's participation in conflict prevention and resolution can improve outcomes before, during, and after conflict. 
It's a strategy worth investing in. As the Islamic State loses territory and the U.S. government funds recovery efforts, ensuring women's participation in reconstruction efforts will improve the potential for Iraq's prosperity and security.