How Much Should We Read Into China's New "Core Socialist Values"?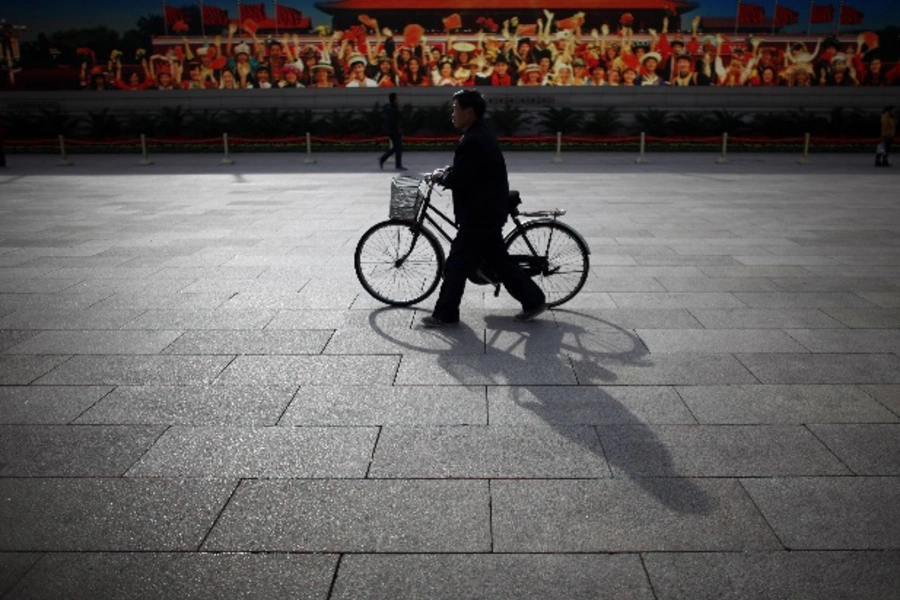 Bochen Han is an intern for Asia Studies at the Council on Foreign Relations.
Driving through any Chinese city, town, or village today it's hard to miss the 24-character set of "core socialist values" (shehuizhuyi hexin jiazhiguan) that adorn almost every public surface—restaurant menus, billboards, taxi cabs. In Urumqi, capital of the Xinjiang Uyghur Autonomous Region, schoolchildren must recite them on demand. In Chaohu city in Anhui province, citizens were encouraged to hang values-inscribed lanterns for the Spring Festival. Southwest, in Sichuan province, officials popularized the values by including them in riddles.
This idealistic set of twelve "core socialist values" was first defined at the 18th National Congress in 2012, and again highlighted in the annual meetings of the National People's Congress and the Chinese People's Political Consultative Conference this March. Government guidelines released at the end of 2013 encouraged  inclusion of the values in the overall national education plan and instructed that they be "made a way of thinking for students".
While most of these values are predictable (integrity, patriotism, civility, etc.), several stand out as seemingly incongruous with the common Western understanding of China, and with China's long-established wariness of importing Western political democracy: freedom, justice, equality, democracy, and rule of law.
None of these phrases in and of themselves is new. Since his ascension, President Xi Jinping has made "rule of law" a policy cornerstone (the concept itself stretches back to the second or third century BCE). "Rule of law" was the theme of the Fourth Plenum in 2014, and has featured prominently in government documents ever since. What Xi means by this has been vigorously discussed by both Western and Chinese analysts; some see it as merely a tool for party control and others approach it more optimistically, arguing that at the very least, it's unprecedented recognition that the government needs to improve governance and address public grievances.
As for "democracy," the actual term stems back over a century to when Japanese writers added it to the Chinese lexicon during the Meiji Revolution. (Technically, citizens can elect members to the local People's Congresses.) Freedom, justice, and equality are also oft-repeated buzzwords that the Chinese understand as ideals to work toward, rather than proclaimed accomplishments. Again, none of these phrases is really new, nor do they suggest a newfound desire for China to adopt the tenets of liberal democracy as understood in the West.
What does make the situation interesting is that Xi has decided to go beyond espousing the rhetoric in national policy forums and government documents, and is now using terms like "rule of law" and "democracy" in a popular, value-driven context. Furthermore, while every Chinese leader comes in with a new set of guiding moral principles (coupled with a vigorous propaganda campaign), those undertaken by Xi's predecessors did not raise eyebrows. Hu Jintao's "Eight Honors and Eight Shames" and Jiang Zemin's "Three Stresses" both remained comfortably within the Chinese rhetoric and targeted for Chinese consumption.
Why would Xi do this? Why expend the effort and resources to popularize centuries-old terms, and ones already espoused in state documentation?
Primarily: to win hearts and minds, both at home and abroad, and for all types of people. Xin Ming, professor at the Party School of the CPC Central Committee, said that core socialist values had an important position in China's soft power efforts.
With the advent of social media and the proliferation of people-to-people exchanges, the Chinese people are increasingly questioning China's place in the world and the contradictions inherent in China's rise. Growing insecurity and dissatisfaction have carved a void begging to be filled. While there is little evidence that anyone takes the values seriously—the local fervor for riddles and lanterns is just the typical response to any top-down directive —it may signal, for the cautiously optimistic, that the country is moving in the right direction, and thus tamp down any nascent dissent. The fact is, despite frequent internal criticism, most Chinese people want to believe that China is on the right path. Nothing is more comforting than hearing that China, too, has what everyone else has.
By adopting language pleasant to Western ears, it's clear that Xi meant this to be far more than a domestic propaganda campaign however.  Indeed, Xi, himself, alluded to the core socialist values in his first speech to the UN General Assembly last September, stressing that values such as freedom, justice, democracy and equality are "common...[to] all of mankind and the lofty goals of the United Nations" and that China would work hard to "renew [its] commitments to the purposes and principles of the UN Charter". State-owned publications do not shy from proclaiming that the views of Chinese leaders on values are also "hailed by the international community,"and that "China always regards its contributions to the values shared by [mankind] as a criterion to assess its performance." While there's no doubt that such values should be interpreted in the Chinese context, this is still quite the rhetorical departure for a state in which cultural relativism has been a favorite trump card.
The power of launching a widespread, in-your-face campaign is that these core values reach beyond keen China-watchers and diplomats. Xi's values campaign is as much for the foreign tourist as it is for the Chinese layperson. For the average foreigner not well-versed in Chinese politics, or one accustomed to stories about China's vengeful authoritarianism, core socialist values can foster a sense of commonality with their Chinese peers. Non-specialists and specialists alike, also want to believe that China on the right path—the same path as the West.
Perhaps all of this comes from recognition of failure, or frustration at being misunderstood. In recent years, the Chinese leadership has encouraged the growth of think tanks and promoted Confucius Institutes, but like its megaphone diplomacy, these efforts have borne little fruit. Xi has realized that it's useless to sell China in a language not understood by outsiders. Maybe the Chinese government has finally caught on that before it could project a palatable national image, one more in line with its self-proclaimed desire to be a responsible stakeholder, it must convince its people too.
So, at the end of the day, can we sum up Xi's campaign as simply another aspect of his soft power project—one that cleverly appropriates Western rhetoric? After all, China has long run away from terms that even hinted links with Western democracy. Any mention of "universal values" from the state media, even in a positive light, is accompanied by reminders to respect cultural diversity. Xi could very well go further in enhancing "justice" and "rule of law" without getting anywhere close to the intentions of the UN Charter. The recent foreign NGO law, marketed as a step toward stronger rule of law, is one cause for concern. In his outburst in Canada early last month, Foreign Minister Wang Yi made it clear that there was no easy reconciliation between Western and Chinese values, despite what his commander-in-chief espouses.
A less cynical observer might say that this "core socialist values" campaign should not be so easily dismissed. Given China's jealous protection of its image and its full awareness of the implications behind word choice, it's unlikely that Xi would go out of his way to say things, much less repeat them, if he doesn't mean them at all. After all, Xi has something to lose here. Core socialist values will no doubt become more entrenched in the public consciousness and raise expectations— and this can backfire to undermine the CCP's original vernacular co-optation. For the activists and reform-minded, this language provides the tools to carve more spaces for incremental change. As for the average laypeople, they now have the language to engage more purposefully with Westerners and Western discourse, which, for better or for worse, could be a starting point for widespread grassroots contention.
China wants to engage the world on its own terms, but the very contradictions inherent within its new core values suggest that there is malleability with its stance. The limitations to reform are real, as are the forces for change.