How Obama's Myanmar Policy Has Backfired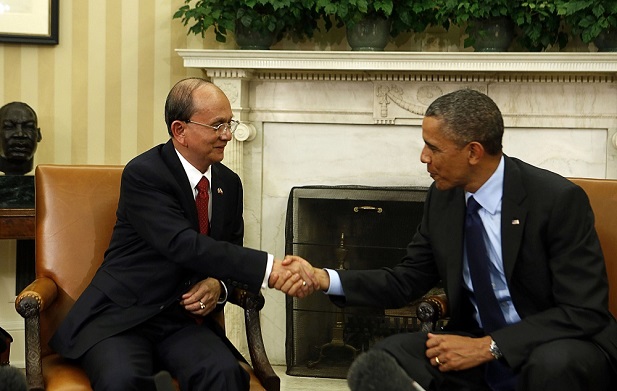 On Nov. 11, President Obama will travel to Myanmar for the ninth East Asia Summit, a meeting of leaders from across the Pacific Rim. It will be the president's second trip to a country that, for decades, was seen as a pariah in Washington, run by a brutal and xenophobic military regime that gunned down protestors in the streets and jailed opposition leader Aung San Suu Kyi. In 1997, the Clinton administration signed a law barring new U.S. investment, and the George W. Bush administration made the sanctions even tougher.
Coming into office, the Obama administration concluded that a hard-line policy toward Myanmar had failed—failed to advance political and economic change, and failed to serve U.S. strategic interests in Asia. Obama eased sanctions on Naypyidaw and encouraged U.S. companies to plunge into the country, among other steps.
When Obama visited for the first time, in 2012, optimism about the future—of Myanmar politics, of Myanmar as a market, and of U.S.-Myanmar relations—was almost unbounded. The new government had scheduled elections for 2015 and released Suu Kyi from house arrest. Myanmar President Thein Sein had freed hundreds of political prisoners, signed cease-fire deals with the ethnic minority insurgencies that had fought the government for decades, and loosened restrictions on the domestic media environment.
With an untapped consumer market of 50 million people, and sizable natural resources, Myanmar appeared to be one of the most promising emerging markets in the world. By launching closer relations, the United States also was, supposedly, denying China a greater foothold in Asia and gaining a partner in an important strategic location. As Obama declared in Myanmar in 2012, "I've come to keep my promise and extend the hand of friendship." The president concluded by gushing that Myanmar's reforms would "become a shining North Star for all [of Myanmar's] people."
But only two years later, Obama arrives in a country where optimism—among Myanmar democrats, local and foreign companies, and even many in the U.S. government who are focused on Myanmar—has dimmed to black. Myanmar's political and economic climate has gone sharply backward. The country's infrastructure, courts, and permitting remain so disastrous that most U.S. investors, after making initial fact-finding visits to the country, are giving Myanmar a wide berth. Worst of all, Myanmar was never the strategic gem it appeared to be, and expending considerable U.S. diplomatic resources wooing the country took time and money away from other, more important places – a dangerous mistake at a time when the United States is stretched around the world.
To read more of my assessment of the administration's Myanmar's policy, go to: http://www.businessweek.com/articles/2014-11-06/why-obamas-courtship-of-myanmar-backfired#r=hpt-ls