Human Rights Watch and the Destruction of Rafah
February 22, 2017
7:00 am (EST)
Blog Post

Blog posts represent the views of CFR fellows and staff and not those of CFR, which takes no institutional positions.
Rafah is a town in Egypt, on the border of Gaza, that will soon cease to exist. The government of Egypt is destroying it, leaving thousands of Egyptians homeless, in an effort to create a buffer zone along the border.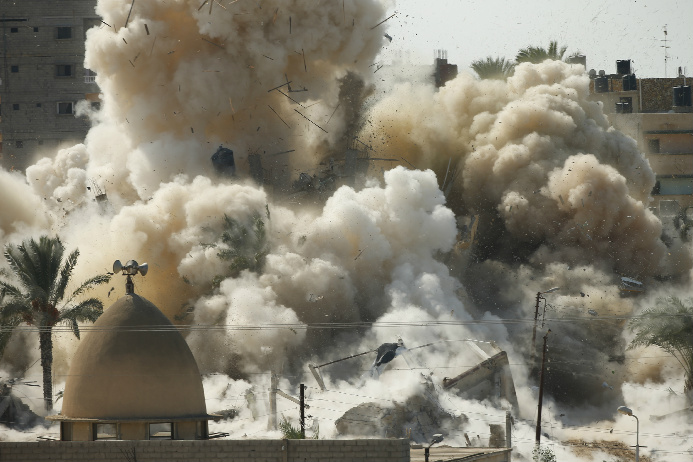 Here's a Jerusalem Post story from late last year story noting the facts and the Amnesty International reaction to them:
Egypt has forcibly evicted an estimated 1,165 families in Rafah so that it can clear a buffer zone by the Gaza Strip border, charged the human-rights group Amnesty International, which is concerned that additional homes will be demolished in the coming weeks.

 

"The scale of the forced evictions has been astonishing; the Egyptian authorities have thrown more than 1,000 families out of their homes in just a matter of days, flouting international and national law," Hassiba Hadj Sahraoui, Amnesty International's deputy director for the Middle East and North Africa, said…."Shocking scenes have emerged of homes in Rafah being bulldozed, bombed, with entire buildings reduced to piles of rubble and families forcibly evicted," Sahraoui said.
That was November 20, 2014; since then there have been more evictions. On January 8, 2015 The New York Times reported that:
Egypt began evacuating hundreds of families from a town bordering the Gaza Strip on Thursday after a senior official acknowledged that the military was eradicating the town in order to complete a security zone abutting the Palestinian territory.
Ten or twenty thousand people will be moved out forcibly. The government claims that they will all be getting fair compensation, but anyone with knowledge of the incompetence and corruption of the  Egyptian bureaucracy will doubt that.
As noted, this has been criticized by Amnesty International. It published a lengthy analysis in November, entitled "Egypt: End wave of home demolitions, forced evictions in Sinai amid media blackout."
All of this is interesting for many reasons, but one that isn't immediately apparent ought to be noted: Human Rights Watch, which has put out report after report criticizing Israel for its conduct along the same border and near Rafah, and which never misses a chance to smack Israel, appears to be dead silent about the same conduct when Egypt undertakes it.  A search of the HRW web site produces no criticism, no report, on Egypt's destruction of homes in an apparent effort to stop terrorism and defeat smuggling tunnels.
Consider HRW's 20-page report in 2004 about Israeli conduct in Gaza and entitled Razing Rafah. The title alone shows the bias. In actual fact, Egypt is indeed razing and destroying Egyptian Rafah—a city that exists on both sides of the Sinai-Gaza border. By contrast, Israel never planned to destroy the entire Gaza city of Rafah, nor of course did it do so. HRW has once in a while demanded that Egypt—which is keeping the Rafah border crossing between Sinai and Gaza closed except for a few days once in a blue moon—open the crossing. But where's the 20-page report? Where are the statements of the sort Amnesty (which, by the way, has also been unfairly critical of Israel in many of its own statements) has made?
HRW's pattern of bias toward Israel is seen in what it says, and here in what it does not say. Destruction of homes by Israel for security reasons: a violation of international law that must be denounced at length and repeatedly. Destruction of homes by Egypt in essentially the same location for essentially the same reasons: silence. Maybe a new 20-page HRW report on Egyptian Rafah is in the works. Maybe there are dozens of statements by HRW about "Razing Rafah" on the Egyptian side of the border and I just haven't been able to find them. Maybe there really is no bias in HRW's coverage of Israel. But it doesn't look that way.