International Development in 2014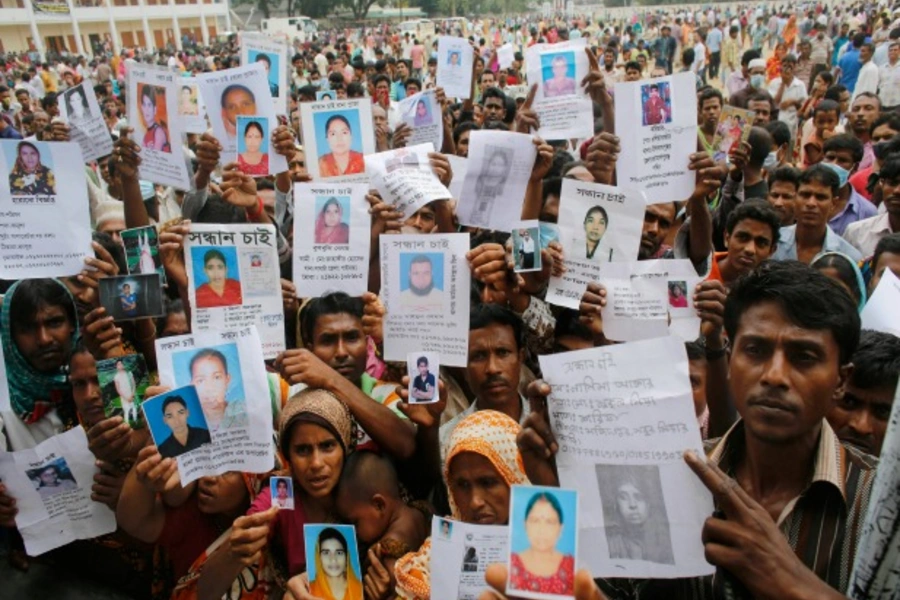 Looking back at 2013, several developments stand out for their significant potential to better the lives of the world's poorest. Here are three that will likely reverberate for years to come:
1) The Accord on Fire and Building Safety in Bangladesh
This past year saw one of the deadliest factory accidents in history, which killed over 1,100 garment workers and injured another 2,515 in Savar, Bangladesh. The incident came less than a year after the Tazreen Fashion factory fire in Dhaka, Bangladesh took the lives of at least 117 workers. In the aftermath of these tragedies and other shocking safety violations, international actors have finally come together to improve working conditions in the world's second-largest apparel exporter and, in the process, set new precedents for labor safety in other poor countries.
In May, over 100 apparel corporations, two global trade unions, and numerous Bangladeshi unions signed the Accord on Fire and Building Safety in Bangladesh, which calls for "independent inspections by trained fire safety experts, public reporting, mandatory repairs and renovations financed by brands, a central role for workers and unions in both oversight and implementation, supplier contracts with sufficient financing and adequate pricing, and a binding contract to make these commitments enforceable."
Unlike previous labor safety agreements, this one is legally binding and requires companies to reserve sufficient funds for repairs and renovations. The Accord is not perfect – and cut-throat producers will always try to exploit loop holes. Just establishing a system to organize the inspection of the country's 5,600+ factories poses enormous logistical challenges. In the meantime, apparel companies have been criticized for not compensating or adequately helping those directly affected by the Rana Plaza collapse. But in the wake of these horrific tragedies, the pressure to follow through will likely remain and the accord provides the best basis yet on which to build positive change.
The alternative for global companies concerned about their brands is to cut and run. But moving operations to another country would unfairly penalize the millions of Bangladeshi workers who have a found a semblance of middle-class life through factory work. The textile industry accounts for three quarters of Bangladesh's exports and employs four million people, the majority of whom are women. Shutting it down would have huge economic repercussions and would take away many worker's best shot at breaking out of poverty. A better response is for companies to make the needed investments in safety, and more broadly in infrastructure to address other supply chain problems. The Accord is an encouraging sign of progress, but its implementation will be the real test of corporate responsibility in Bangladesh and beyond.
2) Rise of Internet and Smartphone Use in Africa
In Africa, internet and smartphone usage continues to expand: the continent now has 16 percent internet penetration, 167 million internet users, 67 million smartphones, and $18 billion internet contribution to GDP. By 2025, Africa is expected to have 50 percent internet penetration, 600 million internet users, 360 million smartphones, and $300 billion internet contribution to GDP. A 2013 McKinsey report attributes this growth to "significant infrastructure investment—for example, increased access to mobile broadband, fiber-optic cable connections to households, and power-supply expansion—combined with the rapid spread of low-cost smartphones and tablets."
The implications of the spread of internet technology in Africa are huge. In education, affordable tablets and e‑books can cut costs and improve quality of instruction and teacher training. With Internet access, farmers can find and share valuable information on crop management, finance, pest control, and weather. Internet access can also improve government transparency, efficiency, and productivity. Lastly, e-commerce promises to boost the continent's overall economic growth, potentially adding an addition $75 billion in annual revenue. All this adds up to a revolution for the continent, and especially for rural communities and public service providers previously unable to access critical innovations and information.
3) Expansion of Payment Networks in East Africa
Technology has profound implications for financial services and aid delivery as well. In Kenya, M-Pesa has revolutionized how people spend and move money. Mobile banking is expected to grow even more in the coming years, with international heavy-weights Paypal, Google, and Huawei (a Chinese telecommunications company) joining other companies, such as Obopay, Ericsson, Western Union, MasterCard, Airtel, and Visa already developing and investing in African mobile payment systems. PayPal's new partnership with Equity Bank in Kenya, for example, will allow Kenyans to access the global PayPal network and could "further transition East African economies away from cash, allowing business to better integrate into the global marketplace."
East African banking has been further transformed by the implementation of the East Africa Payments System. Championed by central banks in the region's top economies, the EAPS speeds up commercial transactions and allows Kenyans, Ugandans, and Tanzanians to make and receive payments in real time. Rwanda and Burundi are expected to join the EAPS and even help establish an East African monetary union once their economies are more developed. The expansion of mobile banking enables aid organizations to efficiently reach more rural communities and boost economic growth overall.