Iran, the Strait of Hormuz, and Hard Power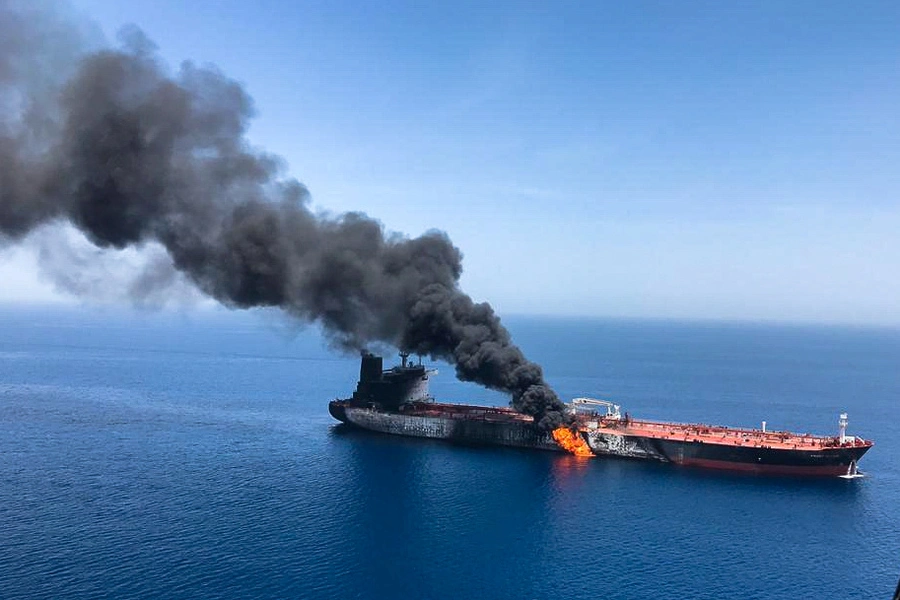 I woke up this morning thinking I would write a blog explaining just how challenging it would be for Iran to close the Strait of Hormuz for a prolonged period of time. This is not to say that there could not be a battle in the waterway: Iran has lots of conventional weapons, including mines, submarines, a large fleet of speed boats (think the USS Cole bombing), torpedoes, and missile batteries. But I thought to myself, why would Iran want to give the U.S. military the rationale to target Tehran's largest military assets and destroy them?
Then I saw a news report that a short range Katyusha missile hit a site very close to ExxonMobil's operations center in southern Iraq, near the Zubair oil field, where Italian oil firm ENI is helping restore production capacity. Royal Dutch Shell also has personnel in the area. That brought me back to my father-in-law's favorite expression "Too clever by a half." For those of you who don't know that term, the internet defines it as meaning "annoyingly proud of one's intelligence or skill and in danger of overreaching oneself." I don't think that definition, though accurate, does the phrase justice. The formal definition doesn't fully convey the high level of arrogance and stupidity involved when someone makes an incredibly large mistake because they think they are outsmarting someone when in reality they are about to create a huge disaster for themselves.
Now you could be wondering: Am I talking about Iran or the United States?
Let's talk about both.
Iran is so used to working through proxies with no consequences on its ruling elite or its physical motherland that it believes that it can offer these endless, faceless "sabotage" operations with impunity. 
On the flip side, the United States is used to stationing an aircraft carrier somewhere and believing that it is a solution to small-scale attacks (e.g. weaker party doesn't want an actual military engagement so they back down). This, however, fails to recognize that force projection in the age of asymmetric warfare may not be the most effective deterrent. It begs the question of "proportional" response. Iran is hoping for that messy debate. That is why it appears that Iran could be selecting discrete high-value targets with methods that are hard to fingerprint. 
That brings me back to Iran's original threat, when the United States announced it was withdrawing from the Joint Comprehensive Plan of Action (JCPA) nuclear deal and reimposing sanctions on Iranian oil exports.
Iranian President Hassan Rouhani said "If one day they [America] want to prevent the export of Iran's oil, then no oil will be exported from the Persian Gulf."
And that brings me to my favorite parenting advice for raising a two-year old. Don't threaten something if you don't intend to carry it through.
As the United States considers the uncomfortable decision on how to convey diplomatically or, in the worst case, militarily that continued attacks on oil installations across the Persian Gulf will not be tolerated, it needs to acknowledge that Iran has many ways to harass oil exports to the international market.
As I wrote previously, referring to all these efforts as "sabotage" underplays their significance. The inventory of oil attack events to date is starting to be extensive. It includes attacks on shipping via missiles from Yemen, attacks via missiles in Iraq, attacks on oil and petrochemical feedstock shipping with limpet mines, attacks on regional oil facilities using drones, notably in Saudi Arabia, several major cyber incursions against the Saudi oil and petrochemical industry, and sabotage activities that led to explosions on oil pipelines across the region, notably in Bahrain. Then there is the possibility that the contamination of oil coming from Russia to Europe was more malicious than it appeared.
I have written a book with economist Mahmoud El-Gamal on the close linkages between the seminal business cycle, the oil price cycle, and Middle East geopolitical violence. We updated that work in a journal article that highlights how the more lasting impact of war-related damage to oil facilities is endemic to lasting oil price volatility.
The problem for both the United States and Iran is that the global rules of engagement for asymmetrical attacks on energy facilities are extremely unclear. If the United States hits Iran with traditional fire power against Iranian military targets to deter further conventional attacks on oil exports, will that address the cyber domain or not? Does cyber have to address cyber? The patterns of engagement are unclear and that is dangerous for all concerned. That lack of clarity raises the stakes of a miscalculation, especially on the Iranian side. The anonymous declaration this week in the New York Times that the United States military is stepping up its digital incursions to Russia's electric power grid highlights the challenge of deterrence. Iranian cyber incursions into U.S. infrastructure date back many years.
There is a tendency among geopolitical commentators to dismiss the usefulness of diplomacy in stale conflicts. One often hears talk that there is little possibility for a reset of the Iran nuclear deal, hence no point to dialogue between the United States and Iran either directly or through intermediaries. This is clearly incorrect. The problem with that logic is that diplomacy is often needed so countries do not misunderstand the progression of events that could result from a string of ambiguous situations. In the case of asymmetric attacks on energy, diplomacy is sorely needed to define those ambiguities and bring transparency to what constitutes a clear and present danger.