It's Time to End Gender-Based Violence in Conflict
Voices from the Field features contributions from scholars and practitioners highlighting new research, thinking, and approaches to development challenges. This article is authored by Ambassador Cathy Russell, former U.S. Ambassador-at-Large for Global Women's Issues and member of the board of directors of Women for Women International.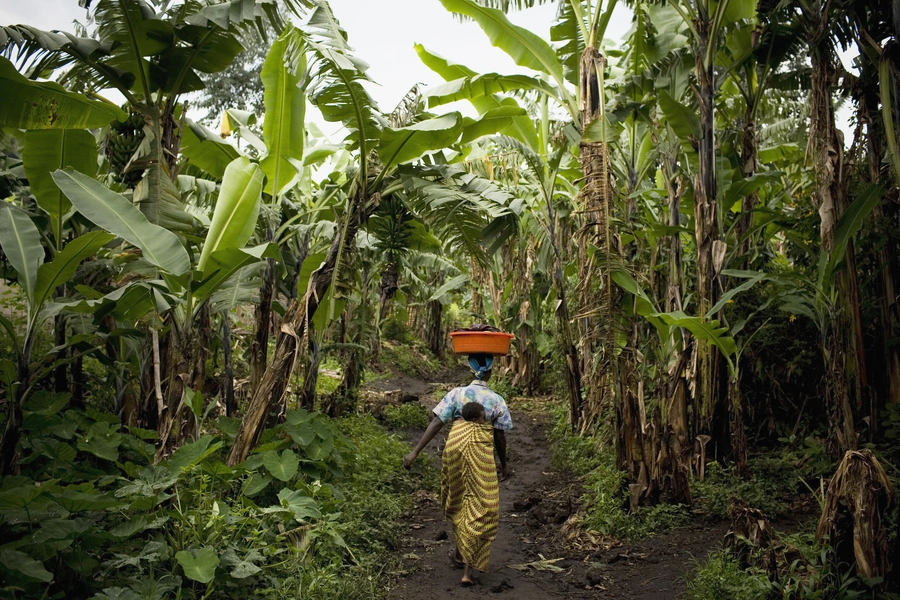 "In the beginning, I counted the number of rapists but when it reached twenty, I said that I would not continue counting; it was enough," says Honorata. She is a Congolese woman who was kidnapped by rebels that came to her village and forced into a year of sexual slavery.
Unfortunately, Honorata's story is not unique. Globally, an estimated 35 percent of women have experienced physical violence in their lifetime. That's one in three women worldwide. In conflict-affected countries, rates are frequently even higher. In the Democratic Republic of Congo, a country that has been plagued by civil conflict and war for decades, studies find that up to 40 percent of women have experienced sexual violence in their lifetime. 
Such gender-based violence is a pervasive human rights violation that prevents women and girls from reaching their full potential. It is an obstacle to women's ability to live dignified lives, free from fear. During times of conflict and instability, it can also pose significant security challenges: violence is normalized and sexualized violence is often used to punish and terrorize populations, fuel displacement, and destroy the fabric of communities.
Each year, the United Nations, partner organizations, and governments around the world galvanize attention to gender-based violence through sixteen days of activism starting on the International Day for the Elimination of Violence Against Women (November 25). This year, to mark the #16Days of Activism Against Gender-Based Violence, individuals around the world can join Women for Women International (WfWI) and others in standing with women survivors of war and calling for global action to end gender-based violence.
WfWI was established in 1993 to help survivors of sexual violence during the 1992-1995 conflict in Bosnia and Herzegovina. Grounded in respect for women's human rights and the belief that stronger women build stronger nations, WfWI has served nearly half a million women in communities impacted by war and violence. We work in Afghanistan, Bosnia and Herzegovina, the Democratic Republic of Congo, Kosovo, the Kurdistan Region of Iraq, Nigeria, Rwanda, and South Sudan—some of the world's hardest places to be a woman.
I was drawn to WfWI's commitment to serving women in conflict affected countries. As the former U.S. Ambassador-at-large for Global Women's Issues, I traveled the world for almost four years, seeing conditions on the ground and talking to women who have survived different forms of gender-based violence. I visited the WfWI program in Rwanda and saw the tremendous positive impact the program has on women in communities transitioning from insecurity to stability and peace. As the newest member of the Board of Directors of Women for Women International, I support this transformative work.       
So how do we put an end to gender-based violence? The answer may be in comprehensive programming that addresses the economic and social needs of survivors, as well as initiatives to change the conditions that allow it to occur in the first place.
Connecting to Networks for Support
Survivors of gender-based violence are often ostracized by their communities because of the violence they have endured. WfWI helps to provide a safe space for women where, together, survivors form communities of support where they can overcome the insecurity and violence that threatened their past. In sharing their experiences and building networks with one another, they can move forward to healthier and stronger futures.
Empowerment Through Economic Stability
Whether they have escaped the Islamic State group in Iraq or faced sexualized violence during conflict in Afghanistan, survivors of violence often face significant difficulties accessing the resources necessary to reintegrate into society. Learning how to earn money, receiving a monthly stipend, and setting aside savings gives a woman the ability to provide for her family's needs and invest in a new future. WfWI's programs around the world have shown that economic stability helps many women live securely, have greater leverage to earn respect in their communities, and become active and contributing members of society.
The Importance of Rights Education
A critical step to overcoming the power dynamics and inequality that foster conditions in which gender-based violence occurs is education. Learning about legal rights can shift social norms, deter perpetrators of violence, and increase women's confidence to raise their voices about the critical issues affecting their lives. When women know their rights, and have the financial means to stand on their own feet, they are more likely to be able to break free of violence and recover from it.
Engaging Men as Allies to Change Social Norms
Finally, men around the world can be critical partners in efforts to support and empower women. WfWI Men's Engagement program, for example, gives men the knowledge and tools to become allies who understand the societal benefits of promoting gender equality and who work in partnership with women and women's groups to put an end to gender-based violence. Men's involvement is instrumental in changing social and cultural norms that constrain women's autonomy and decision-making, in peacetime as well as times of conflict and instability.
For Honorata, economic empowerment and rights education were essential to rebuilding her life after experiencing horrific sexual violence. Today, after completing a WfWI program herself and gaining new skills, Honorata is a valued member of the WfWI staff in the Democratic Republic of Congo. "Now, all I want to do is help other women rebuild their lives. I tell the women I train, look at me, I went through so much and now I am a professional trainer with a good salary," she says.
Join me and Women for Women International for the #16Days of Activism to stand up for women all around the world, like Honorata, who have survived gender-based violence and are becoming champions of change in their own communities.
Learn more about Women for Women International.