Kenya's Paradoxical Elections
Kenya's next president will have to win more than just votes to gain legitimacy.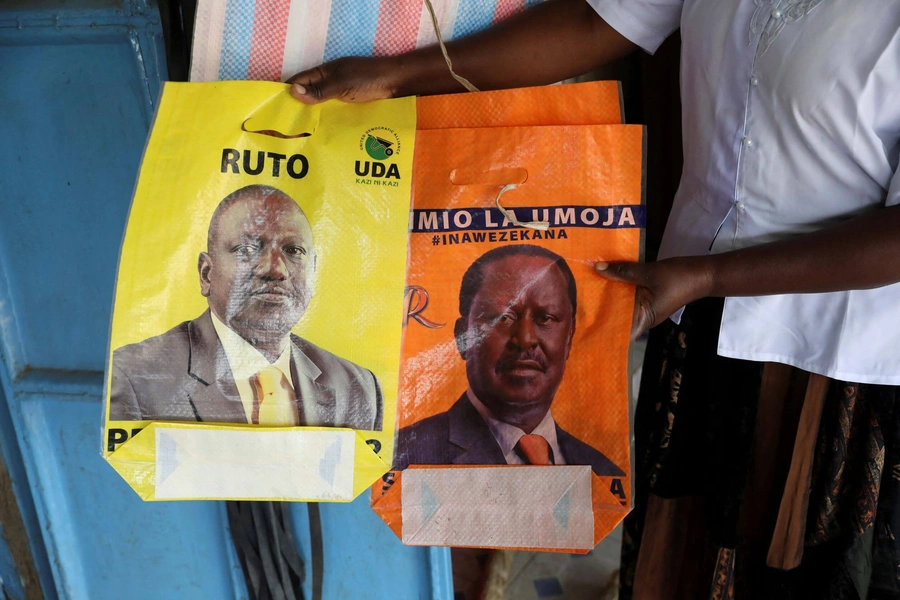 With general elections just days away, Kenyan citizens are bracing for candidates' final political push of entreaties, sweeteners, and accusations. The hotly contested race for the presidency features longtime political eminence Raila Odinga in his fifth quest for the office, squaring off with William Ruto, who, despite currently being the deputy president of Kenya, is running as an outsider. Incumbent President Uhuru Kenyatta has endorsed Odinga, and the sometimes-toxic electoral math of Kenya's ethnic voting blocs has been thrown into disarray.
As the election draws near, anxiety is on the rise within the country, and among Kenya's neighbors and partners–including the United States. In Kenya's recent history, elections have been messy affairs, most notably in 2007, when electoral disputes triggered significant violence and instability. This time around, hate speech and disinformation are once again circulating on digital platforms, raising the political temperature. So on one hand, there is anxiety about the potential of upcoming elections to divide the Kenyan people, to weaponize ethnicity in the pursuit of a winning electoral equation, even to weaken popular confidence in the legitimacy of Kenya's governing institutions and democracy itself. In a recent Afrobarometer poll, fewer than half of Kenyans expressed confidence in the Independent Electoral and Boundaries Commission.
Yet on the other hand, Kenyans themselves are concerned that perhaps these elections are not consequential enough, in the sense that few seem to expect significant changes to their daily struggles and concerns regardless of who wins. It has been difficult to tease out the major differences in candidates' visions for Kenya–for job creation, for addressing inequalities, for coping with the consequences of climate change, or shoring up the country's stability in an increasingly volatile region. Youth voter registration drives largely fell flat, but low turnout should not be mistaken for apathy or complacency. Instead, it speaks to a worrying disconnect between what the political marketplace has to offer and the concerns of Kenyan citizens.
A peaceful, rule-governed electoral process in Kenya is unquestionably important, and the potential costs of failing to clear that bar are alarming. But the most important stakes will not be addressed until after the dust has settled–which may be several weeks away if the tight Odinga-Ruto race forces a runoff. Rebuilding trust in the country's institutions and confidence in the connective tissue that binds the electorate and their political leaders will be a daunting undertaking. Success or failure will ultimately be even more consequential for Kenyan stability, resilience, and capacity to play a regional leadership role than making it through the electoral process unscathed.
This publication is part of the Diamonstein-Spielvogel Project on the Future of Democracy.