Maternal and Reproductive Healthcare in Humanitarian Crises
Voices from the Field features contributions from scholars and practitioners highlighting new research, thinking, and approaches to development challenges. This article is authored by Heather Higginbottom, chief operating officer of CARE USA.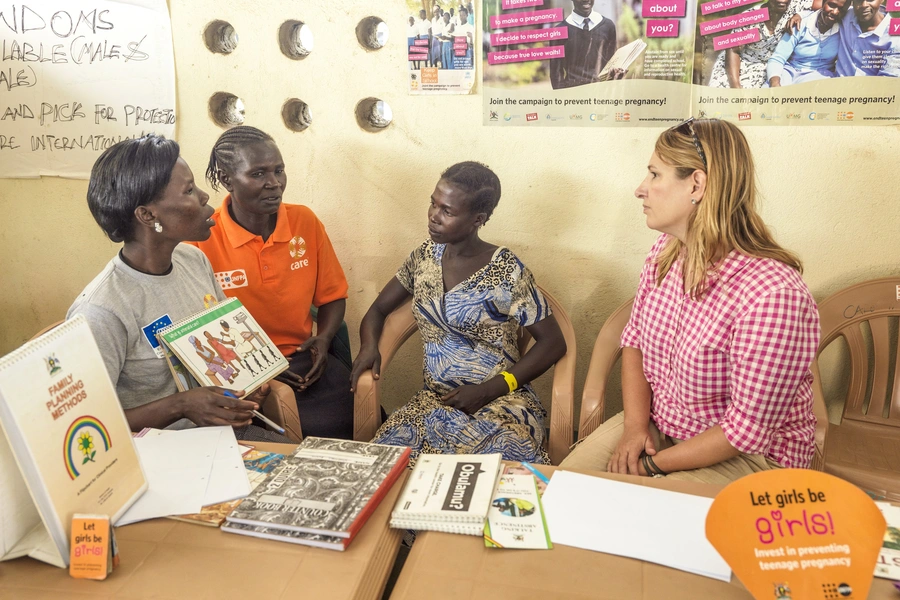 Since last July, 1.2 million refugees have fled South Sudan for northern Uganda, a small country that is shouldering the largest refugee influx in Africa today. Eighty-six percent of these refugees are women and children who make the treacherous journey to Uganda, often without male relatives. They arrive hungry, nearly empty-handed, and frequently traumatized. Today, the global refugee crisis is one of the largest of our times; yet it's one of the most under-funded and least covered in the news. 
In Uganda, CARE is partnering with the United Nations Population Fund (UNFPA) to ensure that pregnant women and mothers receive the critical maternal health care services they need, including prenatal care, safe delivery, newborn care, breastfeeding support, and ongoing reproductive health care. 
Unfortunately, despite the tremendous global need, the Trump Administration has proposed disproportionate cuts to lifesaving U.S. foreign assistance programs. In addition, the Trump Administration announced that it would withhold all U.S. assistance to UNFPA, cutting off critical services for women and girls.
These cuts to U.S. foreign assistance are not theoretical – they are real and they impact real people. Grace, a CARE-supported midwife, is an example of the kind of impact these small investments can make.
I met Grace at the Rhino refugee settlement in northern Uganda. She delivers 450 babies every month and explained that many women arrive at the camp with severe health issues – often lacking any prenatal health care. She said, "With the grueling journey to Uganda, many mothers come to the clinic malnourished and with medical complications and many deliver malnourished babies. It is also very common to see mothers as young as 14-years-old who are unable to deliver naturally and must travel to Arua to have a C-section."
One of these mothers was Nancy, who arrived at the refugee settlement the day of my visit.  When the violence in South Sudan reached her village, Nancy became separated from her husband, her child, and her mother-in-law. She and her father-in-law tried to flee, but he was captured and killed in front of her. Pregnant, malnourished, and alone, Nancy fled to Uganda by foot – depending upon the kindness of people she encountered along the way to give her small amounts of food from their gardens. Some days she did not eat at all. 
Nancy had not received any prenatal care during her pregnancy. When she arrived at the camp, Grace ensured that she received the counseling and services she so desperately needed, and that she continues to receive this care throughout her pregnancy, delivery, and afterwards. But for many women fleeing the conflict in South Sudan, and other conflicts around the world, there are no services. 
In South Sudan, mothers and babies die at high rates (789 maternal deaths per 100,000 births) and Uganda (343 deaths per 100,000 births), even though U.S. humanitarian assistance has helped slash mortality rates significantly in the past twenty-five years. Still, it's shocking that a woman dies somewhere in the world from a pregnancy-related complication every two minutes and almost 99 percent of these deaths are preventable. Almost all of these deaths occur in developing countries, and of the 830 women and adolescent girls who die daily from pregnancy-related causes, 507 die in countries that are considered fragile because of conflict or natural disasters.
During times of crisis, especially for many women fleeing violence and insecurity in South Sudan, increased access to this assistance will mean the difference between life and death for them and their children. 
CARE has been working on sexual, reproductive, and maternal health for more than fifty years. We've been successfully implementing effective programs for decades that give women and girls more control over their lives and their health. We know what works – but now, we must scale up responses to meet those in need.
In September, the Senate Appropriations Committee voted to roll back significant cuts to U.S. funding for reproductive health and family planning services and supported continued funding to UNFPA. This is an important step toward allowing women like Nancy to access the lifesaving care they deserve. 
When we continue to invest in healthy women and families, we invest in the stability and future health of our world. When women like Nancy have access to the health care services they need, they thrive and their children thrive. Our nation's leaders should continue to remember these stories as they consider the U.S. foreign assistance budget and all that it offers to the world: hope, security, safety, and health. From South Sudan to Uganda to the U.S., these are basic human rights that everyone deserves.