Meet Andrew Yang, Democratic Presidential Candidate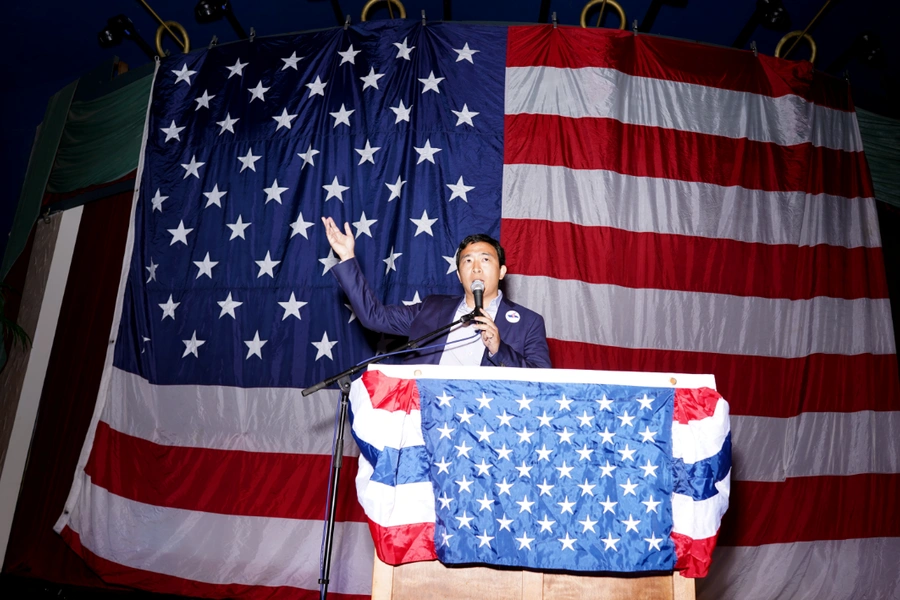 Update: Andrew Yang announced on February 11, 2020, that he was ending his campaign.
Chances are you haven't heard of Andrew Yang even though he's been running for president for more than a year now. By any objective standard, he is the longest of long shots. He has never held political office, he isn't a celebrity, and while he has been a successful entrepreneur, he isn't a billionaire who commands media attention. But he is tackling head-on one of the biggest challenges facing American society—what happens when rapid automation eliminates millions of jobs. He says that left unchecked, it "will strain our society beyond repair." He may well be right. One recent report projected that over the next dozen years as much as one-third of the American workforce may need to find a new occupation. Whether Yang has the right solution for this tsunami of automation is another matter entirely.
The Basics
Name: Andrew Yang
Date of Birth: January 13, 1975
Place of Birth: Schenectady, New York
Religion: Protestant
Political Party: Democratic Party
Marital Status: Married (Evelyn)
Children: Two sons
Alma Mater: Brown University (BA); Columbia University (JD)
Career: Entrepreneur
Campaign Website: https://www.yang2020.com/
Twitter Handle: @AndrewYangVFA
Yang's Story
Andrew Yang was born and raised in upstate New York. His parents immigrated to the United States from Taiwan in the 1960s. His father worked at IBM and his mother at a local university. He spent his high school years at New Hampshire's Phillips Exeter Academy, one of America's top boarding schools and the alma mater for both Franklin Pierce, America's fourteenth president, and Mark Zuckerberg, the founder and CEO of Facebook. (Yang is nine years older than Zuckerberg, so they weren't classmates.)
Yang studied political science and economics at Brown. He then earned his law degree from Columbia University. He gave corporate law a try for a year before deciding it wasn't for him. He instead decided to be an entrepreneur.
Like many entrepreneurs, Yang had some initial failures. He says these failures taught him "how to build a business from more experienced entrepreneurs." He found success in 2001 at a health care start-up called MMF Systems Inc. He had a second success with an educational start-up called Manhattan Prep that he founded in 2006. He sold the company three years later, but he stayed on as its president until 2011. Yang then started Venture for America, a fellowship program that seeks to create start-up jobs in cities like Baltimore and Detroit that have been experiencing hard times. Venture for America was featured in the documentary Generation Startup.
The Obama White House named Yang a Champion of Change in 2012. Three years later it made him a Presidential Ambassador for Global Entrepreneurship.
Yang's Announcement
Yang filed the paperwork to run for president back in November 2017. The video announcing his campaign makes clear he is a single-issue candidate. The issue? The future of work. Yang worries that technology will soon make many jobs obsolete, leading to "a country with fewer and fewer opportunities, and a handful of companies and individuals reaping the gains from new technologies while the rest of us struggle to find opportunities and eventually lose our jobs." To adapt to this new future, Yang wants to provide Americans with a universal basic income. He calls it the Freedom Dividend. He thinks it is the only way to save capitalism from itself.
Foreign policy doesn't get a mention in Yang's campaign announcement.
Yang's Message
Yang says he is "running for president to wake up America to the fact that it's not immigrants or globalization but this technology that is transforming our way of life." His slogan is "Humanity First." He believes we are experiencing the "greatest technological shift the world has ever seen" and that "current policies are not equipped to handle this crisis." Yang argues that automation will do more than eliminate manufacturing jobs. It will eliminate jobs for "retail workers, call center workers, fast-food workers, insurance companies, accounting firms."
The Freedom Dividend would provide all Americans between the ages of eighteen and sixty-four with one thousand dollars per month. To put the Freedom Dividend to the test, Yang is giving someone in Iowa and someone in New Hampshire one thousand dollars per month in 2019.
Yang's Foreign Policy Views
Yang says that "my first principles concerning foreign policy are restraint and judgment—we should be very judicious about projecting force and have clear goals that we know we can accomplish." He in turn has three foreign policy goals: "make it harder for the United States to get involved in foreign engagements with no clear plan or goal"; "rebuild our relationships with allies to strengthen the international order"; and "bring our military spending under control." Yang doesn't explain how he would achieve these goals or say what the United States might have to give up in order to achieve them. He does say that he wants to "work with our allies to rebuild our stature in the world, and strengthen alliances such as NATO."
Yang believes that America's military involvements overseas have been "misadventures" that "have destabilized parts of the world, made enemies of allies, and resulted in untold human suffering, both for our brave soldiers and civilians of other countries."
Yang doesn't think a president should be able to order a nuclear attack on his or her own authority. He prefers a dual-key process in which the "vice president should need to verify any such decision made by the president."
When it comes to military spending, Yang believes too much of the military budget "is focused on defending against threats from decades ago as opposed to the threats of 2020."
More on Yang
Yang has written The War on Normal People: The Truth About America's Disappearing Jobs and Why Universal Basic Income Is Our Future.
Yang explains why he supports a universal basic income in a NowThis video.
The New York Times profiled Yang last year under the title "His 2020 Campaign Message: The Robots Are Coming."
Futurism says that Yang is "fixated on building infrastructure to support a society whose advanced technology makes a great percentage of human jobs obsolete." 
The Verdict interviewed Yang and found that he has vowed to regulate U.S. social-media firms through a Department of the Attention Economy and to create a secretary of technology.
Corey Cooper and Elizabeth Lordi assisted in the preparation of this post.