Meet Bill de Blasio, Democratic Presidential Candidate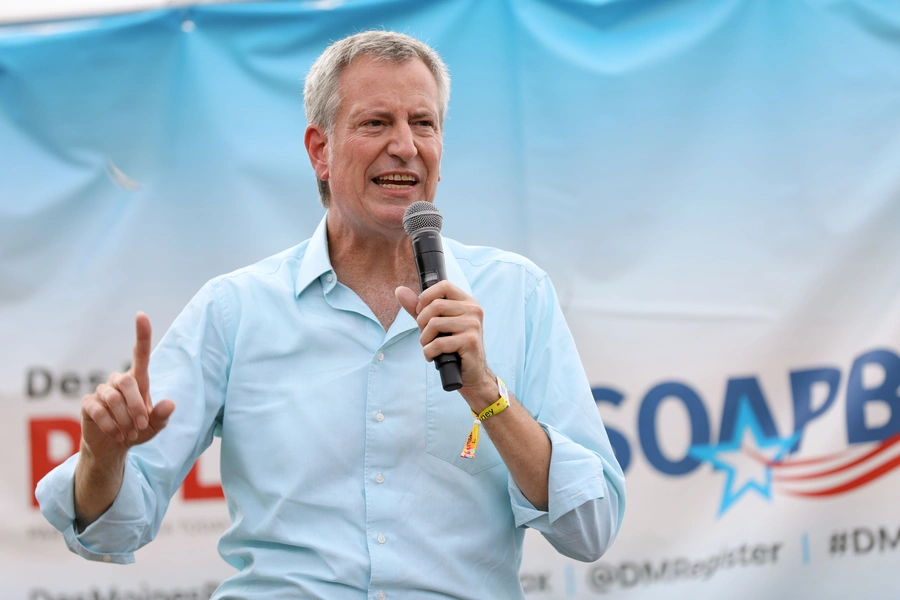 Update: Bill de Blasio announced on September 20, 2019, that he was ending his campaign.
Height is an advantage in presidential politics. Throughout American history, the taller of the two major party candidates has won the popular vote two-thirds of the time. That's good news for Bill de Blasio, the mayor of New York and 2020 presidential candidate. He is 6'5" tall. That is taller than every one of his Democratic rivals and two inches taller than President Donald Trump. Indeed, if de Blasio makes it to the White House, he would be the tallest president ever, edging out Abraham Lincoln by an inch. Of course, height isn't necessarily destiny. Take the 2016 presidential nomination races. Hillary Clinton was an inch shorter than Bernie Sanders, and Trump was shorter than both Jeb Bush and George Pataki.
The Basics
Name: Warren de Blasio (born Warren Wilhelm Jr.)
Date of Birth: May 8, 1961
Place of Birth: Manhattan, New York
Religion: None
Political Party: Democratic Party
Marital Status: Chirlane McCray (m. 1994)
Children: Chiara (24), Dante (21)
Alma Mater: New York University (BA), Columbia University (MIA)
Career: Political organizer and politician
Campaign Website: https://billdeblasio.com
Twitter Handles: @BilldeBlasio & @NYCMayor
De Blasio's Announcement
De Blasio announced his candidacy on May 16 by releasing a video titled "Working People First." The video is blunt about what he sees as America's challenge: "There's plenty of money in this country. It's just in the wrong hands." He says Americans feel as if they are "stuck, or even going backwards" while the "rich got richer." He paints Trump as a "bully" and says "I have beaten him before and I will beat him again." The video doesn't mention foreign policy.
De Blasio followed up the video's release by appearing on ABC's "Good Morning America" with his wife Chirlane McCray to discuss his vision for America. Host George Stephanopoulos pointed out that polls showed that 76 percent of New Yorkers opposed de Blasio's run for the White House. The mayor dismissed the numbers and said he was eager to take on Trump, whom he called "Con Don." Once again, foreign policy didn't come up.
The announcement was supposed to be a surprise, but things didn't go as planned. The day before de Blasio was set to announce, an enterprising high-school student in St. Louis noticed that the Iowan Woodbury County Democratic Party had posted an invitation on Facebook to a meeting with de Blasio in "Sioux City is his first stop on his Presidential announcement tour." The student tweeted the post. The tweet went viral. Reporters who had been told of de Blasio's plans on the condition they not report on them until he announced, broke the press embargo. Those news leaks in turn gave de Blasio's critics in New York City a heads up. While he was on the "Good Morning America" set, protesters were standing outside chanting "Liar!"
De Blasio's Story
De Blasio was born Warren Wilhelm Jr. in New York City. His parents moved to Cambridge, Massachusetts, in 1966, and divorced a year later. When de Blasio was eighteen, his father committed suicide while battling lung cancer. De Blasio changed his surname to de Blasio-Wilhelm in 1983 to recognize that his mother and her extended family had largely raised him. In 2001, he formally adopted de Blasio as his surname.
De Blasio's time in Cambridge explains why he is an anomaly among New York mayors when it comes to sports fandom; he roots for the Red Sox. (His predecessor as mayor, Michael Bloomberg, grew up in nearby by Medford, Massachusetts, but rooted for the Yankees while mayor.) After graduating from Cambridge's Rindge and Latin High School, de Blasio returned to New York City. He attended New York University and majored in metropolitan studies. He then earned a master's degree in international affairs at Columbia University.
After a brief time working in Maryland as a political organizer on Central America issues, de Blasio returned to New York for good. He first worked for a nonprofit dedicated to improving health care in Central America. In 1989, he volunteered to work on the campaign of David Dinkins, the first and so far New York's only African-American mayor. Dinkins won, and de Blasio was soon a mayoral aide. While working at City Hall, de Blasio met his wife, who is African American. The couple recall having been taunted for their interracial relationship and facing initial resistance from their families.
In 1997, de Blasio was appointed as the regional director for HUD for New York and New Jersey under Bill Clinton. He went on to manage Hillary Clinton's successful 2000 U.S. Senate campaign.
De Blasio decided to run on his own in 2002, winning a seat on the New York City Council. In 2009, he was elected New York City's Public Advocate. He used that post to criticize Bloomberg's education and housing policies. Then in 2013, he won the race to succeed Bloomberg. He was re-elected in 2017.
New Yorkers are split on how well de Blasio is doing his job. He is far more popular among black voters than white or Asian voters. He has some significant policy accomplishments, including a $15-an-hour minimum wage, universal pre-K, and expanding health care. Many of these achievements came during his first term. He has also rubbed many New Yorkers the wrong way. As one story put it, "he can come off as sanctimonious, arrogant, stubborn, and preachy about the gravity and scope of what he's doing." An example his critics often use of his supposed arrogance is that he travels eleven miles every day from Gracie Mansion, the mayor's official residence, to work out at a Brooklyn Y.M.C.A. He doesn't take the subway, but goes via a gas-guzzling SUV that requires a police escort. The trip frequently causes traffic jams.
De Blasio speaks Italian and has offered to do interviews in Italian.
De Blasio's Message
De Blasio's campaign slogan is "Working People First." He says he is fighting for the middle class, especially "working families," and that "everyday Americans are getting screwed." He touts what he has accomplished in New York and promises to bring it to the rest of the country. At the core of his agenda is taxing extreme wealth and extreme income.
De Blasio's Foreign Policy Views
De Blasio's career has focused on New York City issues, so he doesn't have an extensive record on national security and foreign policy. His campaign website has a policies page, but it lists only two policy categories: "The de Blasio Fair Share Tax Plan" and the "21st Century Workers' Bill of Rights." Neither discusses foreign policy. But before turning his focus to New York City politics, his first interest was Central America. During the 1980s he supported the Sandinista National Liberation Front and opposed the Reagan administration's support for the contras. He and his wife honeymooned in Cuba, which was illegal for Americans at the time.
The campaign has given de Blasio opportunities to sketch out his foreign policy views. During the first round of Democratic debates, he said that Russia was America's greatest geopolitical challenge "because they're trying to undermine our democracy and they've been doing a pretty damn good job of it."
De Blasio has declined to join with most of his fellow self-identified progressive candidates in pledging to remove U.S. troops from Afghanistan. He thinks it is a war that has "gone on too long" and he hopes one day to remove all of our troops. But he thinks it is unwise to commit to a troop withdrawal before a peace deal is in place. When a reporter pressed him to give a yes/no answer on an Afghanistan troop withdrawal, he replied, "Some things, my friend, I think you would agree, are not always a yes or a no."
Like his Democratic rivals, de Blasio opposes U.S. support for the Saudi-led military intervention in Yemen. Back in March, he applauded the Senate's passage of a resolution that would have ended U.S. support, calling the intervention "brutal and immoral." More broadly, he wants Congress to more vigorously exercise its war powers. "As president I would want the Congress to authorize major military actions because getting away from that has made it bluntly too easy for these kind of interventions to occur without the kind of thinking we need in advance and often with really bad outcomes."
De Blasio is also like the other Democratic candidates in having supported the Iran nuclear deal. He has committed to rejoining the deal if he becomes president. He has also said that he sees "a purposeful march to war that some are trying to engineer in the Republican Party" and he worries that "at some point, Donald Trump will see it as a helpful distraction."
Like other Democratic candidates running under the progressive banner, de Blasio dislikes America's trade deals. During the second round of Democratic debates he criticized Trump for "trying to sell NAFTA 2.0. He's got a new name for it. It's just as dangerous as the old NAFTA. It's going to take away American jobs like the old NAFTA, like it did to Michigan. And we cannot have Democrats be party to a new NAFTA." He has been a long-time critic of the Trans-Pacific Partnership (TPP). Back in 2015 he said it would be a "huge mistake" for Congress to approve so-called fast-track treatment of the deal. What's unclear is what kinds of trade deal would meet de Blasio's approval and how many other countries would be willing to meet those terms.
De Blasio is also a big proponent of a Green New Deal. He likes to point to the changes he has pushed as mayor to reduce New York's carbon emissions to show what he would do as president. "I've proven it can be done in the biggest city in the country…we're proving these things really do work."
During his mayorship and before Trump became president, de Blasio made New York City a sanctuary city by limiting its cooperation with federal immigration authorities. He supported the creation of a city ID card that immigrants can use as proof of residency. Earlier this year, he announced a plan to spend $100 million to provide health care to undocumented immigrants.
More on De Blasio
New York Magazine joined de Blasio on the campaign trail in South Carolina and noted that "he is practically alone among 2020 contenders in not having gotten the kind of magazine profile that presages a run for president, one of the few who hasn't been on Pod Save America or Desus & Mero or other places where the real campaign is being run."
Last month Vox asked why de Blasio was so disliked in his hometown and concluded that his problem "largely seems to be one of style."
De Blasio sat down last week for a lengthy interview with Fox News' Sean Hannity that touched upon the Green New Deal among other topics.
Last weekend the New York Times Magazine ran an article saying that de Blasio "seems sick of his city—and the feeling is mutual."
De Blasio answered eighteen questions for the New York Times. One of the questions was where he would take his first international trip. His answer? "I'd start with a trip to the European Union."
Brenden Ebertz assisted in the preparation of this post.