Meet Kirsten Gillibrand, Democratic Presidential Candidate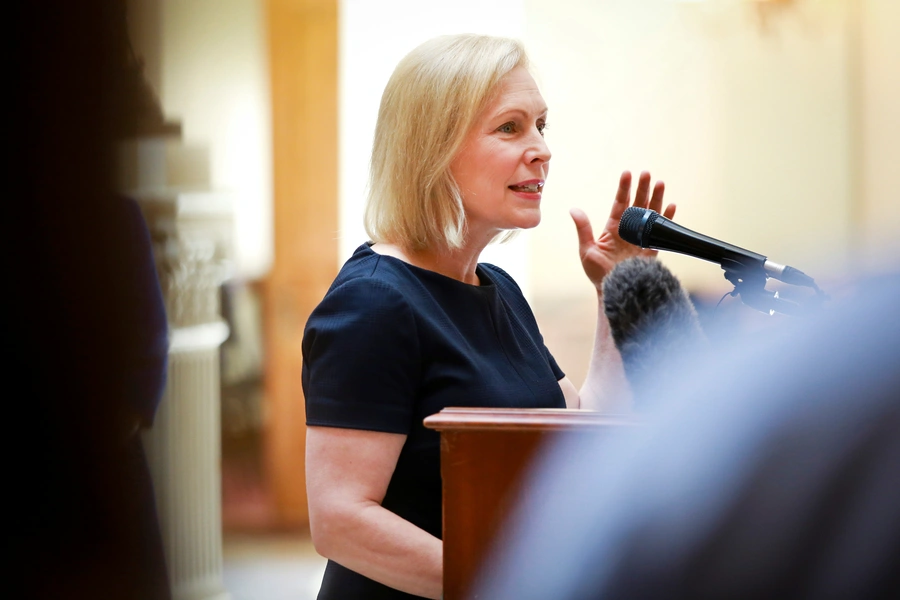 Update: Kirsten Gillibrand announced on August 28, 2019, that she was ending her campaign.
It has been a while since Americans have elected successive presidents from the same state. Not since November 2, 1880, in fact.* That's when Republican James A. Garfield of Ohio won the right to succeed fellow Republican and Ohioan Rutherford B. Hayes. Senator Kirsten Gillibrand hopes to break that streak next November 3, one hundred and fifty years and one day after it began. She, like President Donald Trump, hails from New York. Her election would allow New York to boast being the home state of six presidents. Only Ohio (seven) and Virginia (eight) can claim more. And, of course, Gillibrand would also be the first woman elected president.
*Democrat Grover Cleveland of New York succeeded Republican Chester Arthur of New York as president in 1885. However, Arthur wasn't elected president. He became president after Garfield's assassination in 1881.
The Basics
Name: Kirsten Elizabeth Gillibrand
Date of Birth: December 9, 1966
Place of Birth: Albany, New York
Religion: Roman Catholic
Political Party: Democratic Party
Marital Status: Married (Jonathan Gillibrand)
Children: Theodore (15) and Henry (10)
Alma Mater: Dartmouth College (BA); University of California, Los Angeles (JD)
Career: Lawyer; U.S. Representative (2007-2009); U.S. Senator (2009-present)
Campaign Website: https://2020.kirstengillibrand.com/
Twitter Handle: @SenGillibrand
Gillibrand's Announcement
Gillibrand appeared on the "The Late Show with Stephen Colbert" in mid-January to announce that she had formed a committee to explore a possible presidential run. Two months later, she gave her formal announcement speech. Her choice of venue? In front of the Trump International Hotel in New York City. After quoting the final line of the Star Spangled Banner, she asked, "Will brave win?" Her answer: "The truth is, brave hasn't always won. And brave isn't winning right now." She accused President Trump of "tearing apart the moral fabric of this country" and called his hotel "a shrine to greed, division and vanity." 
Foreign policy got only the briefest of mentions in the thirty-minute speech. She said: "We need to repair our relationship with allies and stop fawning over our adversaries. We need to leverage our diplomatic tools to make Americans more prosperous and more secure, and always treat military force as the last resort. We must bring an end to our endless wars. America's commander in chief is not a dictator, and the decision to deploy our troops can never be made lightly or unilaterally without Congress." 
Gillibrand also released an announcement video that parallels her announcement speech and is titled, "Brave Wins." It says she is running for president because America needs a "leader who makes big, bold, brave choices."
Gillibrand cited her top priorities as universal health care, paid-family leave, ending gun violence, a Green New Deal, and getting "money out of politics." Foreign policy didn't merit a mention.
Gillibrand's Story
Gillibrand was born into a political family. Her grandmother was the president of the Albany Democratic Women's Club and the long-time confidante of Erastus Corning II, Albany's mayor for forty-one years. Her parents were lawyers. Her father worked as a lobbyist. Her nickname growing up was "Tina." She attended the Emma Willard School, an all-girls boarding school in Troy, New York, that counts among its alumnae Elizabeth Cady Stanton. Gillibrand majored in Asian Studies at Dartmouth, where she was a varsity squash player. She also studied abroad in China and Taiwan. She says she still "speaks a little bit of Mandarin" and she has introduced herself to at least one news crew in Mandarin. After graduating magna cum laude from Dartmouth, she earned her law degree from UCLA.
Gillibrand started her legal career as an associate at the New York law firm Davis Polk & Wardwell. She then spent a year clerking for the Second Circuit Court of Appeals in Albany. She returned to Davis Polk & Wardwell, where she spent much of her time defending Philip Morris, the tobacco producer. Her policy career began when she spent the last year of the Clinton administration as special counsel to the Department of Housing and Urban Development, where she worked under future New York governor, Andrew Cuomo.
After moving over to another Manhattan law firm in 2001, Gillibrand relocated to Albany to plan a run for Congress. She decided against running in 2004 on the advice of Senator Hillary Clinton, who had become her mentor after she worked on Clinton's Senate campaign in 2000. It was good advice. In 2006, Gillibrand defeated a four-term Republican incumbent for the right to represent New York's 20th Congressional District, which is centered on Albany. She won reelection easily in 2008.
Senator Clinton's decision to join the Obama administration as secretary of state created an opportunity for Gillibrand. Lots of high profile names were discussed for the open seat, but New York's governor decided Gillibrand would succeed Clinton until a special election could be held. She was elected to the seat in her own right in 2010 and then re-elected in 2016. Because she is not up for re-election until 2022, she is not putting her Senate seat in jeopardy by running for president.
Upon joining the Senate, Gillibrand made it a priority to push for repeal of the Pentagon's "Don't Ask, Don't Tell" policy. Gillibrand portrays herself as pivotal in securing the legislation's passage. Many of her fellow lawmakers credit her with raising the issue's visibility but disagree that her role was pivotal.
During her time in the Senate, Gillibrand has devoted considerable effort to combating sexual harassment and assault. She created a stir in 2017 when she said that Bill Clinton should have resigned over the Monica Lewinsky scandal. One Clinton staffer called her a "hypocrite" for taking advice and support from the Clintons for two decades. Shortly thereafter, Gillibrand became the first senator to call for Senator Al Franken's resignation after he was accused of sexual harassment. That decision rankled some fellow senators and Democratic Party donors.
Gillibrand sits on the Agriculture, Armed Services, and Environment and Public Works committees. She also sits on the Special Committee on Aging.
Gillibrand's hobbies include baking and tennis. She admits that she curses a lot, so much so that one year she vowed to give up the habit for Lent. In 2017, she dropped an "f-bomb" in the middle of a speech as she criticized Trump. She told Stephen Colbert that she's "gonna definitely try" not to swear on the campaign trail. She says that the word she will miss the most rhymes with "duck."
Gillibrand's husband, Jonathan, is a British venture capitalist. They met on a blind date in 2001 when she was at Davis Polk & Wardwell and he was studying for his MBA at Columbia University. After meeting Kirsten, he shelved his plans for returning to England.
Gillibrand's Message
Gillibrand's slogan is, "Brave Wins." Her pitch is that she is the candidate who will fight the tough battles and make bold decisions. As part of that strategy, she is branding herself as a "young mom" who is going to "fight for other people's kids as hard as I would fight for my own." Her focus is on the economic issues facing families. She promises to fight for healthcare as a right, better public schools, higher wages, and accessible job training. Her campaign website calls her a "fighter for families, equality and justice."
Gillibrand touts her history of transparency and her battle against the corrupting influence of money in politics. She announced last year that she will no longer accept donations from any corporate PACs.
Gillibrand, perhaps more than any other candidate, is putting women's issues at the center of her campaign. She has been referred to as the #MeToo Senator. She is highlighting her work in combatting sexual assault in the military, drafting and sponsoring legislation for equal pay and paid family leave, and campaigning for women candidates.
Gillibrand is also positioning herself as the anti-Trump senator. She has voted against Trump's nominees and policies more than any other member of Congress. At the same time, she highlights her bipartisan record in Congress.
Gillibrand's Foreign Policy Views
Gillibrand laid out her foreign policy worldview in a July speech to the Chicago Council on Global Affairs. She is, not surprisingly, critical of Trump's America First policies. She believes that "We need to restore our leadership in the world with strength and compassion, not fear and hate" and that "we need a strong and strategic foreign policy, not endless wars." She says her administration would "work with—not alienate—our allies, maintain international commitments and leverage diplomatic and humanitarian strategies before resorting to military ones."
Gillibrand hasn't spoken in detail about how she would handle relations with China and Russia or whether she agrees with claims that we have entered a period of renewed great power competition. China and Russia may be the two countries with the greatest ability to help or hinder U.S. foreign policy, and Gillibrand may have spent her youth studying China, but she mentioned them only in passing in her formal remarks to the Chicago Council. During the question and answer session she said that China "is certainly an adversary but there's enormous potential in that relationship." She says we "will do far better through intense engagement than through isolation." She added that as president she would "stand up to Russia."
Gillibrand has been far clearer about her stance on military interventions in the Middle East. She's generally against them. She ran for Congress in 2006 as an opponent of the Iraq war. In 2011, she supported "limited" U.S. involvement in Libya in 2011, saying "the President has been clear, this is a limited action in coordination with a broad coalition of allies, including those in the Arab world, who have asked for help in protecting civilians." She feels differently about current U.S. military operations. She criticized the April 2017 airstrike on Syria. Her objection, however, wasn't to punishing the Assad government for using chemical weapons but the fact that Trump ordered the strike on his own initiative: "Unilateral military action by the U.S. in a Middle East conflict causes grave concern, given the lack of any Authorization for Use of Military Force from Congress and the absence of any long-term plan or strategy to address any consequences from such unilateral action." She took the same view when the president ordered another round of airstrikes a year later: "Assad's use of chemical weapons against his own people was evil. However, President Trump has no legal basis for this strike. He does not have an authorization for the use of military force against Syria."
Concerns about the legal basis for military actions overseas show up in Gillibrand's assessments of other U.S. military operations abroad. She doesn't think that the president has the authority deploy U.S. troops to northern and eastern Syria. She argues that "we should be drawing down our troops not only in Afghanistan, but the remainder in Iraq and in Syria. And then give Congress the opportunity that if they believe we should be in combat missions in any of these countries that we actually file a new Authorization for Use of Military Force." She hasn't discussed what the likely consequences of such withdrawals would be or how she sees the subsequent state of affairs better serving U.S. interests.
Like all of the Democratic presidential candidates, Gillibrand opposes U.S. support for the Saudi-backed war in Yemen. Last December, she tweeted "Thousands of Yemeni civilians have been killed by the Saudi-led bombing campaign—and millions are suffering the effects of hunger and disease because of the war. The Senate must do everything it can to end this humanitarian crisis." The president vetoed a bill that Congress passed that would have ended U.S. support for the Yemen war.
Gillibrand is like all of the other Democratic candidates in another way. She thinks that the United States is better off being a part of the Iran nuclear deal rather than withdrawing from it. She supported the deal when it was inked back in 2015, acknowledging its limitations but concluding that the United States had "no viable alternative" for stopping an Iranian nuclear weapons program. Her views didn't change with the passage of time. She says that "President Trump needlessly broke with our European allies when he unilaterally withdrew the US" from the deal, thereby "putting America at a level of risk we have not seen in years."
When Trump announced that he was withdrawing the United States from the Intermediate-Range Nuclear Forces (INF) Treaty, Gillibrand joined other Democratic senators in criticizing the president for "abandoning generations of bipartisan U.S. leadership around the paired goals of reducing the global role and number of nuclear weapons and ensuring strategic stability with America's nuclear-armed adversaries." In January, she joined with Elizabeth Warren and several other Democratic senators in sponsoring the Prevention of Arms Race 2019 Act. The bill would prohibit the Defense Department from procuring, flight-testing, or deploying any missiles that would be banned under the INF treaty unless a range of conditions were met.
Gillibrand was supportive when Trump announced he would meet with North Korea dictator Kim Jong-Un in Singapore. She saw it as "a positive step in the right direction because we're talking about engagement of diplomacy and political solutions as opposed to military ones. She remained optimistic in the immediate wake of the summit, saying: "I am grateful that he is making the effort to try diplomacy and to try to bring people together towards a peaceful resolution." As months passed and North Korea took no irreversible steps to reduce its nuclear or missile capabilities, she changed her tune slightly. While continuing to say she is "grateful" that Trump is trying diplomacy, she has called the Hanoi Summit "a political stunt" and urged the president to tackle the issue "in a different way, with the support of allies, with the support of the world community, with the support of experts as opposed to…shoot from the hip.….I don't think the way he's tried to do it is the most effective."

One topic on which Gillibrand agrees with Trump is Venezuela. She supported the administration's decision to recognize Juan Guaidó as the country's interim president. She supports using economic sanctions against the Maduro government. She opposes sending U.S. troops to Venezuela.
Like all of her Democratic rivals, Gillibrand believes that addressing climate change should be a top priority. She would "pass a Green New Deal" and "put a price on carbon."
Trade issues haven't been a major focus of Gillibrand's Senate career. Like most of her Democratic rivals, she portrays trade deals as harming American families and workers. Back in 2015 she voted against granting the Obama administration fast-track authority for negotiations on what became the Trans-Pacific Partnership (TPP). She opposed the TPP when it was negotiated, and now she opposes entering its successor agreement the Comprehensive and Progressive Agreement for the Trans-Pacific Partnership (CPTPP) unless it is modified to incorporate a list of labor, environmental, and enforcement conditions. The odds that the CPTPP's eleven members will agree to all those conditions are low. Like most other Democrats, her criticisms of Trump's policies focus more on his tactics than on his objectives. She says Trump's strategy toward China "has been a complete failure and extremely disruptive." She would like to rewrite Trump's rewrite of NAFTA, calling it a "bad trade agreement." She thinks it is a "give away to drug companies," should include more environmental protections, and provide better terms for New York's dairy farmers. Gillibrand also says she would penalize companies that outsource jobs overseas. She has co-sponsored the Level the Playing Field in Global Trade Act of 2019. It would require future trade agreements to include enforceable wage, workplace, and environmental standards. The United Auto Workers, the Communications Workers of America, the United Steelworkers, and the AFL-CIO have endorsed the bill.
Back in 2017 Gillibrand voted against waiving the law that would have barred General James Mattis from serving as secretary of defense because he had not been retired from the military for at least seven years. She called Mattis "an extraordinary general," but argued that "civilian control of our military is fundamental to the American democracy." The waiver passed and Gillibrand was the only senator to vote against Mattis's confirmation.
More on Gillibrand
Back in 2014, Gillibrand wrote a book called Off the Sidelines: Speak Up, Be Fearless, and Change Your World. She also released a children's book last year titled Bold and Brave: Ten Heroes Who Won Women the Right to Vote.
New York Magazine wrote in 2009 that Gillibrand's "folksiness comes with a sharp edge" and quotes an unnamed Democratic activist saying "she'd run you over with a train if you got in her way."
In 2010, Vogue described Gillibrand as "nothing if not genuine," with a style that is "folksy and earnest" and "radiates kindness," but who nonetheless manages to be "direct and no-nonsense."
A 2013 New Yorker profile examined how Gillibrand succeeded to Clinton's Senate seat and argued that she has "a near-evangelical confidence in the prospect of bipartisanship, in the restoration of the Senate, and in herself" and that "she is prone to near-rote recitations of her talking points. She is vanilla, but she's strong vanilla."
A 2017 profile in the Intelligencer identified one of Gillibrand's strengths as having a "nose for where her constituents, and the country, are headed. Through some combination of happenstance and remarkable political instincts, she often manages to show up there early."
In 2017, Politico Magazine profiled how Gillibrand came to take the lead in the Senate on stopping sexual assault in the military. She points to watching The Invisible War, a 2012 movie that highlighted military efforts to cover up the scale of the problem, as a galvanizing moment. The movie's director called Gillibrand's questioning in a Senate Armed Services Committee hearing on sexual assault "superhero stuff. She was unrelenting." But, Gillibrand has been criticized by some of her colleagues and by military officials who found it "dangerous" that "a senator who hasn't served in the military" is pushing for these changes.
CBS's 60 Minutes pressed Gillibrand in February 2018 on why she changed her position on issues like guns and immigration when she moved from the House to Senate. She said she really "didn't take the time to understand why these issues mattered because it wasn't right in front of me. And that was my fault. It was something that I am embarrassed about and I'm ashamed of."
In May, Politico Magazine examined why Gillibrand's presidential campaign had languished and concluded that she had been too careful, mistakenly believing that "she can't afford to alienate one bloc of voters."
Gillibrand sat down with the New York Times in June to answer eighteen questions. One of the questions was where she would take his first international trip. Her answer? "I would go to Israel, and I would travel throughout the Middle East.
CFR asked Gillibrand twelve foreign policy questions. She cited "strong alliances that the United States has nurtured" as America's greatest foreign policy accomplishment since World War II. She declined to cite a single greatest foreign policy mistake and instead opted to say that the United States "has too often remained embroiled in battle beyond its time."
Corey Cooper, Brenden Ebertz, and Elizabeth Lordi assisted in the preparation of this post.