Meet Marianne Williamson, Democratic Presidential Candidate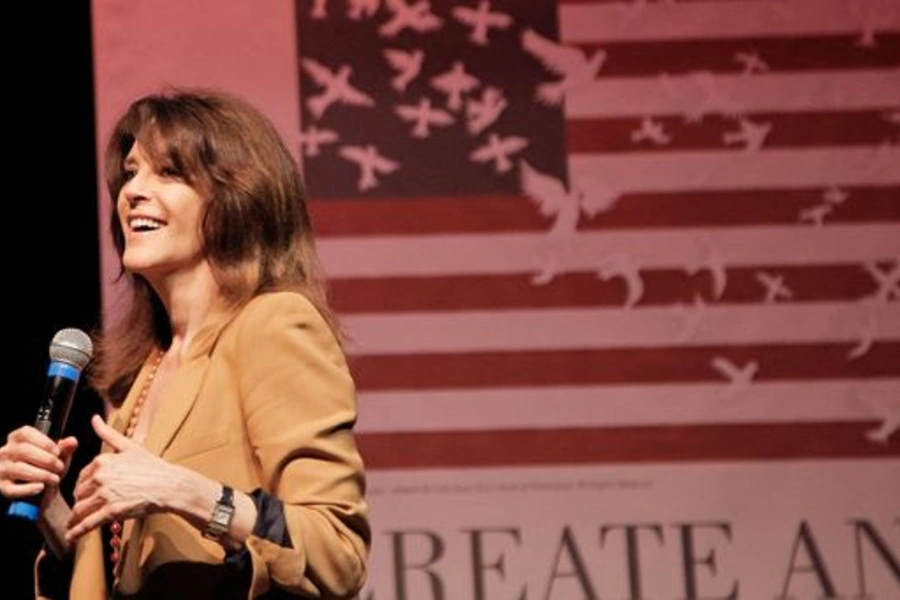 Update: Marianne Williamson announced on January 10, 2020, that she was ending her campaign.
Marianne Williamson doesn't have the traditional background of a presidential candidate. She has never held political office, served in the military, or been a Cabinet officer. She is instead a best-selling New Age self-help guru best known for being Oprah's spiritual adviser. But Williamson has a pointed response for anyone who doubts her qualifications to be commander in chief: "Seasoned politicians took us into the Vietnam War and Iraq and the greatest income inequality since 1929. Americans need to disenthrall ourselves of the myth of the political expert." She now has her chance to persuade Americans that continuing the pursuit of a "more perfect Union" requires a different kind of presidential leadership.
The Basics
Name: Marianne Deborah Williamson
Date of Birth: July 8, 1952
Place of Birth: Houston, Texas
Religion: Jewish  
Political Party: Democratic Party
Marital Status: Divorced
Children: India (28)
Alma Mater: Pomona College (dropped out after 2 years)
Career: Motivational speaker and author (1983-present)
Campaign Website: https://www.marianne2020.com  
Twitter Handle: @marwilliamson
Williamson's Announcement
Williamson announced her candidacy in Los Angeles, at the Saban Theater on January 28.
She talked in depth about her personal upbringing as well as her spiritual beliefs. She says she's running because of the "spiritual and moral rot" in Washington.
Foreign policy didn't merit a mention during her speech.
Williamson's Story
Williamson was born and raised in Houston, Texas. Her father was an immigration lawyer and her mother a stay-at-home mom. Politically her parents were liberals, which, according to Williamson, made her "deeply aware of issues of social justice."
In describing her coming-of-age in the sixties and seventies, Williamson says "From the cultural and spiritual revolution of that time, to the anti-war protests and political activism that marked the era, I was every bit a child of my generation." She attended Pomona College in Claremont, California for two years before dropping out. She held a series of odd jobs during her twenties, including a cocktail waitress, office temp, and author's assistant.
Williamson says the book A Course in Miracles sparked her interest in religion and spirituality. In 1983, she began giving non-denominational, spiritual lectures based on it. She also began working to halt the AIDS epidemic, creating nonprofits in Los Angeles and New York to provide non-medical support to people living with life-disrupting illnesses. She also founded Project Angel Food, which serves food to homebound people with AIDS in Los Angeles.
Williamson published her first book, A Return to Love in 1992. It became a bestseller after it was featured on the "Oprah Winfrey Show." Williamson has published twelve more books since then and gained a devoted following that includes several Hollywood celebrities.
In 2014, Williamson co-founded The Peace Alliance. She also ran for Congress that year as an independent in California's 33rd congressional district. She finished fourth in the blanket primary.
Williamson's Message
Williamson wants "a moral and spiritual awakening in this country." She thinks that our current political conversation "is inadequate to the task of navigating the times that we're in" because it only addresses the symptoms and not the underlying issue itself. She thinks that underlying issue is the "authoritarian corporatism by which the major resources of this country have been systematically placed in the hands of a few people." Our economy has, in her view, become "a tyrannous economic order" in which "market forces have become our false God. Love is our God. Love should be our bottom line. We shouldn't run this country like a business, we should run this country like a family." The only way to override the forces of corporate rule is "through a massive political awakening among the American people."
How does Williamson plan to start America's awakening? Partly by making major changes in government policy. Williamson's campaign website outlines the many reforms she hopes to enact. Many of her policy goals, such as Medicare for All and a Green New Deal, are being touted by other Democratic candidates as well. One of her proposals that stands out is her call to provide $100 billion in reparations for slavery. The funds would be disbursed over a period of ten years.
But Williamson says that changing policy is only part of her reason for running because "issues aren't always the issue." She says she agrees with Elizabeth Warren and Bernie Sanders on may issues, but as a candidate she will encourage a more "expanded conversation." Right now she thinks we are only addressing the external problems and are forgetting about the internal, which are the psychological, emotional, and spiritual issues that must be addressed "on the level of our internal being." She sees her qualification as the ability to articulate what is really happening, the deeper layers of our political dysfunction.
Williamson's Foreign Policy Views
Williamson made her career as a motivational speaker and spiritual advisor, not parsing national security strategies or defense budget. She nonetheless has strong views on U.S. foreign and defense policy. To summarize them in a nutshell, she thinks the United States has it exactly backward when it comes to foreign policy. She put it this way in a recent tweet. "Our national security policies should be based more on efforts to wage peace than on efforts to prepare for war. Peace is not the absence of war; war is the absence of peace."
Because the traditional way of dealing with national security threats is "obsolete," Americans "cannot simply rely on brute force to rid ourselves of international enemies. In so doing, we overburden our military by asking them to compensate for the work we ourselves are not doing." What should we be doing instead?
America should embark on a 10- to 20-year plan for turning a wartime economy into a peace-time economy, repurposing the tremendous talents and infrastructure of our military-industrial complex in such a way as to leave us strong enough to deal with America's legitimate needs for military preparedness, yet moving on to the urgent task of building a sustainable society and sustainable world.
Williamson has staked out positions on some specific issues. Last November, she spoke about the "hypocrisy" of the U.S. relationship with Saudi Arabia. She said that Secretary of State Mike Pompeo's belief that you can promote American values around the world and still have strategic partnerships with countries that do not share these values is wrong, adding "No, you are not promoting your values if you're not willing to stand on them."
When asked about the Israeli-Palestinian conflict, Williamson has said, "I don't think the ultimate answer will be about settlements or checkpoints." She instead thinks a genuine peace requires building "on the level of the heart" and that "until the U.S. returns to where it can be considered an honest broker" by both Israelis and Palestinians it won't be able to move the peace process forward.
Earlier this month, Williamson retweeted a CNN article detailing how some U.S. weapons and secrets have fallen into the hands of fighters linked to al Qaeda and Iran. She added her own take: "Any sane person would realize that if you do something completely immoral (selling arms to the Saudis while they're killing people in Yemen) then it will probably come back at you in unintended ways?"
Williamson has also tweeted that "Our Afghanistan policy should be based as much on listening to the women of Afghanistan as on listening to foreign policy or military experts. It is they who will suffer most from a Taliban takeover of the country."
More on Williamson
Williamson's latest book, A Politics of Love: Handbook for a New American Revolution, will be published this spring. 
Amanda Fortini profiled Williamson in Elle when she ran for Congress in 2014, saying she understood the "the dazzling charisma that's made Williamson famous."
Last fall the Jewish Telegraphic Agency spoke with Williamson about her worldview and about what was then only a possible presidential campaign.
Vox compiled a biography of Williamson after she declared her candidacy, writing that she is "brassy, straight-talking [and] highly charismatic."
Corey Cooper and Elizabeth Lordi assisted in the preparation of this post.