Meet Mark Sanford, Republican Presidential Candidate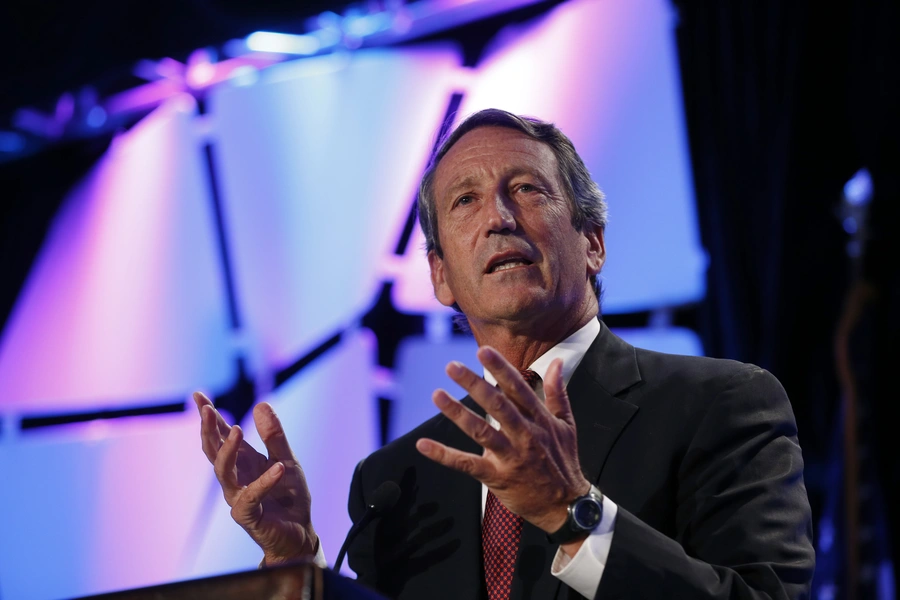 Update: Mark Sanford announced on November 12, 2019, that he was ending the campaign. 
Donald Trump's approval rating among Republican voters hovers around 90 percent. Numbers that high normally mean no primary challenge. But the Trump presidency has been anything but normal. Former South Carolina Governor Mark Sanford is one of three Republicans (so far) who have decided to challenge Trump. Sanford doesn't expect to win or even come close to winning, especially when several state Republican parties have moved to scrap primaries or caucuses to keep the insurgents from gaining traction. Sanford says that his campaign is "worthwhile" anyway because it is changing the debate within the Republican Party. If Sanford should surprise even himself and be elected president, he might be the first one from South Carolina. Why the might? Because no one is sure whether Andrew Jackson was born in North Carolina or South Carolina.
The Basics
Name: Marshall Clement "Mark" Sanford Jr.
Date of Birth: May 28, 1960
Place of Birth: Fort Lauderdale, Florida
Religion: Episcopal  
Political Party: Republican
Marital Status: Divorced
Children: Marshall, Landon, Bolton, Blake
Alma mater: Furman University (BA), University of Virginia (MBA)
Career: U.S. Representative (1994-2001, 2013-2019), Governor of South Carolina (2003-2011)
Campaign Website: marksanford.com/
Twitter Handle: @MarkSanford
Sanford's Announcement
Sanford announced his candidacy last month during an appearance on Fox News Sunday. He explained his decision to challenge Trump by saying:
Americans deserve and need a choice that has had real executive branch experience, which I had over two terms as governor, which has had real legislative experience, which is what I had–over twelve years in the U.S. Congress in the Capitol right behind us.
Sanford's main issue is reining in America's growing national debt, something that was his passion when he was in Congress. He also hopes to restore a Republican Party that, in his view, has lost its way.  
Sanford's Story
Sanford was born to a well-off family in Fort Lauderdale, Florida. He attended a private school and worked on a cattle farm in nearby Delray Beach. He also was an active Eagle Scout and captained his high school's track team. After his junior year in high school, Sanford moved with his family moved to South Carolina. Sanford went on to study business at Furman University where he received his B.A. in 1983. He earned his MBA from the University of Virginia in 1988.
Sanford moved initially to New York to work at Goldman Sachs. He soon returned to South Carolina, however, and turned his eye to politics. In 1994, he was elected to the U.S. House of Representatives as part of the landslide "Republican Revolution." Re-elected twice, he declined to run for re-election in 2000 because he had promised voters that he would serve only two terms.
Sanford wasn't out of politics for long. In 2002, he was elected governor of South Carolina. He won re-election easily four years later. In office he earned a reputation as a fiscal hawk. He garnered national attention in March 2009 when he initially refused to accept $700 million that the federal emergency stimulus package had earmarked for South Carolina. In the face of stiff criticism from fellow South Carolinians, he later accepted the funds provided that the state legislature paid down an equivalent amount of state debt.
Sanford's distaste for stimulus spending spurred talk that he might be a potential presidential candidate. But in June 2009 he disappeared for a week after telling his staff he would be hiking the Appalachian Trail. It turned out, though, that he wasn't taking a walk in the woods. Instead, he was visiting a woman in Argentina he called his "soul mate." When the news broke of where he had gone and why, he quickly admitted to adultery. He resigned a chair of the Republican Governor's Association, but he refused to resign as governor. His marriage broke up, and he deciding against seeking re-election in 2010.
Sanford didn't stay on the political sidelines for long. In May 2013, he won a special election for his old congressional seat. He won re-election easily in 2014 and 2016. He supported Trump for president in 2016, but quickly soured on him as president. Sanford said Trump was "partially" to blame for the 2017 shooting of Republican lawmakers at a congressional baseball practice, He also called derogatory remarks Trump made about Haiti and Africa "unfortunate," "problematic" and "stupid." These criticisms did not sit well with the president. Trump endorsed Sanford's opponent, Katie Arrington, in the 2018 Republican primary. She beat Sanford soundly, but then lost the general election.
Sanford's Message
Sanford hates deficit spending and public debt. Not surprisingly, then, he promises that his presidency will tame runaway federal spending. He blames Trump for not championing fiscal conservatism and thereby imperiling the country:
We're walking our way towards the most significant financial storm, I believe, in our country since the great depression.. we need to have a real conversation about what that means for the American dream.
His vision of fiscal conservatism stresses spending cuts rather than tax hikes to eliminate budget deficits.
Sanford's Foreign Policy
Foreign policy has not been a focus of Sanford's political career. He has said relatively little about it over the years. He didn't participate in the Republican presidential debate that Business Insider held late last month, where foreign policy did come up. He also has yet to respond to candidate surveys that CFR and other organizations have sent. When Sanford has appeared on news shows since declaring his candidacy, he has seldom been asked about foreign policy.
Sanford is a big fan of free trade. He notes, rightly, that the United States has "benefited tremendously" from trade. As his website puts it:
the international trading system, created after World War Two, is vital to America's foreign policy. In this light, stability and predictability are important. Friends and foes alike need to have a sense of what America will do next. Alliances and investments are not made without predictability. We are not getting this from the White House and I believe the increasing talks of tariffs, and the seemingly daily changes of presidential perspective are undermining our standing in the world.
So not surprisingly, Sanford thinks Trump's trade policies are hurting U.S. economic growth and costing American consumers money. Back in February 2018 he argued:
What the president's talking about–going back and renegotiating NAFTA—I think it would be catastrophic from the standpoint of the signals that it sends… If you do that, you will send an incredibly chilling effect to the rest of the world in America's engagement with it that I think would be detrimental to commerce.
Sanford similarly thinks that the trade war with China is a mistake. Rather than resorting to tariffs, he would respond to predatory Chinese trade policies by working closely with like-minded trade partners and harness the Trans-Pacific Partnership to "create a trading bloc that allows these countries some other option than simply China." Sanford doesn't appear to have said whether he would simply lift the tariffs once in office, or use the prospect of lifting them to extract concessions from Beijing.
When it comes to the U.S. military, Sanford favors a non-interventionist foreign policy:
Our country is enmeshed in permanent, ongoing foreign wars and interventions. The results of foreign intervention have been catastrophic, not only in terms of massive death and destruction abroad, but also in terms of ongoing, ever-growing destruction of liberty, privacy, and prosperity here at home. It is time for America to do some serious soul-searching. The best place to begin is by examining first principles—especially the founding principle of non-intervention on which our nation was founded and which remained its guiding principle for more than a century.
Historians no doubt would question Sanford's summary of U.S. history. The U.S. military didn't sit in the barracks during the nineteenth century as he suggests—just ask Mexicans and Native Americans. That aside, he clearly wants a smaller U.S. footprint in the world. On that score he faces the same two questions that all non-interventionists—or "isolationists" as their critics call them—face: How do you unwind America's role in the world without creating chaos that will make Americans less secure and less prosperous? And how do you avoid repeating the mistake of the 1930s, when the United States tried to ignore the world but the world chose not to ignore it?
Sanford believes that human activity is warming the planet. Back in 2017 he joined with more than a dozen other Republicans to introduce a resolution calling on the House of Representatives to address the "causes and effects" of climate change. He is silent, though, on how he would deal with the problem. He makes a point to say that he opposes the 1992 Kyoto Protocol, but that agreement is a dead letter. He hasn't said whether he supports the Paris Climate Agreement.
More on Sanford
Sanford wrote The Trust Committed To Me back in 2000. It examines his time in Congress and thoughts on term limits. His second book, Second Chance: The Mark Sanford Story, tells the story of his affair and its fallout.
Sanford wrote an op-ed with fellow Republican challengers Bill Weld and Joe Walsh to argue that the Republican Party should give them a fair shot in the Republican primaries: "Each of us believes we can best lead the party. So does the incumbent. Let us each take our case to the public."
The New York Times profiled Sanford in 2014, noting that "he has managed something that few people have: returning to public office after an embarrassing, nationally televised—Twitterized and blogged—sex scandal."
The Economist called Sanford's campaign the "most doomed action the venerable port [of Charleston, the home of Fort Sumter] has ever witnessed."
The New Yorker interviewed Sanford in July and asked why he voted for the Trump tax cut given his commitment to fiscal conservatism.
Sanford recently appeared on the Daily Show and warned that "we're headed for the biggest financial storm our country has ever seen outside the Great Depression."
Sanford answered eleven questions from the New York Times on executive power. In response to a question the extent of a presidential war power, he answered: "I believe the Constitution is clear and prescriptive that only Congress can declare war, and I have taken a longer number of votes that make concrete my beliefs on this front. In this vein, I would not rule out a preemptive strike against Iranian or North Korean nuclear capabilities, but once again I believe that this needs to be authorized by Congress."
Anna Shortridge and Caroline Kantis assisted in the preparation of this post.