Meet Michael Bennet, Democratic Presidential Candidate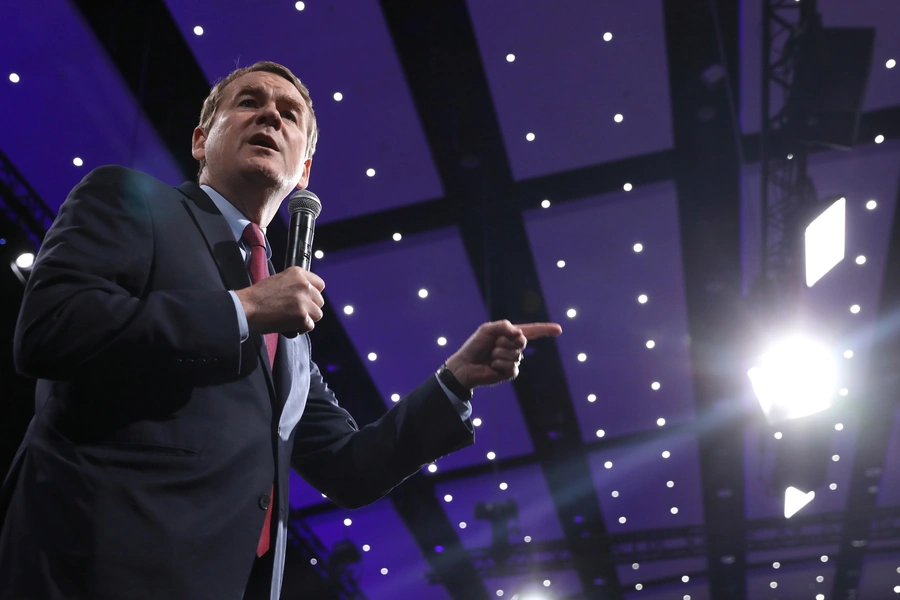 Update: Michael Bennet announced on February 11, 2020, that he was ending his campaign for president.
Prostate cancer is the second most common type of cancer among American men. One in nine American men will be diagnosed with it during their lifetimes. Colorado Senator Michael Bennet is one of them. He learned of his diagnosis this past March. Calling himself "fortunate" because the cancer was detected early, he underwent surgery in April. His spokesperson said the operation was "completely successful and he requires no further treatment." Rather than abandoning his plans to run for the presidency, Bennet went ahead with them, explaining that "this unanticipated hurdle only reinforces how strongly I feel about contributing to the larger conversation about the future of our country, and I am even more committed to drive that conversation in a positive direction." Bennet is not the first presidential candidate to have been diagnosed with prostate cancer. Then-Sen. John F. Kerry was diagnosed with prostate cancer in 2003 during his presidential bid and took several weeks off from campaigning for treatment.
The Basics
Name: Michael Farrand Bennet
Date of Birth: November 28, 1964
Place of Birth: New Delhi, India
Religion: Unaffiliated, spiritual
Political Party: Democratic Party
Marital Status: Susan Daggett (m. 1997)
Children: Caroline (19), Halina (17), Anne (14)
Alma Mater: Wesleyan University (BA), Yale Law School (JD)
Career: Businessman, lawyer, U.S. senator from Colorado
Campaign Website: https://michaelbennet.com/
Twitter Handles: @MichaelBennet & @SenatorBennet
Bennet's Announcement
Bennet announced his candidacy on May 2 on CBS This Morning. He told host John Dickerson that "this country faces two enormous challenges, one is a lack of economic mobility and opportunity for most Americans and the other is the need to restore integrity to our government."
The Bennet campaign supplemented the CBS appearance with a video and an essay posted on Medium. The video is titled "7,591 words," the number of words in the Constitution. Bennet portrays himself as a workhorse rather than a show horse, saying he "didn't go to Washington to get attention but to pay attention." As a "pragmatic idealist" he vows to fix healthcare, pass a tax-cut that benefits working-class Americans, and invest in education. He didn't discuss foreign policy other than to say that money spent on "tax cuts for the wealthy and wars in the Middle East" could have been used to rebuild America's infrastructure, address climate change, and improve public education.
The Medium essay elaborated on Bennet's proposals for cleaning up politics and improving domestic policy. Foreign affairs received only passing mention when he criticized President Donald Trump for pursuing "a foreign policy that drops our proud tradition of encouraging democracy and trade in order to start trade wars with our allies and play patsy to dictators."
Bennet's Story
Bennet was born in New Delhi, India, where his father was working as an aide to the U.S. ambassador to India. Although he was born outside of the United States, he is considered under U.S. law to be a "natural-born citizen" and eligible to be president. Bennet's mother was born in Warsaw in 1938 and survived the Holocaust as a child in the Warsaw Ghetto before emigrating to the United States in 1950.
Bennet was raised in Washington, DC. He struggled with dyslexia and repeated the second grade. He recalls being upset that friends like future National Security Adviser Susan Rice moved on to the third grade without him. He attended St. Alban's day school in Washington, where recorded a lot of B's and his friends called him "Flobie." He went to Wesleyan University, the same college as his father and grandfather. (His father was president of Wesleyan from 1997 to 2005.) He flourished there. He was elected president of the student government and graduated in 1987 with an honors degree in history.
Bennet spent his first year after college on a public affairs fellowship in New York City studying city government. He then served as a personal assistant to Ohio Governor Richard Celeste, who had worked with his father at the U.S. embassy in New Delhi. Bennet says he "learned an unbelievable amount from Dick Celeste. I didn't realize how much I had learned until I started running for office myself."
Bennet then went to Yale Law School, graduating in 2003. He did well for himself during his time in New Haven, becoming editor-in-chief of the Yale Law Journal. He then clerked for the U.S. Fourth Circuit Court of Appeals in Baltimore. He took a job at a prestigious Washington law firm, Wilmer, Cutler and Pickering, but quickly decided it wasn't for him. He left to serve as a special assistant to the deputy attorney general during the Clinton administration. After that came a stint as a special assistant to the U.S. Attorney in Connecticut.
In 1997, Bennet moved to Denver with his wife, a fellow Yale Law grad, who had accepted a job there. A Yale law degree is a pretty good credential, and apparently so is attending Wesleyan. A well-connected Wesleyan alumnus put Bennet in touch with Denver billionaire Phil Anschutz. Bennet quickly had a job as managing director of an investment firm even though he admitted during his interview that he wasn't good with numbers.
The Wesleyan connection proved helpful again in 2003 when Bennet became an adviser to fellow Wesleyan alum, John Hickenlooper, who was running to become Denver's mayor. Hickenlooper won the race and named Bennet his chief of staff. Bennet was obviously committed to helping Hickenlooper succeed; he left behind as much as $7 million in unvested compensation when he moved over to City Hall. Hickenlooper repaid that loyalty. In 2005, he appointed Bennet, who had no training in education policy, superintendent of the Denver Public Schools.
In 2009, Colorado Senator Ken Salazar resigned his seat after President Barack Obama nominated him to be secretary of the interior. The betting money was that Colorado's governor would ask Hickenlooper to fill the seat. He instead appointed Bennet, who had never before run for public office. For someone with no experience, he was pretty good at campaigning. He won election in 2010 and reelection in 2016.
Bennet currently serves on the Agriculture, Finance, and Intelligence committees.
Bennet's younger brother James is the editorial page editor for the New York Times. When Michael announced his candidacy, James recused himself from all opinion coverage of the 2020 campaign. The senator says he feels "terrible" that his decision to run for president affected his brother's job and joked that "I don't think that he's secretly hoping that I'll drop out, but you never know." 
Bennet gained national attention in January when he took to the floor of the Senate to denounce Texas Senator Ted Cruz for shedding "crocodile tears" over the government shutdown, noting that back in 2013 Cruz had helped engineer another government shutdown that had harmed Bennet's home state of Colorado. The clip of Bennet's remarks is the most watched Senate floor speech in C-SPAN's history.
Bennet's Message
Bennet's campaign slogan is "Building Opportunity Together." At the core of his agenda is addressing stagnant wages, rising costs, and economic inequality. He attributes these challenges to globalization, automation, and unfair competition with China.
Bennet also hopes to distinguish himself in a crowded Democratic field by touting his moderation and bipartisan record. He argues that "it is possible to write policy proposals that have no basis in reality, and you might as well call them candy." He's convinced "that's not where people are. I don't think believe that stuff. I think they want to see a serious approach to politics and a serious approach to policy."
Bennet's Foreign Policy
Bennet looks to be a liberal internationalist at heart. Rather than emphasizing how the United States should do less of overseas, as many of his Democratic presidential rivals are doing, he wants to "reclaim U.S. global leadership on security, fair economic competition, and freedom." He would do that by working to "re-engage our allies and build coalitions of partners to protect against current threats, prepare for security challenges of the future, and advance American interests." The question that Bennet and all liberal internationalists have to grapple with, of course, is whether the appetite for U.S. global leadership exists, either at home or abroad, especially after four years of America First.
Bennet believes that "Russia, not China" is the greatest threat to U.S. national security "because of what they've done with our election." He favors imposing additional sanctions on Russia for its election interference. Last week, in a bid to put pressure on Senate Majority Leader Mitch McConnell to pass election-security legislation, he released a book titled Dividing America: How Russia Hacked Social Media and Democracy. As the subtitle indicates, it examines how Russia used social media platforms like Facebook and Twitter to influence the 2016 presidential election. Bennet is asking his supporters to buy a copy to be sent to Senator McConnell. So far nearly 3,000 people have agreed to do just that.
Bennet hasn't said nearly as much about how he would deal with Russia on other foreign policy issues. He hasn't said much either about his approach to dealing with China. Like most of his Democrat rivals, he argues that Trump is right that China is a problem, especially when it comes to trade, but that his policies are backfiring. He thinks the smart strategy would be "to mobilize the whole world. Because basically the entire world has the same interests that we do, vis a vis China, in terms of trade." Most of the other Democratic presidential candidates have staked out similar positions. Like them, Bennet hasn't provided details on what he wants Beijing to do or how he would get Beijing to do it. Likewise, Bennet argues that China is "supporting a surveillance state" with its Belt and Road Initiative. His solution is to "forge strong alliances with people all over the world." He hasn't said, however, what the United States should offer others to convince them not to follow Beijing's lead.
One solution that has been offered to blunt China's ability to write the rules of the global economy is the Trans-Pacific Partnership (TPP). Bennet's track record on TPP is mixed. Unlike, say, Senator Bernie Sanders or Senator Elizabeth Warren, he voted back in 2015 for the trade promotion authority that made the TPP negotiations possible. A year later, in the midst of his re-election campaign, he said he couldn't vote for the deal as is. He hasn't said whether he would have the United States join a revised TPP.
Like his rivals for the Democratic nomination, Bennet opposes the so-called Forever Wars. Back in 2010 during his first race for Senate, he said that the United States should commit to leaving Afghanistan as early as July 2011. His view hasn't changed in the intervening nine years. He says that he will have U.S. troops out of Afghanistan before his first term in office ends: "If you're a kid in college or you're 18 or 19 years old, you've only known us being at war. We've spent $5.6 trillion in the Middle East. It's time for us to come home from Afghanistan." Bennet is like his fellow presidential candidates in another way. He hasn't made the case that Americans will like the consequences of leaving Afghanistan behind.
Bennet opposed the Trump administration's April 2018 airstrikes on Syria, arguing that "President Trump risks pulling the United States into a broader conflict with this military action." He further argued that, "the decision to use military force against the Syrian government must be made in pursuit of a comprehensive objective and with authorization from Congress." A President Bennet could find himself disagreeing with Senator Bennet, much as President Obama disagreed with Professor Obama.
Like the other Democratic senators running for president, Bennet has voted to end U.S. military support for the Saudi-led coalition in Yemen. He parted company with them, however, on the withdrawal of U.S. troops from of Syria. Back in January, they all voted against a sense-of-the-Senate resolution that Senator McConnell offered arguing that "the precipitous withdrawal of United States forces from either country could put at risk hard-won gains and United States national security." Although the resolution implicitly rebuked Trump for announcing a sudden U.S. troop withdrawal, Bennet was the lone Senate Democratic presidential candidate to vote yes.
Bennet supported the Iran nuclear deal and thinks that Trump was "reckless" to withdraw the United States from the deal. He says his "strategy would be to, first of all, reconstitute the Iran deal or a version of the Iran deal." He believes that "if we can make it stronger, we should certainly make it stronger." He hasn't said precisely how he would strengthen the agreement or how he would get Tehran to agree to tougher terms.
Bennet has been more cautious than many of his fellow Democrats in his remarks about Trump's handling of relations with North Korea. His standard line is that "North Korea's nuclear program poses a grave threat to the international community." He believes that "any American president deserves support for pursuing a diplomatic approach toward the complete, verifiable, and irreversible denuclearization of the Korean Peninsula. But North Korea's track record requires all parties to be cautious about any agreements made by its leader."  
Bennet agrees with all of the Democratic challengers that climate change threatens American security and prosperity. He proposes to "reduce emissions in line with the most aggressive targets set by the world's scientists and achieve 100 percent clean, net-zero emissions as soon as possible, and no later than 2050." To achieve this goal he would create a "Climate Bank" that will administer $1 trillion in federal funding over ten years for private sector innovation and infrastructure investment. Bennet says he will "work with allies and partners to develop a plan to meet the needs of the millions of individuals already displaced by the effects of climate change" and to prepare for political conflicts that arise from climate change.
In April, Bennet joined a bipartisan group of senators to introduce the Venezuela Emergency Relief, Democracy Assistance and Development (VERDAD) Act. The bill endorses U.S. support for opposition leader Juan Guaido, authorizes $400 million of new humanitarian assistance, and removes sanctions on officials who defect from the Maduro government.
Bennet has worked on immigration issues during Senate career. Back in 2013 he was part of the so-called Gang of Eight that drafted a comprehensive immigration reform bill. He thinks it continues to offer a way forward. More generally, Bennet does "not think illegal immigration is a major problem in the United States. I do think our broken immigration system is a major problem." He disagrees with his fellow presidential candidates who argue for decriminalizing illegal border crossings, and he favors increased border security funding.
More on Bennet
Bennet has two books out this year. One is Dividing America. The other is The Land of Flickering Lights: Restoring America in an Age of Broken Politics. Released in June, the ad copy says that it  "lifts a veil on the inner workings of Congress to reveal 'through a series of actual stories—about the people, the politics, the motives, the money, the hypocrisy, the stakes, the outcomes—the pathological culture of the capital and the consequences for us all.'"
Shortly after The Land of Flickering Lights was published, Bennet discussed the book and his run for the presidency with Colorado Public Radio.
Back in 2017, Bennet went on the Ezra Klein Show to discuss why he frequently despairs over how the Senate does—or perhaps more accurately, doesn't—do its job.
The Atlantic profiled Bennet back in March when he was considering a presidential run and called him "the Democrat who wants to stop the rage."
Bennet appeared on a CNN Town Hall back in May and said, among other things, that his first three phone calls would be to the America's European allies, the prime minister of Israel, and the heads of Mexico, Honduras, El Salvador, and Guatemala.
Bennet sat down with the New Yorker's "Politics and More" podcast to discuss his presidential campaign.
Bennet met with the Washington Post editorial board in July to discuss his vision for America.
Bennet sat down with both Mother Jones and the Vergecast last week to discuss what he hopes to accomplish by releasing Dividing America.
Bennet answered eighteen questions for the New York Times. When he was asked where he would go on his first international trip as president, he said "I probably would go to Europe to reassert that the alliance is strong."
Brenden Ebertz and Aliya Medetbekova assisted in the preparation of this post.