Meet Steve Bullock, Democratic Presidential Candidate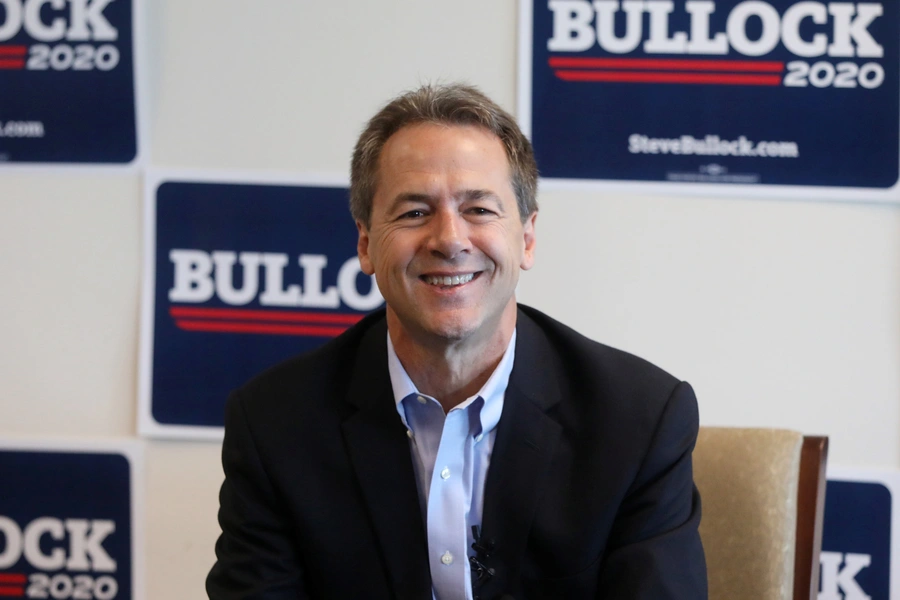 Update: Steve Bullock announced on December 2, 2019, that he was dropping out of the race. 
Can one of the last candidates to enter the 2020 race be the last one standing? Steve Bullock certainly hopes so. The Montana governor waited until after twenty-one other Democrats had declared for the presidency before throwing his hat in the ring. His late start is one of the reasons he didn't qualify for the first round of Democratic debates. But while Bullock doesn't qualify as the proverbial early bird, his candidacy is unique: he is the only one of the Democratic candidates to have won a state-wide race in a state that Donald Trump won in 2016. Bullock's challenge, though, is that his home state of Montana ranks forty-fourth in the country in terms of population, with slightly less than 1.1 million people. That's a half million fewer people than live in Manhattan. If Bullock does pull off his longshot bid, he will not just be the first president from Montana. He will be the first president from any of the states in the Rocky Mountain West.
The Basics
Name: Stephen Clark Bullock
Date of Birth: April 11, 1966
Place of Birth: Missoula, Montana
Religion: Catholic
Political Party: Democratic Party
Marital Status: Married (Lisa Bullock)
Children: Caroline (17) Alexandria (15), Cameron (12)
Alma Mater: Claremont McKenna College (BA) and Columbia University (JD)
Career: Governor of Montana (2013-present), Attorney General of Montana (2009-2013), lawyer, adjunct professor at George Washington University Law School
Campaign Website: https://stevebullock.com/
Twitter Handle: @GovernorBullock
Bullock's story:
Bullock grew up in Helena, Montana. His parents divorced when he was in elementary school, and he was raised by his mother. He was active in politics in high school — he was the student body president at Helena High, student representative on the Montana Board of Public Education, and the 1983 Youth Speaker of the House for the YMCA Youth and Government Program. He attended Claremont McKenna College, which is located thirty miles east of Los Angeles. He studied politics, philosophy, and economics. He then ventured to the other coast to earn his law degree from Columbia University in 1994.
Bullock joined a New York City law firm coming out of law school. But the appeal of Big Sky Country proved too strong. He returned home in 1996 to become chief legal counsel to Montana's secretary of state. A year later, he joined Montana's Department of Justice. He served first as assistant attorney general and then as acting chief deputy attorney general.
Bullock lost a race for attorney general of Montana in 2000. He then spent time as an adjunct professor at George Washington University. He opened his own law practice back in Helena in 2004. He was elected attorney general of Montana in 2008. In 2012, he was elected governor of Montana. He won re-election easily in 2016, even though Donald Trump carried Montana in a landslide.
Because Bullock is so popular in Montana, many Democrats want him to abandon his presidential bid in favor of a run against Montana's incumbent Republican senator, Steve Daines, next year. Bullock has consistently said "no" to the idea.
Bullock's Announcement
Bullock announced his bid for president on May 14 by releasing a video. Later that day, he held a kickoff event in a classroom at his old high school in Helena, Montana. In both instances, he stressed fighting the influence of money in politics, citing his own battle as attorney general of Montana and as governor of Montana against the consequences of the Supreme Court's ruling in battle against Citizens United. In Bullock's view, the United States must "defeat the corrupt system that lets campaign money drown out the people's voice, so we can finally make good on the promise of a fair shot for everyone." He also stressed how he succeeded in a red, pro-Trump state by bringing people together.
He did not mention foreign policy in either the video or at the launch event.
Bullock's Message
Bullock wants to get big money out of politics. As his website puts it: "If we can kick the Koch Brothers and foreign donors out of Montana, we can do the same thing all across our nation." Steps he said he would take as president on this score include an executive order to "crack down on dark money," a ban on super PACs, and a push to spur a movement to overturn Citizens United.
Bullock's Foreign Policy Views
Bullock hasn't said much about foreign policy. Partly that reflects his career trajectory. Governors and state attorneys general seldom venture into the foreign policy thicket. But Bullock's relative silence also reflects the fact that he hasn't been asked much about the topic. As a late entrant into the presidential race, he failed to qualify for the first round of Democratic debates. He did make the debate stage during the second round, where he got perhaps ninety seconds to speak about foreign policy. He failed to qualify for the third debate earlier this month, and he's unlikely to qualify for the October 15 debate.
Like his fellow Democratic candidates, Bullock opposes Trump's foreign policy. He says that America First has "turned into America Alone." He goes as far as to say that the United States will be its own worst enemy if the "the level of divisiveness we have" continues. Bullock has called for a return to much closer cooperation with U.S. allies. To that end, he says: "My first trip [as president] would be assuring our allies that the trusted partner that they've had for four decades would continue to be their partner."
Bullock has joined with his Democratic rivals in arguing that the United States should stop supporting Saudi Arabia's war in Yemen. He has not followed his Democratic rivals, however, in committing to withdraw U.S. troops from Afghanistan before the end of his first term. He only says he wants "our brave service members to come home as soon as possible."
Bullock has also declined to sign onto the pledge by Elizabeth Warren to never use a nuclear weapon unless another country does so first. He says he "wouldn't want to take that [option] off of the table." He does want to rejoin the Iran nuclear deal, even as he acknowledges its flaws. He attributes the Obama administration's ability to strike the deal to its willingness to cooperate with U.S. allies. As president, he says he would work with European allies to denuclearize Iran and stabilize the region so that it no longer lives under the "threat of nuclear conflict." As for the other major proliferation challenge, Bullock proposes to "work to ensure that North Korea provides more than hollow promises but demonstrates real progress towards denuclearization."
One issue on which Bullock would exercise U.S. leadership is climate change. He says he would rejoin the Paris Agreement on his first day in office, which he believes will make the United States "better positioned to influence other nations in the fight against climate change." He emphasizes the importance of working with multilateral organizations, including the Intergovernmental Panel on Climate Change, to move all countries toward carbon-neutrality by 2050. Bullock also says he would ensure that the departments of Commerce, Energy, and State, as well as the Export-Import Bank, take on a global role to help countries "to consider and adopt U.S.-engineered carbon-free energy technologies."
Like most of the other Democratic candidates, Bullock says he would not have the United States rejoin the Trans-Pacific Partnership (TPP) as it is currently written. He says he intends to sign only free trade agreements that guarantee high labor standards, "leverage improved environmental conservation," and prioritize American workers. But he also says that a reworked TPP could be part of a strategy to push back against China, which he calls a "tremendous economic threat." He also says that the United States should stand up to China's human rights abuses.
Bullock agrees with the Trump administration's policy of supporting Juan Guaidó as the president of Venezuela. He says that the United States should work with its allies to pressure the Maduro regime to work toward a democratic transition.
More on Bullock
Bullock hasn't written the standard presidential campaign memoir. He did write an op-ed for the New York Times back in 2017 offering his fellow Democrats advice on how they can win in the Red State West. He suggested that they get outside their "Beltway bubble" and "take a more expansive view of the America that exists beyond the confines of the Eastern Seaboard."
In 2017, Politico Magazine called Bullock "one of the most popular governors in the country" but suggested he would be a longshot Democrat presidential candidate because he lives "in the heart of the 185th-largest media market in the country (out of 210)" and "55 percent of registered voters report never having heard of him."
The New Yorker sat with Bullock at a bar in Des Moines watching the third presidential debate on television as he admitted: "I'd rather be on the debate stage, but I don't think being on the debate stage is going to define what the first week of February looks like."
Vox described Bullock's campaign strategy for the 2020 election as "pragmatic progressivism."
The Atlantic asked Bullock why he is staying in the race when the odds are stacked against him and got a direct answer from the governor: "At least in the past, there's been a premium for people that have actually had to run things and make government work."
Bullock appeared on the Daily Show earlier this month and explained what sets him apart from other presidential candidates in the race: "I am the only one in this field that won a Trump state."
The Washington Post talked to Bullock about the issue he has put forefront of his campaign—eliminating "dark money"—and concluded that he has "yet to find that pithy, relatable message" on campaign finance "that can elicit a visceral reaction among voters and cultivate a loyal following.
Bullock answered fifteen questions from the New York Times. When he was asked where he would go on his first international trip as president, he answered "that could be as close as Canada, it could be down to Mexico. It could be over to Europe as well."
CFR asked Bullock twelve foreign policy questions. When asked to name America's greatest foreign policy accomplishment since World War II, he said it was "the construction of the post-war liberal world order through our establishment of a system of alliances and institutions." He said that biggest mistake the United States has made since World War II was the Iraq War because it was "started based on the naïve belief that the U.S. could overthrow a regime in the Middle East and democracy would naturally ensue."
Anna Shortridge assisted in the preparation of this post.