Mexico's Female Legislators Are No Silver Bullet for Gender Inequality
Despite achieving near equal representation in congress, Mexico's new female lawmakers will need to force women's issues onto the legislative agenda. Here are a few reasons why.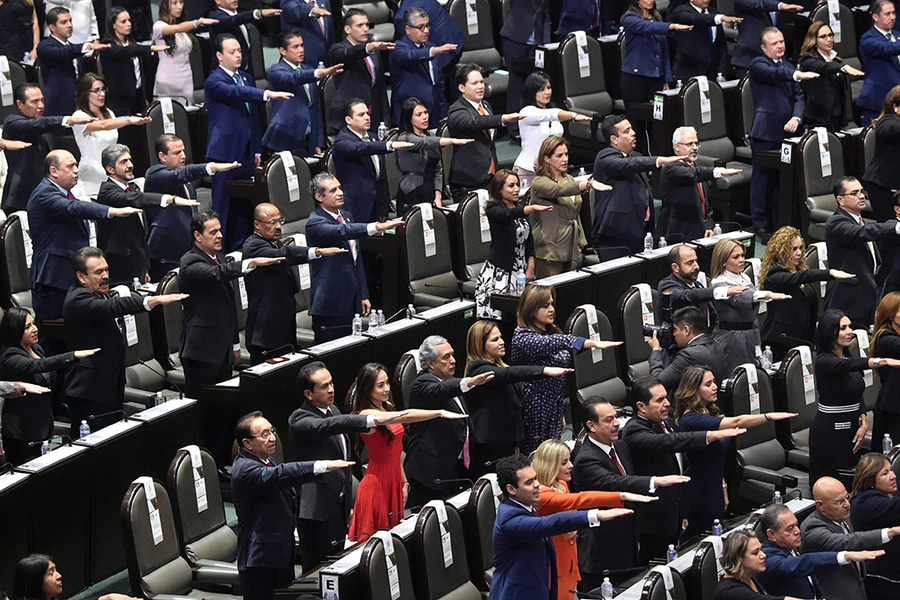 Sofia Alessandra Ramirez is a research associate in Latin America Studies at the Council on Foreign Relations.
On September 1, Mexico swore in its 64th congress. With women now comprising 49 percent of the legislators in the Senate and 48 percent in the Chamber of Deputies, the new legislative body ranks fourth globally in women's representation. This milestone largely results from legal changes over the last fifteen years, proving that quota laws work. Yet this historic moment may not matter much for so-called women's issues — health and reproductive rights, equal employment, and gender-based violence among others. Significantly improving women's status in Mexico requires strong political will and financial resources, not just female legislators.
Equal representation did not come easily or quickly, despite legal changes. Though gender quotas were introduced fifteen years ago, parties undercut these formal rules by not providing the same resources to female candidates, running women in districts that are nearly impossible to win, and often forcing female winners to resign so that a male alternate could fill the seat. There were even numerous accounts of male candidates registering as transgender women in order to comply with the rules. These setbacks led to a 2014 constitutional reform that bumped up the gender quota to fifty percent and strengthened party guidelines, leading to July's electoral results.
Women's issues look to receive lukewarm support at best from the new president. Andres Manuel Lopez Obrador's stated priorities include combating corruption, decreasing crime, and improving infrastructure and development, suggesting financial resources won't be funneled directly to gender equality programs.  
These newly elected women won't control the levers of power in congress. Men remain at the heads of the legislative power centers: the Executive Board, Political Coordination Board, and 15 out of 16 party caucuses. Committee appointments, yet to be made, have long been dominated by men.
And Mexico's own history shows that legislation alone won't change gender inequality. Its congress has passed hundreds of constitutional reforms, laws, and administrative measures in the name of advancing equality and combating violence against women. Between 2014 and the first quarter of 2018, Mexico reformed over 450 norms in penal and civil and family codes with the goal of protecting the rights of women and girls. Misogyny was formally included as a type of illegal discrimination, stricter laws to prevent and investigate sexual violence were passed, paying women less than men for the same job was deemed a form of 'economic and labor violence,' and dozens of justice centers dedicated to eliminating abuse against women opened around the country.
The Mexican government also created frameworks within the country's national development plan to advance these goals — including the National System of Equality between Men and Women, the National System to Prevent, Address, Punish and Eradicate Violence against Women, and the National System of Integral Protection of Children and Adolescents.
Yet the reality for women changed little. Mexico currently is in the bottom half of 144 countries measured by the World Economic Forum in terms of gender equality, having actually fallen a spot as compared to 2014 rankings. Between 2015 and 2017, the number of women murdered rose by 75 percent and cases where gender was found to be an explicit reason for murder — femicides — by nearly 50 percent.
Women's economic equality still lags. With one of the largest gender employment gaps in the Organization for Economic Cooperation and Development, Mexico ranks third lowest having less than 45 percent of women in the workforce. Women hold only one out of ten managerial and leadership positions in corporations. And the majority who do work are part of the informal economy, without social benefits, legal protections, or a living wage. Gender stereotypes continue to pigeonhole women's career path, resulting in them doing most of the unpaid work. Young women are also four times as likely as men to neither work nor attend school, trapped in a category of youth commonly known as "ninis" (ni estudian ni trabajan).
In part this reflects mismanagement of funds meant for gender equality programs – so an anticorruption sweep could bring benefits. A larger reason is that gender equality programs are underfunded — more is spent on advertising and publicity for the federal government than on women's rights projects. And under Lopez Obrador, these programs will have to compete for funding with many expensive plans to build refineries, increase pensions, and potentially freeze gas prices.
Thousands of female public officials elected into office across Mexico will broaden Mexicans' view of women in workforce leadership positions writ large. And evidence from other countries, including the United States, suggests that a higher share of women in congress is more likely to present bills and pass laws related to women's issues.
But to disrupt the dynamic of politics as usual in Mexico, allocating more resources to the 51 percent of the country they represent, the new women representatives will need to force women's issues onto the already packed legislative agenda. Mexico's women can't afford to wait.