Middle East Matters This Week: Assad Stalls, Palestinians Talk, and Iraq Explodes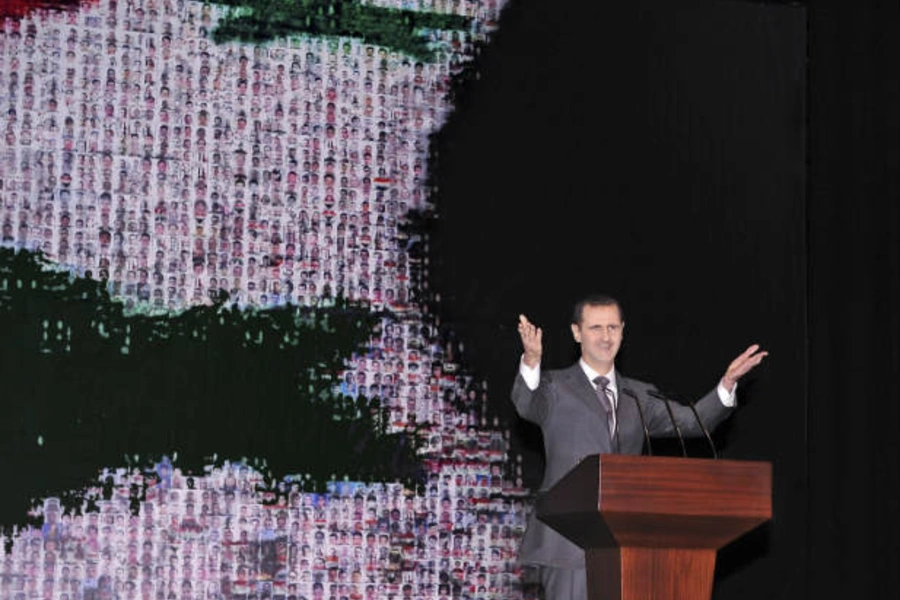 Significant Middle East Developments
Syria. Syrian president Bashar al-Assad gave his first speech in nearly seven months on Sunday, outlining a "peace plan" that ruled out any negotiation with Syria's armed rebels. UN-Arab League envoy Lakhdar Brahimi called Assad's speech "uncompromising" and said that the Syrian president could not be part of any transitional government-the closest Brahimi has come to calling for Assad's resignation; Syria's foreign ministry called Brahimi "flagrantly biased." Russian and U.S. diplomats are scheduled to meet with Brahimi tomorrow in Geneva.
Meanwhile, NATO officials condemned Syria for indiscriminately launching unguided, short-range missiles for the third time in the past week, accusing the regime of "utter disregard for the lives of the Syrian people." Meanwhile, the Syrian government agreed to release more than two thousand prisoners in exchange for forty-eight Iranians held by rebels. The Iranian government claimed that all of the hostages had been pilgrims visiting a Shiite shrine near Damascus, but the rebels claimed they were active members of the Iranian Revolutionary Guards.
Palestine. Palestinian Authority president Mahmoud Abbas met Hamas leader Khaled Meshaal in Cairo yesterday for the first time in over a year. The meeting was orchestrated by Egyptian president Mohammed Morsi, who also met with each of the faction leaders in an effort to renew reconciliation efforts. An Egyptian official involved in the negotiations said that the two had agreed to implement their previously agreed upon reconciliation pact and claimed that another meeting would take place in the first week of February to set an implementation timetable.
Iraq.  A wave of bombings across central and eastern Iraq today killed at least nine people and wounded sixteen others amidst escalating sectarian tensions. Parliamentary opponents of Iraqi prime minister Nouri al-Maliki announced yesterday that they had gathered enough signatures to summon the prime minister to parliament for a no-confidence vote. The announcement follows more than two weeks of protests sparked by the arrest of Finance Minister Rafe al-Essawi's bodyguards.
While We Were Looking Elsewhere
Libya. Interim president Mohammed al-Megarif survived an assassination attempt on Saturday while he was staying overnight in the southern desert. Three of Megarif's bodyguards were wounded when gunmen opened fire at his hotel. Libya's chronic instability and concerns over its ability to ensure regular oil production, prompted Prime Minister Ali Zidan yesterday to threaten to use force to impose order. Meanwhile, the main border crossing between Libya and Tunisia at Ras Jedir reopened today after hundreds of people protested the closure. Prime Minister Zidan will meet Tunisian prime minister Hamadi Jebali and Algerian prime minister Abdelmalek Sellal in Ghadames on Saturday to discuss joint border security concerns.
Jordan. Syrian refugees living in the Zaatari refugee camp attacked Jordanian aid workers with stones and sticks on Tuesday after winter storms destroyed their tents and flooded the camp. Seven aid workers were reported injured. The UN has estimated that it needs at least 500 million dollars to help the more than 280,000 Syrian refugees estimated to be living in Jordan.
Egypt. The Egyptian central bank announced a new foreign exchange system yesterday in a move intended to curb speculators but that could also precipitate increased wheat and oil prices. Meanwhile, Qatari prime minister Sheikh Hamad bin Jassem al-Thani announced on Tuesday that Qatar would double its financial assistance to Egypt with an extra 2.5 billion dollars. A technical committee from the International Monetary Fund is expected in Cairo in a couple of weeks to resume negotiations over a 4.8 billion dollar loan.
This Week in History
Monday marked the sixty-seventh anniversary of the founding of Turkey's Democratic Party. The DP became the country's first opposition party to rise to power and end the era of one-party rule. Founded on January 7, 1946, the DP gained political traction following Turkish president Ismet Inonu's decision in 1945 to open up the country's political system. While some members of the ruling Republican People's Party (CHP) wanted to suppress the DP, Inonu decided that a multiparty system would allow for a possible change in government and decided to abandon the title of "National Unchangeable Leader." In the 1950 election, the DP won 54 percent of the vote and 396 out of 487 parliamentary seats, sweeping Ataturk's CHP from power for the first time. The ten years of subsequent Democrat rule was marked by political instability, culminating in the imposition of martial law and a 1960 military coup that imprisoned the Democrat party leaders.