The Military-First Approach in Northern Mozambique is Bound to Fail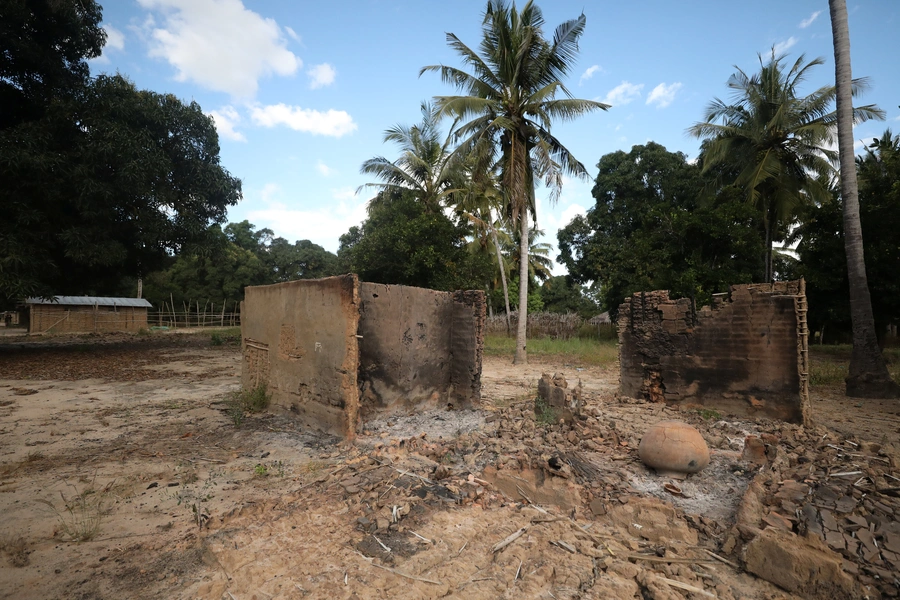 Nolan Quinn is a research associate for the Council on Foreign Relations' Africa Program.
On October 14, the Islamist insurgency focused in northern Mozambique spilled over into Tanzania, with an estimated three hundred militants carrying out an attack on Kitaya village in the region of Mtwara. Since then, Ansar al-Sunna (ASWJ)—the Mozambican jihadi group with apparent links to the self-proclaimed Islamic State (IS)—has claimed at least three more attacks in Mtwara. This comes despite Tanzania sending troops to the region earlier this year to tighten border security and its military's security operations in areas near the Mozambican border. The widening scope of ASWJ's attacks is indicative of the shortcomings of the current approach to combating the group.
The response to the Islamist insurgency has, thus far, been primarily military in focus. In September 2019, the Wagner Group—a private military contractor with links to the Kremlin—was deployed to Cabo Delgado, Mozambique's worst-afflicted province and site of the largest private investment in Africa. By November the same year, the mercenaries were evacuated after sustaining losses; another security contractor, the South African Dyck Advisory Group (DAG), remains in Cabo Delgado but has been unable to subdue the insurgency. An (unlikely) intervention by South African government forces has been considered, and Zimbabwe's ruling party has argued the Southern African Development Community should invoke its mutual defense pact and enter the conflict. The European Union, meanwhile, agreed last month to provide training as well as logistical and medical support to Mozambican forces.
The military response has been hampered by its unprofessionalism. Tensions between Tanzanian and Mozambican forces were already high before the former allegedly fired rockets into the latter's territory, injuring civilians. Mozambican forces were implicated in a horrific extrajudicial killing last year and have been credibly accused of various other abuses. DAG helicopters have, on multiple occasions, killed Mozambican civilians in counterinsurgency operations. Amid the climate of insecurity, Mozambique's government has begun arming militia groups, which have publicly tortured and beheaded suspected insurgents. Government forces and militia groups have accidentally attacked one another several times, highlighting a lack of coordination.
Concerted efforts to improve governance and economic opportunity in Cabo Delgado have been largely absent from any existing counterinsurgency strategy. Instead, in a peripheral region blighted by persistent poverty and inequality [PDF], government officials have prioritized the interests of multinational energy companies, large-scale ruby miners, and heroin smugglers [PDF] at the expense of local workers—all while enriching themselves [PDF] through corrupt practices. In Tanzania, President John Magufuli has shown slightly more concern for Mtwara's economic fortunes by promising government purchases of cashews, a local staple. This, however, has not stopped residents of the region—an opposition stronghold—from crossing into Cabo Delgado to join the insurgency.
Government corruption and economic stagnation, coupled with security forces' penchant for human rights violations, help strengthen ASWJ. While the Islamist group is notorious for gruesome killings, it also employs tactics to win local support. The group has warned civilians to flee before attacks, distributed food in areas under its control, and offered loans to potential recruits. This "hearts and minds" approach bears the imprint of IS, which advocated a similar tactical shift in the Lake Chad Basin, where the Islamic State in West Africa (ISWA) began providing services and split from Boko Haram due to the latter's more indiscriminate targeting of civilians. It appears that ASWJ, which has been formally aligned with IS since June 2019, has increased cooperation [PDF] with foreign jihadis. By implementing some of their operational practices, ASWJ is finding success in undermining the Mozambican government's already tenuous claims to legitimacy.
A first step in improving the counterinsurgency effort should be to formalize militia groups' participation. A major impediment to the military response has been the makeup of troops deployed to Cabo Delgado: most soldiers do not speak the local languages and, being underpaid with little personal attachment to the area, often retreat when attacked. Both the military and militia groups need training in human rights—from the European Union or a regional body—and a clear indication that violations will be punished. To date, Mozambique's government has not taken any steps to investigate abuses. This makes it difficult for government forces to win local cooperation in fighting ASWJ. Better regional partnerships—especially with the Tanzanian government, with whom joint police operations are set to begin—are needed to push back on ASWJ's expansion, particularly its growing maritime prowess.
A military-first approach cannot cure a failing state. The government and its partners should equally focus on restoring—or, in some areas, establishing for the first time—provision of basic services. Encouragingly, after years of delay, the government appears to have recognized the need for a development strategy. As renowned Mozambique scholar Joseph Hanlon recently documented [PDF], President Filipe Nyusi has put one of his most trusted, effective officials in charge of development agencies—with a remit focused in the country's north—controlling more than $2.8 billion. The World Bank, meanwhile, has set aside $700 million for initiatives "to address the underlying causes of fragility and conflict." Hanlon also points to a cash transfer program, starting in Cabo Delgado but later scaling up to the entire country, as a plausible way to share resource wealth.
These measures are not preordained for success: hollow institutions and rampant corruption are at the core of Mozambique's problems and will complicate the rollout of economic stimulus programs. Building a more effective state will amplify military and economic approaches to counterinsurgency and improve the chances of achieving lasting peace. The process of doing so will be long and arduous. But after years of neglecting—even actively harming—many of its citizens, Mozambique's government has no alternative.