Murder of South African Whistleblower Illustrates Dangerous Status Quo
South Africa at present is afflicted by corruption, cynical politics, and high levels of violence—a toxic combination that created the conditions for the murder of whistleblower Babita Deokaran.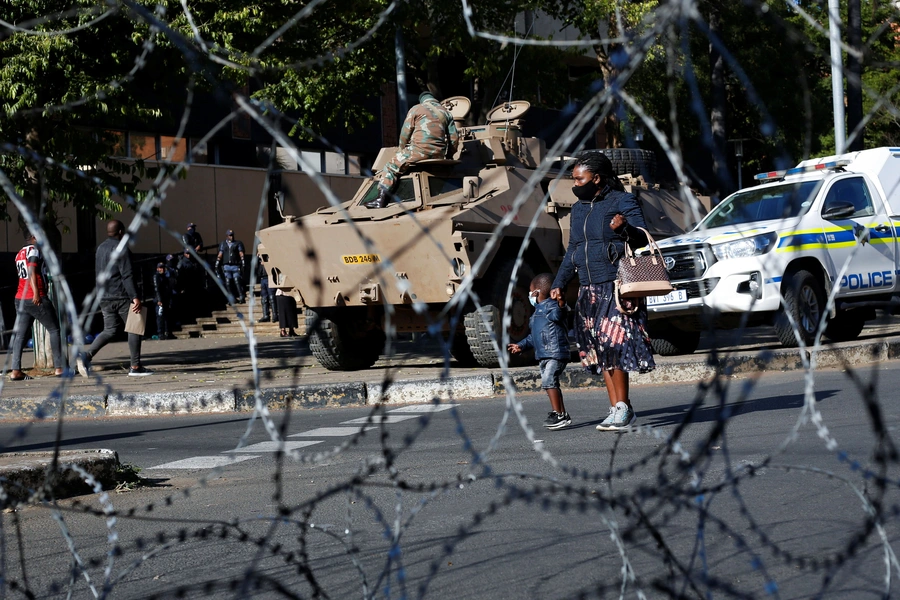 In the immediate aftermath of the violence that gripped parts of South Africa in July, the country seemed to be at a pivotal moment, as shocked citizens struggled to come to terms with hundreds of deaths, the destruction of tens of thousands of businesses and livelihoods, and the political toxicity that had enabled the melee. It seemed inevitable that something fundamental in the country's politics and civic discourse would change in the aftermath of the man-made disaster that so vividly illustrated the costs of tipping into political violence.
But Americans who have observed the politicized watering down of their country's own national reaction to the insurrection at the Capitol on January 6 are familiar with how unequivocally beyond-the-pale events can be airbrushed into just another set of disputed facts by cynical politics. In South Africa, government officials have disagreed as to whether July's violence was a coordinated, planned attack on the state or just criminality run amok, and the state's investigations into the instigators of the riots and looting have yet to yield clarity or convictions. Some things have changed since July—President Ramaphosa reshuffled his cabinet and made changes to the structure of national security oversight—but the African National Congress (ANC) remains distracted by an intra-party war, and fundamental questions about the country's tolerance for violence and commitment to the rule of law remain unanswered. Former President Jacob Zuma, whose surrender to law enforcement to serve his sentence for refusing to appear before a judicial commission on corruption sparked the violence, has been granted medical parole. Meanwhile, strains of political violence harnessed by those resisting accountability and transparency persist.
The murder of Babita Deokaran on August 23 is one tragic example. Deokaran was a senior financial officer at the Gauteng Department of Health and an important witness in an investigation of corruption within the department; former colleagues believe she was helping authorities link senior political figures to irregular procurement deals and contracts in an organization that is supposed to be committed to public health, not elite enrichment. President Ramaphosa hailed the late whistleblower as "a hero and a patriot" and several individuals have been arrested, but it remains to be seen whether those ultimately responsible for ordering the assassination of a public servant acting with integrity will be exposed or held accountable.
South Africa's citizens have been struggling with widespread unemployment, the devastating impact of COVID-19 on the economy, and a seemingly endless series of revelations about corruption and government incompetence. Faith that the rules apply to everyone, that the playing field is fair, and that government officials are focused on public service rather than serving themselves is in painfully short supply. The conditions that gave rise to crisis in July persist, and the prevailing political calculus favors caution in pursuit of party cohesion over bold strokes. Shocking incidents that seem destined to be turning points cannot necessarily speed the slow pace of reform, root out deep-seated pathologies, or diminish the power of those acting in bad faith.