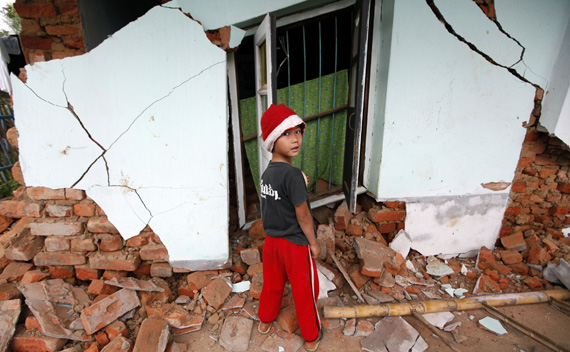 On Thursday evening local time, a massive 7.0 earthquake hit northeastern Myanmar, one of the most isolated parts of an isolated country. Across the border in Thailand, the quake shook buildings as far away as Bangkok,  hundreds of miles from the border,  and in towns in northern Thailand at least one woman was killed. Geologists estimated that as many as 600,000 people could feel the quake. What's more, this strong quake was also not very deep, meaning that it had far more potential to cause major damage than a quake that was deep inside the earth.
Across the border, inside Myanmar, government reports now suggest that at least seventy people have been killed. But don't believe it – the real figures are most likely much higher. As past history shows, the Burmese regime will cover up any information about the scope of destruction, making it even harder for local or international relief organization to help at all.
The regime's history of obfuscation is long. After Cyclone Nargis, which hit southern Myanmar three years ago and killed over 130,000 people, the regime at first pretended that the devastation had been light, and it could handle the relief effort itself. Even when Myanmar's government allowed in foreign aid organizations, they kept them on a tight leash, and ultimately threw many of them out of the country. Following the 2004 Asian tsunami, which hit countries from Indonesia to India, the Burmese military government took a similar strategy. State-controlled newspapers denied there was any significant damage, and the government offered local people in tsunami-battered areas almost nothing in the way of aid. Following Nargis, in fact, many Burmese in the cyclone-hit area died not from the initial impact but from being stranded in the area for days with no food, clean water, or clothes.
Why has Myanmar been so unwilling to provide even minimal relief efforts? Many Myanmar analysts believe that lower-level officials were so scared of telling Senior General Than Shwe, the regime supremo, of the scope of the damage after Nargis that they simply hid it from him, and the obfuscation went up the line; when Than Shwe actually visited an area hit by Nargis, the trip was set up in advance so that the scale of the devastation seemed minimal, and the military appeared to be adequately handling the needs of refugees, which was entirely untrue. In addition, the Burmese regime, more than almost any other on earth, is highly paranoid and xenophobic, and so views even foreign aid as a potential crack in its control. In 2005, it moved its capital from relatively cosmopolitan Rangoon to a purpose-built city, Naypyidaw, in the middle of the country, in essence to create a kind of bunker should foreign forces invade, and the regime may be developing a nuclear program in order to further guarantee its security. Of course, the idea that Western forces would invade Myanmar is highly unlikely, but watching NATO drop bombs on Libya probably does not make the Burmese generals feel more secure.